Condor Release March 7
March 4, 2009
PHOENIX — Come witness a rare and spectacular sight that few places outside Arizona can offer: the release into the wild of endangered California condors. The public is invited to attend the 14th annual release on Saturday, March 7 at 11 a.m. when four condors will be released at the Vermilion Cliffs National Monument.
More...

The Top 10 Most Popular Dogs In America

March 4, 2009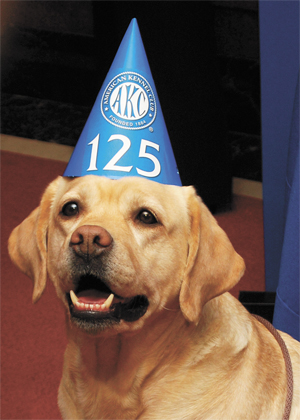 StatePoint – Is your dog top dog? For the 18th consecutive year, the Labrador Retriever is the most popular breed of dog in America, according to new statistics released by the American Kennel Club (AKC).

But while more than twice as many Labs were registered last year than any other purebred pooch, the Bulldog continues to amble its way up the list. The breed made news last year by returning to the AKC's Top 10 for the first time in more than 70 years and now has advanced two spots to land in eighth place.
More...
Kiwanis invites public to view finalist science projects
March 4, 2009
Can you make a cloud? Will a tomato plant grow faster upside down? Are birds attracted by the color of a feeder? Does a leather football go farther than a plastic football? These are some of the questions local students have been pondering and researching to submit projects for the 2009 Kiwanis Community Science Fair.
More...

Cave Creek Museum celebrates "Archaeology Month"
Children's program and special hike in March
March 4, 2009
"A Tribute to Ray Swanson" reception set for Friday, March 6

CAVE CREEK – Cave Creek Museum is celebrating "Archaeology Month" by hosting a children's program about ceramics and a special hike with the museum's chairperson of Archaeology, Grace Schoonover. In addition, the Museum will pay tribute to the life and career of former Carefree resident and famed Cowboy Artists of America painter, Ray Swanson. The exhibit will feature several original paintings along with historical information chronicling 40 years of his works. A special reception is planned for Friday, March 6. The Museum will also exhibit the works of Cave Creek artist Judith Durr in March.

Located at 6140 Skyline Dr., Cave Creek Museum features an extensive collection of prehistoric and historic artifacts that describe the lives of Native Americans, miners, ranchers and pioneers. The museum hours are Wed., Thurs., Sat. and Sun. from 1 – 4:30 p.m., and Fri. from 10 a.m. to 4:30 p.m. Entrance fees are $3 for adults, and $2 for seniors and students over age 12. Group tours: $2 per person. For information about Cave Creek Museum and its programs, call (480) 488-2764, or visit www.cavecreekmuseum.org.
"Celebrate Arizona's Past: Museums, Places, People"

March 4, 2009
PHOENIX – For the entire month of March 2009, the ASP State Historic Preservation Office (SHPO) is coordinating activities throughout the state for the 26th anniversary celebration of Arizona Archaeology and Heritage Awareness Month. These events will focus on current efforts to preserve our past by protecting our fragile and non-renewable cultural re-sources. Museums, historical societies, tribes, agencies, parks, and archaeology organizations will be hosting events across the state; many of the events are planned in Arizona State Parks as part of their interpretive programs.

Proclaimed by the Governor each year, this celebration will feature prehistoric and historic site tours, exhibits, hikes, open houses, lectures, demonstrations and other activities throughout Arizona. A free statewide listing of events is available and can be obtained by contacting the Arizona State Parks offices at (602) 542-4174, or by visiting the ASP website at www.azstateparks.com.

The featured event for the month is the Arizona Arch-aeology Expo. The Expo will offer many educational attractions for archaeology and history buffs and will be held at the Pueblo Grande Museum and Archaeological Park, 4619 E. Washington Street, Phoenix, Arizona, on March 14 and 15, 2009 (Saturday and Sunday). Both days are open to the public (10:00 a.m. to 3:00 p.m.) and the event is FREE; the Museum will also be free that weekend.

For more detailed info-rmation, call Ann Howard, Public Archaeology Programs Manager, at Arizona State Parks/SHPO 602-542-7138, or e-mail her at ahoward@ azstateparks.gov.
Open Space Survey
Voice your opinion
By Korina Riggin | March 4, 2009
"Not since Cave Creek residents overwhelmingly voted to tax themselves to protect the more than 2,000 acre Spur Cross Ranch Conservation Area, has an opportunity like this come along. It may never come along again," said Cave Creek Mayor, Vincent Francia of the recent agreement with the State Land Department. More than five years in the making, the Town of Cave Creek is only a few months away from preserving over 4,000 acres of prime Sonoran Desert habitat. Thanks to a ground-breaking agreement with the State Land Department, the Town will annex nearly 6,000 acres of State Trust Land. Much of the land being annexed is adjacent to two County Parks – Cave Creek Regional Park and the Spur Cross Ranch Conservation Area.
More...