The Top 10 Most Popular Dogs In America

March 4, 2009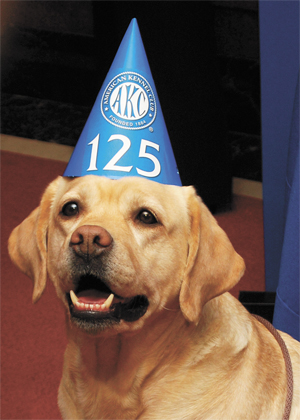 StatePoint – Is your dog top dog? For the 18th consecutive year, the Labrador Retriever is the most popular breed of dog in America, according to new statistics released by the American Kennel Club (AKC).

But while more than twice as many Labs were registered last year than any other purebred pooch, the Bulldog continues to amble its way up the list. The breed made news last year by returning to the AKC's Top 10 for the first time in more than 70 years and now has advanced two spots to land in eighth place.

"The playful Lab may still reign supreme, but the docile and adaptive nature of the Bulldog is gaining ground as a family favorite," said AKC Spokesperson Lisa Peterson. "It's no surprise to learn that this devoted family companion is still growing in popularity."

Here are the current top 10 most popular dogs in the country:
1. Labrador Retriever
2. Yorkshire Terrier
3. German Shepherd Dog
4. Golden Retriever
5. Beagle
6. Boxer
7. Dachshund
8. Bulldog
9. Poodle
10. Shih Tzu

Both big and small dogs shared the list this year, with the four larger breeds all renowned for their popularity as loving family companions. Indeed, the Labrador Retriever, German Shepherd Dog, Golden Retriever and Boxer are known for their versatility and intelligence, making them good companions.

The AKC has noted some interesting trends over the past decade. The Bulldog is among the breeds that have increased in popularity most significantly, along with four of its relatives: Miniature Bull Terrier, Bull Terrier, Staffordshire Bull Terrier and the Bullmastiff.

Among breeds significantly on the decline are the Lhasa Apso, Rottweiler, Schipperke, the Basset Hound and the Miniature Pinscher.

"Today dogs serve man in very diverse roles — from guide dog to bomb detection K-9 — but most of all, dogs are companions that ground us to nature in a busy and increasingly technological world," said Peterson.

For information on the 161 breeds of dog that the AKC registers and resources for would-be owners, visit www.AKC.org.

Courtesy Photo:
The Labrador Retriever celebrates its victory as the most popular dog breed in America.