Caring Corps meal delivery is all about people

By Curtis Riggs | July 30, 2008

Meals take back seat to the friendships

DESERT FOOTHILLS – The Foothills Caring Corps mobile meals program isn't really about delivering the lunches five days a week. It's more about the people Caring Corps volunteers deliver to and the relationships that develop between them.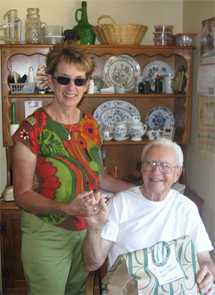 Homebound senior citizens in Cave Creek and Carefree anxiously await delivery of the meals, which come from Bashas' at Grayhawk and the restaurant at the Deer Valley Airport. While they can't wait to get at the tasty meals, it is obvious what they enjoy most is the chance to talk to Caring Corps volunteers like Vicki King, even if it is only for a few minutes.

"Get in here," is the friendly command King receives from Cave Creek resident Russell Schmunk when he sees her get out of her car just before noon on delivery days.

Schmunk, who enjoys playing musical spoons in his spare time, has admittedly been "lost" since his wife passed away earlier this year. King and other Caring Corps volunteers have helped to fill the void in his life since his wife's death.

Schmunk has become such a fan of the Caring Corps since he started receiving meals that he now delivers meals on Tuesdays. His only complaint with his new volunteer job is it doesn't last long enough.

"I enjoy delivering. I just wish it was longer," he said. "It's great visiting with the people."
While Schmunk likes that the Caring Corps program keeps him from having to turn on the stove, he really likes the friendships he has made with the volunteers.

"They are all good meals and good people bring them," he said. The lunches are large enough to get two or more meals out of them.

According to King, volunteers often enjoy delivering the meals more than the neighbors who receive them. She says she enjoys this volunteer job because it is so "fulfilling" and because of the friends she has made.

"When you first start delivering to them they are real quiet. Then they get more comfortable," she said. "Then you become friends and start worrying about them."
King and other Caring Corps volunteers often have a special treat for their neighbors when they deliver their holiday meals on Thanksgiving and Christmas.

Caring Corps Volunteer Coordinator Jayne Hubbard points out the deliveries are also welfare checks on the neighbors as the volunteers delivering the meals are often the only people the neighbors see.

King has found that people have fallen twice this year when she arrived with their meals. One lady had fallen the night before and was unable to get up. When this happens the delivery driver calls the contact person listed with the Caring Corps.

"It is critical to have a daily check on many of these people," she said.

Longtime Cave Creeker Frank Barathy looks forward to King's lunch visits. He anticipates receiving the meals nearly as much because sometimes he does not eat for two or three days because his military pension doesn't stretch as far as it used to.

Carefree neighbor Alex Tietz enjoys talking about his love of gardening whenever King or another Caring Corps volunteer shows up. Last week he let King in on his secret of sprinkling Epsom salt in with plant food.

"It's very important. I always look forward to the visits and the meals are great," he said.
King helps out neighbors like Carefree resident Elsie Kueltzo by taking out her trash after she has delivered her meal.

"I can't do much for myself any more," Kueltzo said.
The Caring Corps meals program, and the daily welfare checks, go a long way toward fulfilling the Caring Corps mission of enabling people to stay in their homes longer. To contact the Caring Corps call 480-488-1105.