Julia Patterson has special connection to art festival entry

By Curtis Riggs | June 25, 2008

CAVE CREEK – To say that local artist/graphic designer Julia Patterson has a special connection to the painting she will be displaying this weekend at the Cave Creek Film and Art Festival's Coyote Showcase at the Desert Foothills Library would be a huge understatement.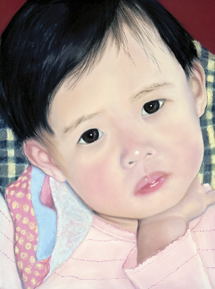 Patterson will have her pastel painting "Min Si Fu at Two" hanging at the library along with other top visual arts and photography entries at the film/art festival preview event. This Coyote Showcase will be held from 5 to 6:30 p.m. at the library, 38433 N. School House Road.

While the emotion in the painting of the little Chinese girl is enough to make Patterson's festival entry a winner, the story behind it is what truly makes the painting special.

Patterson's painting is of her niece, a little Chinese girl her sister adopted in 2007. Patterson traveled to China with her sister, Rachel Crews, to help with the adoption of Min Si Fu last year. Min Si Fu, now 3, lives in Kansas City. She was given the name Caroline Julia.

Patterson created the painting for her sister as a gift for taking her to China and to record what the little girl looked like when she first arrived in America.
Patterson's faith in mankind was restored on the trip to the Guqangxi Province to adopt Caroline Julia.

"Not only did I fall in love with a little Chinese girl who would forever after be my niece, but I saw firsthand the extraordinary generosity we humans are capable of," Patterson said about interacting with the other Western families who were also in China at the time to adopt children.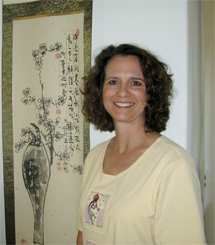 "I have a very strong connection to it," Patterson said about the painting she did of the little girl.

"When she first got to Kansas City she was still a little sad. Her expression has a longing for connection."

Things have changed greatly for Caroline Julia in the year she has been an American. She now enjoys Dora The Explorer and other things little girls in America normally love.

The trip to China taught Patterson the importance of establishing personal connections.
"All of the people there were trying to connect with each other," she said about the families seeking adoptions. "It was a beautiful thing."

(top) Courtesy Artwork
(lower) photo by Curtis Riggs