Desert Hills Presbyterian Church welcomed Navajos and Code Talker from Leupp
By Steele Coddington | November 5, 2008
CAREFREE – Navajos from the Presbyterian Church in Leupp on the Navajo Reservation east of Flagstaff and the Desert Hills Presbyterian Church meet twice a year as sister churches. The mission outreach meeting last weekend at the Carefree Presbyterian Church featured sales of Navajo Jewelry and art works, history of the Navajos and instruction on how they make jewelry, rugs and tapestry.

MORE ...

Cave Creeker opens new Desert Dog Spa
By Curtis Riggs | November 5, 2008
Grand opening this Saturday

CAVE CREEK – Tara Mulliniks-Dieckhoner will be hosting a grand opening for her Desert Dog Spa from 9 a.m. to 4 p.m. on Saturday, Nov. 8. Her new business is located in the Village Center in the 6500 block of East Cave Creek Road (just east of Dairy Queen).

MORE ...

Mrs. Clause comes to The Christmas B
November 5, 2008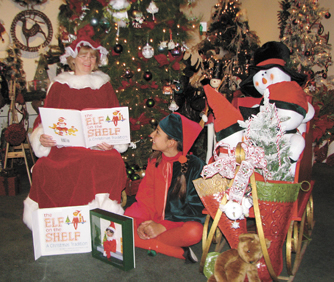 SCOTTSDALE – Just in time for the holidays, The Christmas B, located at 34505 N. Scottsdale Rd. in the upper level of el Pedregal, is a wonderful shop full of unique, one-of-a-kind Christmas ornaments and Holiday décor that would brighten anyone's season with the spirit of Christmas past.

Stop in to celebrate their Grand Re-Opening this Saturday, Nov. 8 from 4 – 6 p.m. which will feature a unique book signing and reading of "The Elf on the Shelf" by author Carol Aebersold. Refreshments will be served along with gingerbread men with a special appearance by Mrs. Clause!

So bring the children out for a very special afternoon of holiday fun for the whole family.

Photo by Charles Anthony
Author Margot Kahn to appear at Pages
CAVE CREEK – "Horses that Buck" author Margot Kahn will appear at Pages, Tuesday, Nov. 11 at 2 p.m.

"Horses That Buck" is the biography of rodeo legend, Bill Smith. It puts readers in the saddle to experience the life of a champion rider in his quest for the gold buckle. His story is a genuine slice of rodeo life – a life of magic for those good enough to win. This book will delight rodeo and cowboy enthusiasts alike.

For information or to RSVP (suggested) call 480-575-7220.