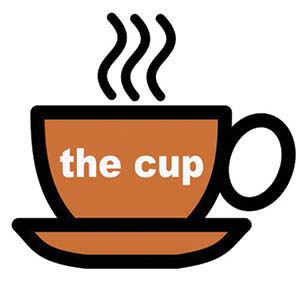 Don Senneville and Jim White
Finally, we meet a coffee comrade at Janey's. We ordered our usuals at the counter and then "go" outside and there was a sole patron sitting under the shaded patio morning sun reading the Sonoran News with an Americano in hand! Perfect.
He looked up and said, "Aren't you guys the CUP?". Even more perfect, a fan! He did not ask for an autograph. Turns out our only fan, Tom, goes way back. Don was his kid's principal 25 years ago. Janey's competes with the Sedona Vortex Coffee Shops for spiritual encounters. We owe it all to the new Sonoran News!

After Janey's, we felt like a trip back to reality, so we went to the Starbucks at Bashas. There are a lot of positive things about this little corner of the vegetable department; among them, great service and consistent coffee. Sitting in a parking lot full of Bentleys, Jags, and Lamborghinis, we felt right at home. We pondered the successful economic model of Starbucks and how it dominates the "coffee to go" world. This approach to coffee stands in contrast to the small business owners/baristas who occupy our Cave Creek/Carefree shops. In our world, we can smell the local beans roasting every week. Power to the People.

So here are the two basic questions, "Who was Starbuck?" and "Has wi-fi and drive-thru windows changed the world?" First, Starbuck was not a famous country singer (Don mentioned the star Buck Owens – we're not sure if that's relevant), but rather a fictional character from the "deep" novel, Moby Dick, by Herman Melville. Starbuck is the rational, non-emotional, efficient first mate as opposed to the emotional, irrational, sedentary second mate who would rather be sitting in a coffee shop. Carry on Starbuck. Lead us to the Moon. Wait, they already have a secret "moon drink" on tiktok! Tastes like the moon…or chalk. A matcha latte with coco milk and chai…$6 grande (in Starbucks-ese), or medium, in English. Mars is next. So there it is: Starbucks is caffeine proliferation on a Galactic scale.

Second question, regarding the world-changing impact of wi-fi and drive-thru windows. Obvious answer: yes. If small intimate coffee shops nurtured free thought and democratic thinking, what kind of thought comes from driving by a window to grab a really complicated coffee to go? It's like the difference between Army coffee and a macchiato from the Village Coffee Shop. So we have "espressoed" our opinions and now are headed to Dutch Brothers on Cave Creek Road to see if they're really Dutch.

Let us know of any "coffee shop encounters" you may have had lately while reading the Sonoran News at your favorite coffee shop. Contact Don and Jim at The CUP at www.sonorannews.com.