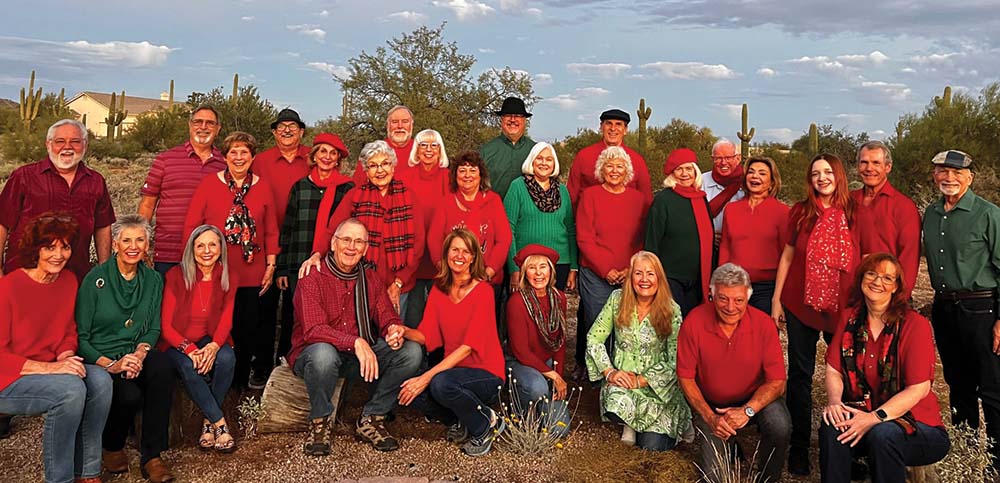 Scottsdale's premier adult choir will take advantage of the large stage at its new venue – Cactus Shadows Fine Arts Center, 33606 N. 60th St., Scottsdale – to present two new-look concerts. Tickets for shows, scheduled for 2 p.m. Dec. 2 and 5 p.m. Dec. 10, are available at upscalesingers.com.

"It's a beautiful theater," director Margaret Watson said. "The stage gives us room to spread out and add scenery and lighting. The audience will love the comfortable, raked seating that slopes upward away from the stage, maximizing the view for everyone.

"The program will be more of a stage show than a stand still concert. With bright new costumes, fun staging and Christmas trees galore, the audience will get an eyeful as well as a wonderful earful of beautiful holiday music."
The music will feature a variety of holiday favorites, such as "We Need a Little Christmas" and "Merry Christmas, Darling," plus new arrangements of carols, such as "The First Noel" and "Angels We Have Heard on High." 

Another addition is "Night of Silence," which Watson called "a gorgeous descant to 'Silent Night' that stands beautifully on its own."

She added, "There also will be a lively rendition of 'Rise Up, Shepherd, and Follow' and a fun arrangement of 'White Christmas' as performed by the Drifters. Old favorites 'Where Are You, Christmas?', 'Mr. Santa' and 'Man with the Bag' will add a lively pace to the show."

Another new feature: A member of the Upscale Kids, Jacob Pfefferkorn, will join accompanist Bill Moore on the piano for a duet of "God Rest You, Merry Gentlemen." Oboist Franck Avril also will be featured.

Another benefit of the new venue is that it can accommodate more singers. The group is larger than ever, giving the choir an amazing sound.

"With so many new people moving to the Valley, singers are looking for a fun place to perform and use their talents, and we have definitely benefited from the influx of talent," Watson said. "We have several retired professional singers in the group. It is so fun!"

Tickets are $25 for adults and $10 for youths age 18 and under.