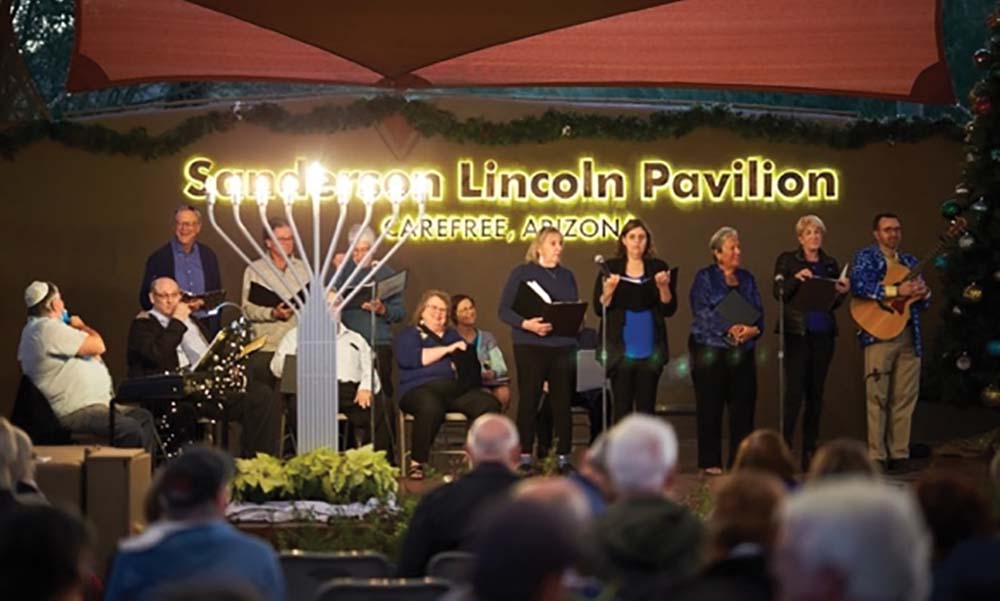 For the 7th year, Chanukah in Carefree will host its nightly holiday celebration on December 7 to 14, for 8 nights, in the Sanderson Lincoln Pavilion, Carefree AZ. The programs will begin at 5:30 pm each night, starting on December 7th. This eight-night cultural community celebration of the festival of lights also serves the community by raising money for a neighboring organization which is referred to as our Spirit of Giving recipient. This year's Spirit of Giving recipient is the Cave Creek Unified Education Foundation (CCUEF).

Chair and Lead volunteer, Karen Acker, who has spearheaded this event for the Town of Carefree since the beginning, said "It is so gratifying to see how much joy this celebration brings to so many in the community. We have built this event over the years thanks to our volunteers, our nightly program leaders, the community and the Town of Carefree, who has been wonderfully supportive of this cultural holiday celebration every year."

Mayor John Crane said, "We are proud to bring eight nights of meaningful programming, family gathering, wonderful music, traditional foods, and crafts and games for children to our community again this year."

Nightly programs will be led by organizations including Temple Chai, Congregation Kehillah, the Phoenix Holocaust Association, the Valley of the Sun JCC and this year a new participant, the Center for Jewish Philanthropy. Many nights will feature Chanukah delicacies like latkes (potato pancakes) and sufganiyot (jelly donuts).

This year the program is generously supported by the Center for Jewish Philanthropy, Kiwanis, APS, Spirit in the Desert, and Temple Chai. Many other local businesses also provide raffle items, donations, and services in kind to not only support this program but to help us help our Spirit of Giving recipient, CCUEF.

See ChanukahinCarefree.com for more information on the event, our sponsors, contributors, live streaming links and the complete schedule.

About the Town of Carefree: Carefree, Arizona is a scenic community of over 3,700 residents nestled in the Sonoran Desert Foothills. Incorporated in 1984, the town is regarded as one of the most inspiring and livable places in Arizona and centers its culture on desert lifestyle, architecture, culinary arts, health, wellness, and community involvement. For more information, please visit www.carefree.org or call 480-488-3686.