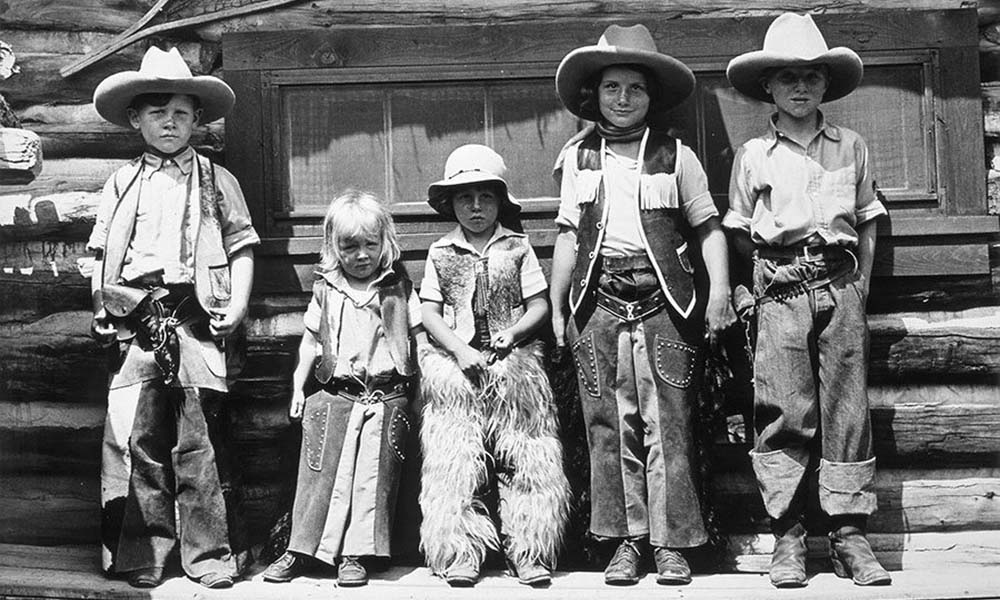 On Sunday, November 11, 2023 from 2-4 PM, the Cave Creek Museum will present Little House in the desert as part of Kiwanis Family Fun Days.

"What was life like as a child during the pioneer days?" says Evelyn Johnson, executive director for the museum. "Was it all work? We don't think so. Come to the Cave Creek Museum to see how kids had fun in times past."
Cave Creek Museum will feature games that children would have played, some fun craft activities using items that were available at the time. And, children will even learn how to make their own bread and butter.

This program is made possible through the kind generosity of Kiwanis Club of Carefree. Admission is free.
Museum debuts old time schoolhouse exhibit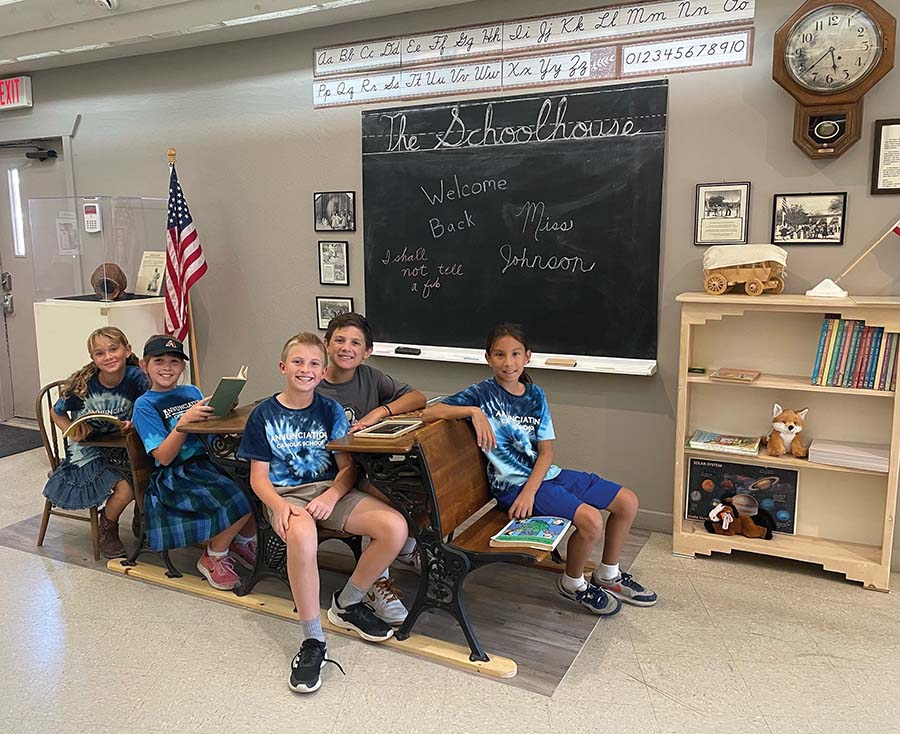 Cave Creek Museum has created an old time schoolhouse exhibit that represents school rooms from an era past; and children love it. Students who visited Cave Creek Museum, like the students from Annunciation Catholic School (shown here), love going back in time to experience what it was like for students many years ago.
Spaghetti western event November 7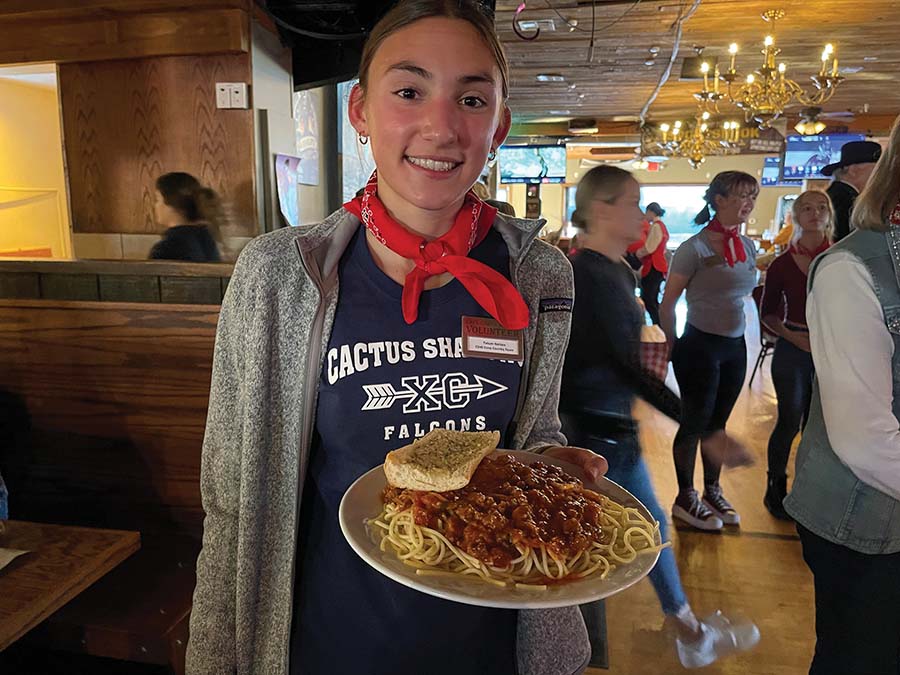 "Dinner with a side of history" is the theme for the evening
The Cave Creek Museum will host its annual spaghetti western fundraiser on November 7, 2023 from 4-7 PM at Harold's Corral, which is located at 6895 E. Cave Creek Road in Cave Creek, Ariz. This year's theme is Spaghetti Western: Dinner with a side of history.

"This fun event, which is now in its ninth year, features a great auction, raffle and a filling spaghetti dinner with sides," says Evelyn Johnson, the museum's executive director. "The theme of the western event focuses on the diverse and fascinating history of the foothills region."

Guests will enjoy cowboy serenades and musical tributes by local Kevin Causey, a chance to win a fistful of dollars and special appearances and surprises. The museum experienced sellout attendance in 2022 and exceeded its fundraising goals. Proceeds from the event will provide funding For Cave Creek Museum's multigenerational education programming, academic research and engaging interpretive exhibits.

"Just like any wild west character in a classic movie western, we are keeping the event details close to the chest," says event chair Buck Columna. "However, folks can expect an evening of good company, great grub and authentic western hospitality."

The cost is $28 for adults before October 10 ($30 after this date) and $10 for children ages 5-11. Children under 5 eat free. Dinner includes spaghetti and meatballs, fresh garden salad, garlic bread and iced tea.

The event is open to the public. Tickets can be purchased at cavecreekmuseum.org or by calling 480.488.2764.
Veteran Memory Garden fundraiser

Event to take place at Carefree Spirits Distillery.

On Saturday, November 4, 2023 from 7–2 PM, the Cave Creek Museum will host a fundraiser to benefit the construction of its Veterans' Memory Garden. The evening event will be held at Carefree Spirits Distillery 6201 E. Cave Creek Rd, Suite C, Cave Creek, Ariz.

"Guests will enjoy this adult-only night with friends, music, drink and food," says Evelyn Johnson, executive director for the museum. "This entertaining fundraiser will include a food truck, a silent auction with military and sports memorabilia.

Two drinks (alcoholic or non) are included courtesy of Carefree Spirits Distillery. Sticks Golf & Cigar Lounge will have cigars available for purchase that can be enjoyed on the patio.  Carefree Spirits Distillery and Sticks Golf & Cigar Lounge are generously donating all profits to the Veterans Memory Garden. Tickets are $75 per person. Admission is $75 and reservations are required.

The capital fundraising now underway will help to create a one-of-a-kind garden, which will a beautiful, moving, respectful and memorable gathering place for veterans and visitors alike.

"The Veteran Memory Garden is being created in recognition of all who served and those who will serve," says Johnson.
"Cave Creek Museum wishes to create a quiet space on our grounds for reflection by those who have fought for our country through the generations; thoughts on the lives changed by their actions; thoughts about serenity and peace provided by our great military; and thoughts on having days without destruction, turmoil and loss."

Six flags will mark six sections of the garden, one for each branch of the military. In the center, Cave Creek veterans and the unknown fallen will be honored. Desert flora, flags and other thoughtful elements will weave through the garden. The museum is working with community partners to bring the project to life.
The 53-year-old museum's mission is to preserve the artifacts of the prehistory, history, culture and legacy of the Cave Creek Mining District and the Cave Creek/Carefree foothills area through education, research and interpretive exhibits. Cave Creek Museum is located at 6140 E. Skyline Drive in Cave Creek, Ariz. Open October through May.

The museum can be reached at 480.488.2764 or cavecreekmuseum.org