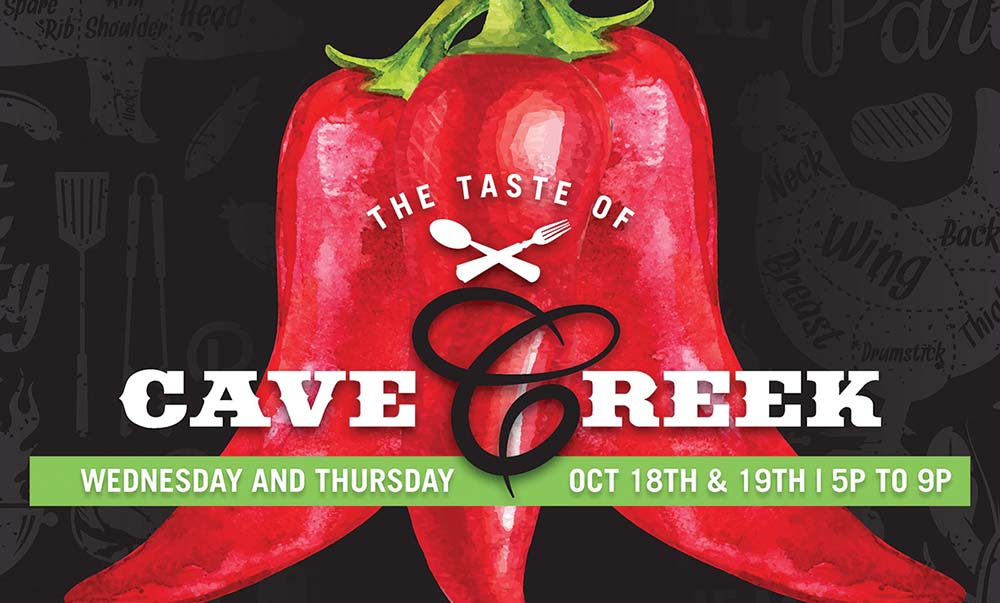 WHAT: The Taste of Cave Creek
WHERE: Stagecoach Village, 7100 E Cave Creek Road, Cave Creek, AZ 85331
WHEN: Wednesday, October 18 and Thursday, October 19, 2023 – 5 pm to 9 pm
TICKET INFORMATION: Tickets may be purchased at www.tasteofcavecreek.com, Ortega's & Stickhorse Gallery in Stagecoach Village and at the entry gate.
ADMISSION: $10 admission fee. Children 12 and younger are free. FOOD TASTINGS: $4 – $6 each
The Taste of Cave Creek has come back after a four – year absence. The local flavors of Cave Creek and surrounding areas will truly be on display and ready for savoring at this year's event.

"We believe one of the favorite parts of the event is seeing all our friends and neighbors coming out and enjoying our local restaurants."

"Cave Creek is undoubtedly one of Arizona's most dynamic and diverse culinary hot spots."

"That is why we are enormously proud to partner with Sanderson Ford and Sanderson Lincoln to showcase a mix of the best and brightest chefs and restaurateurs."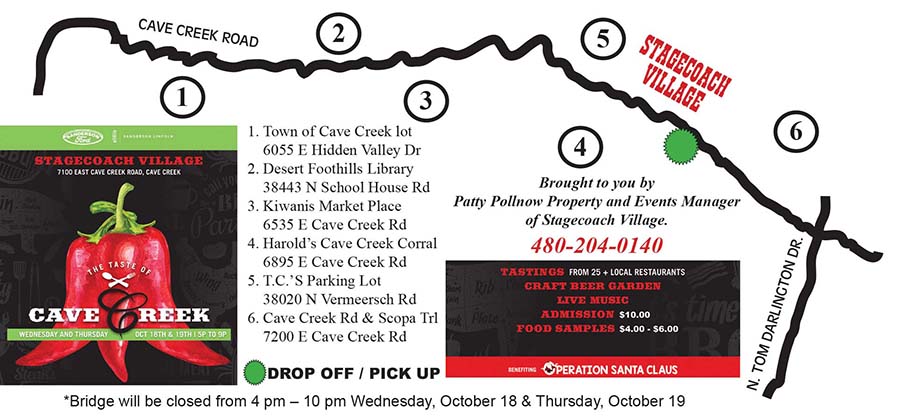 PARTICIPATING RESTAURANTS MAY INCLUDE:
Athens on Easy Street |Benny Blanco Tortillas| Black Mountain Coffee Company | Big Earls Greasy Eats and Earl's Old Time Candy Shop| Brugos Pizza Co & Bistro |Bumble Bee Ice Cream | Cowboy Pizza | Cryin Coyote BBQ | Firehouse Subs | Glaze Donuts | Grotto Café | It's a Divine Bakery | Keelers Neighborhood Steakhouse | Kiki Rae's | Le Sans Souci French Restaurant | Liberty Station| Local Jonny's Tavern & Café |Nelsen's Meat and Fish | Peaks and Valley's Restaurant |Ofrenda | Raven's View |Sweet Moments Company| The Boulders |The City Creamery | The Honey Baked Ham Company | The Meat Market | Village Creperie | Venues Café | Z's House of Thai
A craft beer garden of more than twenty – one breweries and wine tasting will once again have a presence at the highly anticipated event.

Adding to the excitement of the culinary extravaganza will be the 3rd and Long Band performing each night from 5 pm – 9 pm in the gazebo.