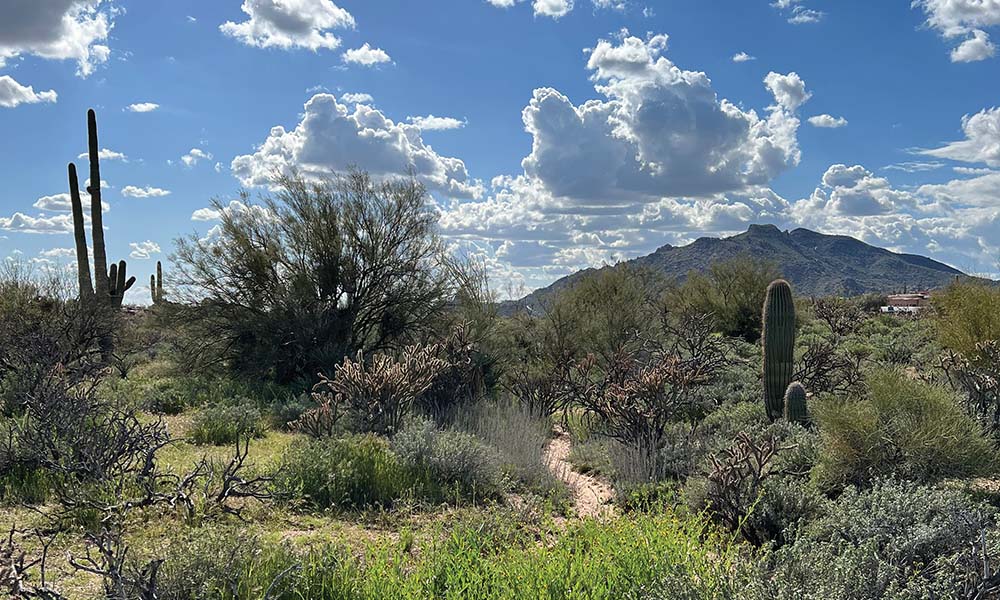 As Carefree residents are going through the process of our General Plan revision, one thing has become abundantly clear – an issue that unites us all is the desire for preservation of open space!

A resounding mandate of 89.7% identified Natural Open Space and Resource Preservation as the most essential/most important trend in Carefree, and 81% of survey participants indicated that Open Space Preservation is the #1 issue we want the Town to focus on going forward.

Yet, when residents and visitors want to hike in the beautiful Sonoran Desert, walk our dogs or ride our bikes, we either have to do this unsafely in the streets, or we have to load up into the car and drive to Cave Creek or Scottsdale. Our neighboring towns have actively created parks for their residents to enjoy, while Carefree has not. Yet…

We can change this with one final opportunity. We could acquire the last remaining large parcel of accessible land in Carefree, a 48-acre site on Cave Creek Road across from SkyRanch Airport, which is owned by the Arizona State Land Department. At least one developer has already expressed interest in acquiring it. And so a group of passionate residents have formed a 501(c)3 nonprofit organization, Carefree Park, with the mission of acquiring and preserving the land, and creating trails with minimal impact to the landscape for residents and visitors to enjoy in perpetuity. With unobstructed views of Black Mountain to the west, and the Continentals to the north, this incredibly beautiful land is home to hundreds of old growth Saguaro cactus, and is a habitat for wildlife, including bobcats, coyote, deer, javelinas and more.

The land can only be acquired through State Land Auction and has an appraised value of $6.3 million – $6.9 million. Raising the funds will be a steep hill to climb, but with the support of the community, it is within our grasp. It is well worth the effort, and if we don't do something now, it will be lost forever.

Preserving our beautiful but fragile Upper Sonoran Desert, providing a safe place to be enjoyed by residents and visitors for generations to come, is a goal we must all work together to achieve before it's too late.

Carefree Park will be holding an Informational Presentation on Saturday, October 21st at the Sanderson Pavilion in Carefree's Sundial Center, starting at 3:00 pm. Speakers will include Maricopa County Supervisor, Thomas Galvin, Carefree Mayor John Crane, Maricopa County Parks & Recreation Director RJ Cardin, and Arizona Parks & Trails Program Manager, Jeffrey Schmidt. Carefree Park representatives will explain what we have accomplished so far, what we still need to do, and how everyone can help. Please plan on attending, and spread the word!
www.CarefreePark.org