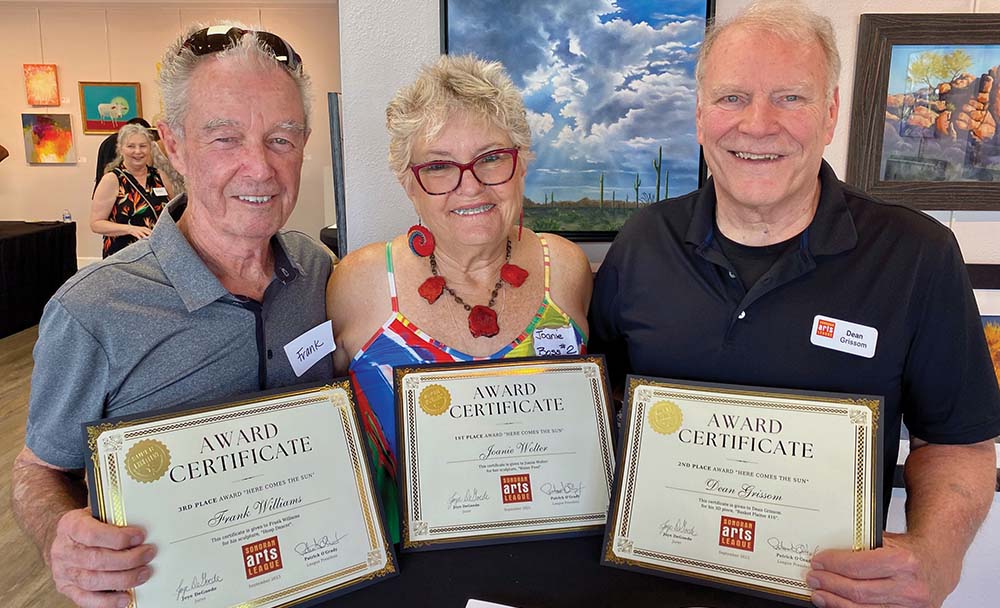 During the hot summer months, one Carefree fine art gallery was busy expanding to accommodate more artists' work. The Sonoran Arts League Gallery, which opened its doors on Easy Street in January, expanded into the adjacent suite, doubling its size to 2,068 square feet.

To celebrate, the gallery hosts a special grand re-opening reception from 4 p.m. to 7 p.m. on Thursday, September 21. The free event coincided with the Town of Carefree's "Third Thursdays Art Walk," and includes an artist awards ceremony for the "Artists' Best" juried exhibit, which opened on Sept. 5 and runs through Nov. 9. Guests can also enjoy delicious New England seafood from the popular Lobstar Food Truck that will be parked outside.

"Some people don't realize that the Sonoran Arts League has a long and rich history in the Desert Foothills community," said Patrick O'Grady, League president. "We began in 1974 as an informal gathering of local artists who put on art shows under the Tamarisk groves in Cave Creek. Today, we're the oldest and largest nonprofit arts league in Arizona, with more than 500 members."
 
Painter Nancy Breiman and sculptor Joanie Wolter serve as the gallery's committee co-chairs. 

"It's exciting to be part of a growing arts community both in Carefree and Cave Creek," Nancy Breiman said. "Our goal is to align with the League's mission of promoting art, artists, and art education. All the artists exhibiting at the gallery are Sonoran Arts League members, and each bi-monthly show features a diverse mix of original work. Our newly expanded space provides more opportunities for artists to showcase and sell their work." 

The "Artists' Best" exhibit will highlight artist members' best work in all mediums and subject matter. 
"The League's membership includes internationally acclaimed artists as well as emerging artists, so it's always a joy to see how each show comes together," Joanie Wolter said. "Whether you live nearby or you reside in a different part of the Valley, we encourage you to come meet the artists and be inspired by their creativity."

The "Artists' Best" awards ceremony take place at 5:30 p.m. during the Sept. 21 reception. A total of six artists will be presented with awards certificates for 1st, 2nd and 3rd place in the two-dimensional and three-dimensional categories.

The Sonoran Arts League Gallery is located at 7275 E. Easy St., Suite A104 in Carefree (across from the Carefree post office). Gallery hours are Tuesday to Saturday, 10 a.m. to 5 p.m. The gallery is open from 10 a.m. to 7 p.m. on the third Thursday of each month for the town's art walk. To learn more, call 480-575-6624 or visit www.sonoranartsleague.org.