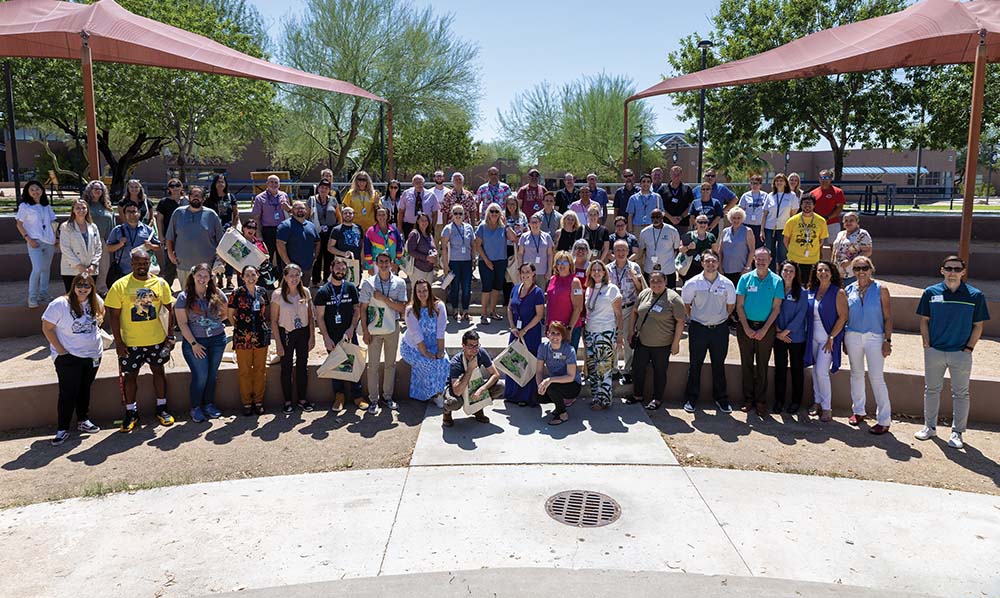 Each year the Desert Foothills Leadership Academy does a project to apply their leadership skills and give back to the community. This year's project was a teacher appreciation event for Cactus Shadows High School teachers, to honor them for all they do with a special lunch and gifts. The goal of this event was to communicate to our local teachers just how important they are to the Desert Foothills area and in turn let them feel the love and support of their surrounding community.  

The community stepped up in a big way! The Leadership Academy participants worked for several months and raised over $7,000 in local donations. From the donations collected, the Leadership Academy was able to present each teacher with gift certificates and coupons from local businesses at a luncheon on August 30th.  

Generous community donations came from all these local sponsors who wanted to show their support to the teachers who work so hard educating the future leaders of our community: 
Allstate – Rebecca Niessink 
C & E Rentals 
Carefree Physical Therapy 
Carefree Property Group – Russ Lyon 
Cave Creek Car Wash 
The Cobb Family 
Cobblestone Auto Spa 
Dairy Queen of Cave Creek  
Daisy Mountain Firefighters Charities 
Dory & David Mawyer 
Dutch Bros Coffee 
Earth Care 
Five Star Mexican 
Taco Grill 
Fit6 
Flat Tire Bike Shop 
GM Zimmerman Architect 
GameDay Men's Health 
Glaze Donuts AZ 
Helene Madden 
Janey's Coffee House 
Julie Clark 
Karsten's Ace Hardware at Carefree 
Kathleen Coleman 
Kiwanis Club of Cave Creek & Carefree 
Local Johnny's Tavern & Café 
Parkway Bank of Cave Creek  
Premiere Estate Planning 
Prickly Pear Inn 
The Print Shop Cave Creek 
The Roadhouse 
Safeway 
Sanctuary Tactical 
Shiloh Builders 
Shiloh General  
Sprouts Farmers Market 
Stumblina's Cantina 
Tonto Bar & Grill at Rancho Manana 
Town of Carefree 
Town of Cave Creek 
UPS Store in Carefree 
Walmart in Cave Creek  
Window Covers by Julie  

The Desert Foothills Leadership (DFL) Academy, a partnership with the Holland Center and Carefree/Cave Creek Chamber of Commerce, is driven by a strong community desire to be a part of the creation of our future leaders. Its mission is to educate, energize, and engage emerging leaders with a goal of enriching community life while responsibly mapping our future and sustaining our natural resources for generations to come. All of this is done through a focus on strengthening participants understanding of the Past, Current, and Future potential of the Sonoran Desert Foothills.  
 
To learn more about the program, visit www.DesertFoothillsLeaders.org.