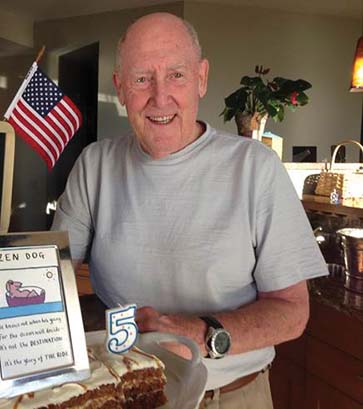 Ready. Fire. Aim. Don't overthink it, act and adjust it. Arch lived his life with positive action.
Born in Winona, MN where he went to school and worked at his parent's restaurant and pool hall learning from customers and living Midwestern values. Enlisting in the Air Force during the Korean War, he became a Russian linguist and crypto analyst which changed the direction of his life.

He graduated from St. Mary's College in Winona in 1956 and was hired by IBM. After only eight years, at the age of 33, he became their VP of Marketing, Data Processing Division.

In the early 1970s, Arch launched McGill Associates guiding Seiko transitioning watches and copiers. As AT&T was changing from a monopoly to a competitive business, he was the first executive hired from outside the Bell system. In a company with over one million employees, his challenge was to change the culture and lead in a new direction.
He became their VP of Marketing, winning distinguished speaker awards from the top business schools, Marketing Statesman of the Year in NYC and many visits to the White House. American Bell, the bold new company Bell System needed for the competitive telecommunications market was created and Arch lead as President. His love of action and working with entrepreneurs brought him to venture capital as President at Rothschild Ventures NYC.

Retiring at 55, he engaged in public speaking and boards of directors. Arch moved to Colorado to spend more time doing the sports he loved and enjoying life with friends and family. Education and making memories were his top priorities to pass on.

He was a gifted athlete in many sports but speed was his love. Downhill ski racing and motorcycling were at the top of his list. At 65 he won the US and Canadian downhill Master's Championship. He has motorcycled all over the world, selling the cycle at age 90.

Moving to AZ around 2000, many know Arch from his organizing 3 Tea Parties in Cave Creek. A dry cappuccino was his morning ritual with friends over the years at one of the many great coffee spots in town.
Arch believed in one's unique potential and the pursuit of excellence. He was a proud and grateful American whose eyes welled up whenever our anthem was played.

He was known for his conservative political emails. His proudest accomplishments were his family and being a mentor to many. Relentless reading and learning kept him engaged in life.

Arch's predeceased family members are: parents Anna Lettner McGill and Archibald J. McGill, Sr. and children Patrick McGill, Mark McGill and Karen McGill Astle. He is survived by his wife Jeanne Sullivan McGill, children Arch McGilI III, Debra McGill Swanson, Gregory McGill, Susan McGill Marker and Brian McGill, 12 grandchildren, 7 great grandchildren and sister Charlotte McGill Signor.

A favorite charity of Arch's was Tunnels to Towers Foundation (www.t2t.org)
"It is in giving that we receive, pardoning that we are pardoned and dying that we are reborn to eternal peace".

God bless.