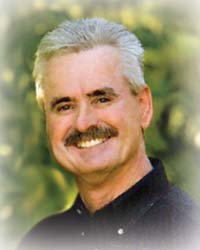 Thomas (Tom) Alban Dooley left this world on December 15th, 2022, surrounded by his immediate family at his "Dooleyville" home in Cave Creek, Arizona. Tom was a native of Arizona, 69 years of age, born November 7th, 1953.

He was a resident of Cave Creek since the 1970s & hauled his own water "in the good old days." Beloved son of parents Patricia Clare and James Francis Dooley, Tom was the third child, first boy of ten children. He was the oldest of four boys. Tom spent most of his childhood growing up in Maryvale, Arizona, where he served as an Alter Boy at St. Vincent De Paul. Tom attended Catholic schools in Phoenix, including Bourgade High School. Jobs of his youth included a paper route for the Arizona Republic & Gazette, along with mowing lawns.

When not hard at work, Tom took things apart around the house to find out how they worked, including his mom's favorite clock. He followed his dad around the house and learned how to repair small appliances like toasters, waffle irons, but unfortunately for his mom, not clocks. He rode his bicycle everywhere in the valley, including all the way to South Mountain which he referred to as a "Bike Hike." When older he worked at Diamonds department store in the shoe department.

Tom was an usher at the Arizona State Fair Grounds Coliseum for Suns Basketball Games, the circus, Ice Capades, and entertainers such as THE OSMONDS. He loved buying, fixing up, and selling cars of all types. He attended Phoenix College for the basics, but his main love was the various elective courses, photography in particular. Tom followed in his father's footsteps, hiring on at Mountain Bell phone company (later US West, and currently CenturyLink). Tom was a cable splicer and eventually became supervisor of a cable splicing crew at the East Bell Road yard. He was involved in the first fiber optic cable installation in Phoenix and admitted to being the first one to BREAK the first fiber cable as well. OOOPS!

In 1978 Tom married the love of his life, Mitzi Dee Smith, already a resident of Cave Creek since the '60s. They met on a blind date arranged by a family friend. Mitzi received a phone call where a man said, "Hi, my name is Tom Dooley, and you don't know me, but…" Before their first date he called Mitzi and said he was rebuilding the tranny in his truck, so Mitzi volunteered to use her Mustang for the date.

For their second date Tom showed up at Mitzi's door late and dirty because he'd stopped to help an elderly couple change their truck tire. She knew he was a keeper! Tom and Mitzi were married at Our Lady of Perpetual Help in Scottsdale on November 11th, 1978 and celebrated their 44th anniversary this year. Tom and Mitzi were blessed with two children, Dustin James and Jessica Marie. Tom took an early retirement from Mountain Bell to pursue his own fiber optic business full-time with his wife Mitzi. Together they lived a comfortable life in the desert, surrounded by family and friends. There wasn't anything that Tom couldn't find a new and improved way to engineer, repackage, or "funny it up." Tom was well known for having a "collection of neat stuff." Points of his personality included love of family, a great sense of humor, optimism, silliness, great work ethic, smart, quick, entertaining, witty, and hardworking.

People often referred to him as the king of volunteering, a role model, handy, a jack of all trades, and "the keeper of all tools." If Tom didn't have what you needed, he would by tomorrow. He helped others, appreciated a challenge, was mechanically inclined, and always fit into any crowd. Mitzi was never concerned at gatherings with her girlfriends because Tom could strike up a conversation with any of the other men at any BBQ or potluck. Tom earned the coveted title of "neighborhood helper" with tractor projects, trimming trees, loading trash bins, moving dirt, digging up cactus, performing road work, and loaning out tools. Every year he put Santa hats on the neighborhood saguaros with his bucket truck. Not only was he generous with his time, but he also made everyone enjoy their time with him. He was quite the jokester, often saying "we don't need cash, we have UNCLE VISA!"

Tom enjoyed fishing, camping, cycling, family vacations, motorcycles, ATVs, four-wheel drive vehicles and mountain biking. When his son Dusty was growing up, Tom dedicated multiple hours a week to being Cub Master of the Grand Canyon Theodore Roosevelt Troop 603 of Cave Creek for 4 and a half years. His wish was to get the parents involved as well and make it as entertaining and funny as possible. Being the Scout Master was his "license to be silly" with a great group of other volunteer Dads. He made elaborate Pinewood Derby cars with his son and friends in the troop.

The Pinewood Derby cars were an opportunity for Tom's competitive yet humorous nature to really shine. To Tom, the challenge was not to make the fastest car, but rather the most ridiculously complex car that also went fastest when no one thought it was possible! Each car had a theme each year, like the "Great Doodini," and those silly derby cars are still admired and treasured to this day. Not only was Tom king of The Pinewood Derby, but he was pretty much the king of anything with wheels. Tom and his son Dustin rode in the Annual MS150 BEST DAM BIKE GET-TOGETHERS with colleagues from the phone company, and biking friends for several years. He rode many bicycle trails throughout Arizona with his son and other fellow riding friends. Over the years his passion for wheels morphed from ones he pedaled to machines that powered themselves.

Tom's hobbies transitioned from motorcycles and ATCs, to quads, Ford Taurus SHO cars, sand rails, Turbo charged sand cars, and eventually Yamaha Rhinos equipped with bucket seats in the back for the Grandkids. He was an avid "Duner" at the Imperial Sand Dunes and was first in line at the drags. Tom loved "running" his toys at the cinders in the cool pines of Flagstaff, to blast down the dry lakebed, or run up Cherry Bowl. He was quick to make a dirt track in Dooleyville equipped with jumps and didn't mind the endless dirt clouds his Grandkids created. Tom made family RV camping memorable with the Rhinos at Lake Pleasant and on multi-day-long rides (overnighter) to Castle Hot Springs with his son and "favorite" son-in-law. Eventually Tom's passion landed on antique Ford tractors, mostly lined up as lawn art, tinkering for hours upon hours in his shop.

Some of these tractors were functioning so he could give rides to the Grandkids, but others were just a special find or his project of the month. In his later years, Tom loved to volunteer, and did so often at the Cave Creek Museum. He shared his skills with many in need of a helping hand or just a good laugh. In April of 2018, Tom and Mitzi hosted an overnight camp-out on their property in Dooleyville for a group called the "Clampets" when the stamp mill was being dedicated to the Cave Creek Museum.

He also really loved to read. He could read mysteries for hours, especially the Jack Reacher series, and mysteries by Vince Flynn. However, one of Tom's favorite daily enjoyments, was viewing his official sized windmill from the living room picture window of Dooleyville. With the help of his son Dusty and his great friend Paul Bott, Tom acquired a full-size windmill from the "76 Ranch" in Wilcox, AZ. Every Cinco De Mayo Tom and Mitzi hosted a neighborhood get-together on their "Partio." Everyone enjoyed ice cold Coronas with limes, Margaritas, and the great views of multiple windmills against the backdrop of Arizona sunsets.

Tom's favorite saying was "I'm just happy to be here," and we were all happy to have been here with him.
Beloved son, brother, husband, father, and Grandfather (PaPu). Tom was proceeded in death by his parents James and Patricia. He is survived by his wife of 44 years, Mitzi, son Dustin, daughter Jessica (Keith), grandsons Arthur and Clay, three brothers, Jim (Summer), John (Christina) and Richard (Yvonne), six sisters Patricia, Maryanne (Mark), Terri, Donna, Diane (Ron), and Kitty (Mark).

In Lieu of Flowers please make Donations in Tom's memory to the Cave Creek Museum: PO Box 1, Cave Creek AZ, 85327-0001. Visit HansenMortuaries.com for online condolences. Celebration of Life details to follow.