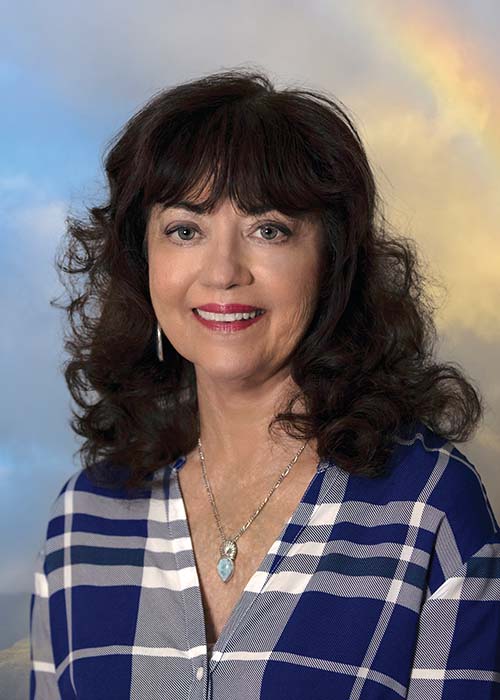 Susan passed into her Lord Father's loving arms on November 2, 2022. She was 73 years young. Susan was born in Alameda, California on December 10th, 1948, to William and Effie Watters. Growing up as the daughter of a career Navy man, she lived in many communities in the US, Canada, and Morocco, until finally settling down in Phoenix in 1963 after her dad retired from the Navy. She graduated from West Phoenix High School and Phoenix College.

Susan married Gregg Clancy in 1969, and they had two loving children, Jonathan and Lindsay. She was the proud YiaYia (grandmother) of Brennan, and Cameron and Celine. Susan was very honored of the fact that she was one of the first female salespeople for IBM and Herman Miller and helped break down gender barriers.

She also was very entrepreneurial with her Western Church Supply company. When Susan and Gregg moved to Cave Creek in 1981 with their school-age children, Susan became an active leader with church youth groups and school activities.

In 2005, Susan received both a liver and kidney transplant at the Mayo Clinic in Jacksonville, Florida. The Cave Creek community came together to support the Clancy family with a jazz benefit concert that was attended by hundreds. As a result of this life-extending medical procedure, she was able to be actively involved in the lives of her three grandchildren, all born after she received her transplanted organs, and to continue serving her beloved town of Cave Creek.

Susan had the privilege of giving back to the community that she loved, by serving on the Cave Creek Unified School District's governing board for over 15 years. She also had the honor of serving on the board of directors for the Arizona School Board Association. She later joined the League of Cities and Towns, as well as the Flinn-Brown institute, the flagship program of the nonpartisan Arizona Center for Civic Leadership. Susan was also elected to the Cave Creek Town Council and enjoyed working with civic and government leaders to make our community a better place.

She truly loved her beautiful hometown of Cave Creek, Arizona. Susan is survived by Gregg Clancy, her mother Effie Watters, daughter Lindsay Couturier, sister Kathryn Swan, brothers Daniel and William, her three grandchildren, and many nieces, nephews, and cousins. She was predeceased by her father William Donald Watters and her son Jonathan Warne Clancy.

She will be fondly remembered and greatly missed by all who knew her. Susan's Memorial will be held at Desert Hills Presbyterian Church on November 17 at 11:00 am. Desert Hills Presbyterian Church is located at 34605 N Tom Darlington Dr, Scottsdale, AZ 85266