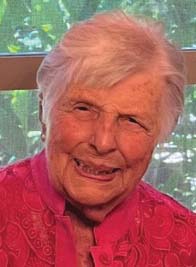 Born July 17, 1917, Teaneck, New Jersey, Elizabeth Anne Rimmler attended local schools in Bergen County and graduated from St. John High School, Patterson, in 1935. She lived in Bergen County and took evening classes for three years at Bergen Junior College. From 1937 to 1945, Elizabeth worked as a legal secretary for DiMaria and DiMaria in Lodi, NJ.
Elizabeth married Charles M. Perkins, Commander USMS, on 1 November 1944. A woman ahead of her time, Elizabeth managed to take care of her beloved family while working an office job. In 1948 the family moved to Montclair where Elizabeth worked as a secretary and office manager for several small businesses and local branches of larger companies. From 1963 to 1979, she managed the estate and trust department of the Ferguson Law Firm.
As an active member of her New Jersey community, Elizabeth participated in and supported charities and service organizations. Her activities included Executive Director of the Virginia Harkness Sawtelle Foundation, Trustee of Montclair Foundation – Emeritus after 1994, Trustee of Camp Nejeda for diabetic children, past president and (the first) life member of Presby Memorial Iris Gardens, member of the Advisory Committee for The Haven at Mountainside Hospital, an Honorary Trustee for Youth Consultation Services and a volunteer for Meals on Wheels.
Elizabeth continued her civic commitment and active lifestyle after becoming a resident of Carefree, Arizona, in 1994. She was an active member of Our Lady of Joy R.C. Church and volunteer church secretary. She was one of the earliest members of Our Lady's Guild. She was a supporter of the Foothills Library and other local service groups. Through her nineties, she attended Mass daily, often walking the one mile to the church. Also, in her nineties, she learned bridge and was very involved with bridge groups from the parish. She loved entertaining and her garden was her pride and joy sharing seeds of all sorts with all her friends. Aside from her work in formal organizations, Elizabeth was constantly using her law office and management skills to help people.
Elizabeth Perkins died at home on August 17, 2022, one month after her 105th birthday party, which was attended by over 50 friends and relatives. At her 100th birthday, which was held in Hawaii, the family had a cake with 100 (small) candles. The burning candles and their chimney effect set off smoke alarms. So for Elizabeth's 105th celebration, the cake only had three candles: 1 0 5.
Her son, Fredrick Leigh, died in July 2004. Her son Robert lives in Fairbanks, Alaska, where he managed engineering businesses and taught at the University of Alaska. She is survived by two grandchildren, Suzanna Perkins of Beaverton, Oregon, and Christopher Perkins of Wheat Ridge, Colorado, three great grandchildren, and several nieces, nephews, and their children living in Arizona, Florida, New York, New Jersey, Connecticut, and Massachusetts.
Her friends note: "Perkie", as she was known to many, had a lot of friends because she was a friend and a woman to admire for multiple reasons, especially her incredible ability to be just who she was at any time. Perkie was an inspiration and example of a life well lived." A memorial service and reception is was held at Our Lady of Joy Church in Carefree on Saturday, September 3rd.