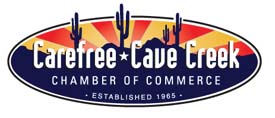 The Carefree Cave Creek Chamber of Commerce announces the 2022-2023 Board of Directors and Executive Committee.
Executive Committee:
Eric Twohey, Uncorked Media Group-Chairman
Steve Morse, State Farm Insurance-Past Chairman & Treasurer
Dr. Colleen Krahl, Champion Chiropractic-Secretary
Other Directors include:
Sandi Hess-Coldwell Banker Residential Properties, Rebecca Niessink-Allstate Insurance, Todd Cooley-Hampton Inn by Hilton Carefree, Mark Warren-The Creek Patio Grill, Leigh Zydonik-Foothills Food Bank & Resource Center, Renee Van Heel-Pay It Forward Processing, Helene Madden-Shiloh Builders, Brian Kunkel-Carefree Floors and Dr. Cort Monroe-Superintendent Cave Creek Unified School District.

About the Carefree Cave Creek Chamber of Commerce
The Board of Directors is committed to the mission and vision of our Chamber and what that means to the success of our business community as we lead into the future. At the heart of that vision is a continued emphasis and commitment to our membership. We are a membership organization and while the reasons for membership are varied, hundreds of businesses and organizations are counting on the Chamber to assist in the enhancement and promotion of their business through Advocacy, Marketing and Networking.