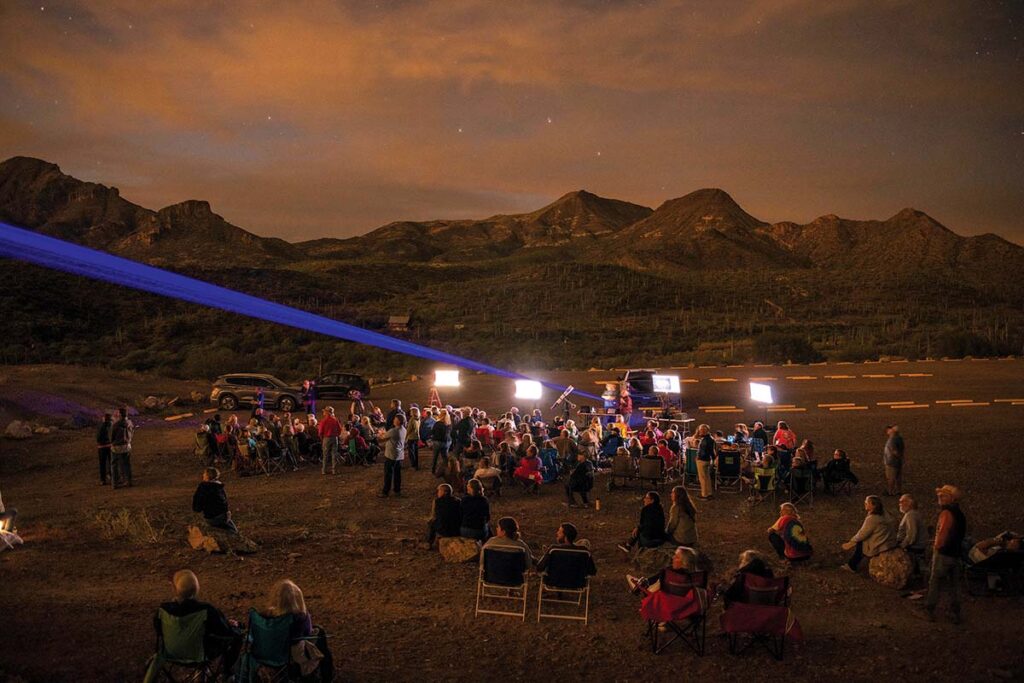 The Dark Sky Initiative hosted a Town-sponsored stargazing gathering on November 7 at the entrance of the Spur Cross Ranch Conservation area. Over 120 attendees joined to enjoy the night sky and live telescope presentation by NASA Ambassador Mark Johnston and President of the Phoenix Astronomical Society, Stu Brackney.

"We sincerely thank Town Marshal Adam Stein, Communications Specialist Kelley Francis, and Town Manager Carrie Dyrek for their assistance and help in making our Star Gazing Party a great success," remarked Bruce Arlen of The Cave Creek Dark Sky Initiative, "We also want to thank Town Council for providing financial support to our Dark Sky festivities, as well as the parking lot attendants who volunteered."

Preserving the Sonoran Desert, which includes protection of dark skies from artificial light, is part of the Town's identity. As stated in the Town's General Plan: "As adjacent municipalities extend their boundaries and associated development farther north, Cave Creek must do what it can to influence such development to honor our dark skies…"

Dark Skies Communities are towns, cities, and/or municipalities that are dedicated to the preservation of the night sky through the implementation and enforcement of a quality outdoor lighting ordinance, dark sky education and citizen support of dark skies.

"The character of the Sonoran Desert, defined by the vegetation, wildlife, views, sounds and dark skies is integral to the enjoyment of the Town of Cave Creek residents. "
— Page 38, 2021 Cave Creek General Plan
— Submitted by the Town of Cave Creek.
Images contributed by Town of Cave Creek
Digital Communications Specialist, Kelley Francis