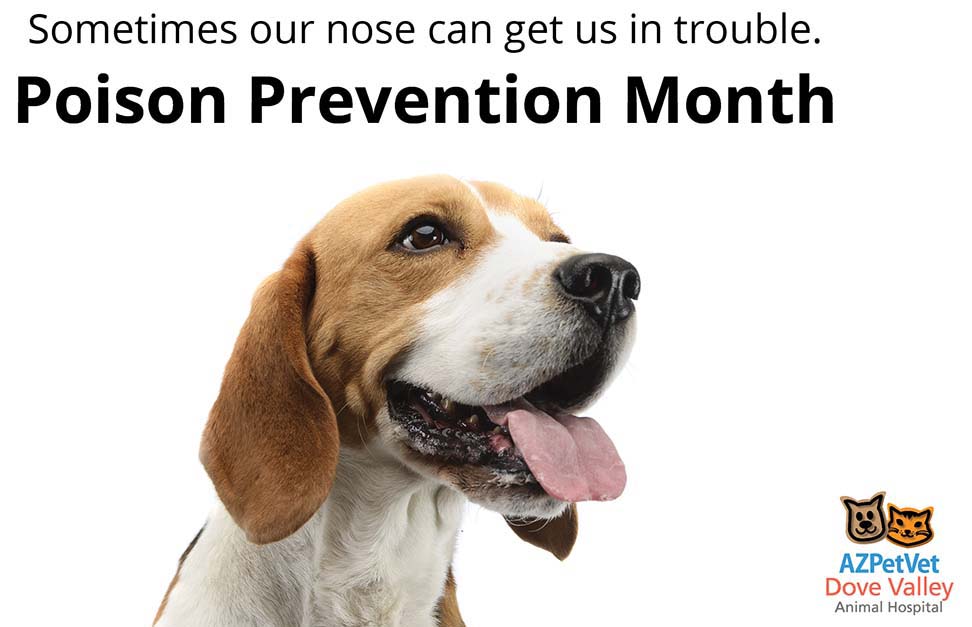 CAVE CREEK – Pets have a knack for getting into things they shouldn't. Animal poison prevention is a necessary and critical part of pet ownership. While it might seem a remote possibility, cases of pet poisoning are far more common than you think. A little knowledge and prevention can help keep everyone safer!

Some of the most common pet poison culprits include medications (both over-the-counter and prescription), foods, household cleaners, personal care products, antifreeze, rodenticide exposure, plants/garden products, as well as insecticide exposure.

OTC pain medications like ibuprofen and acetaminophen are particularly hazardous for dogs and cats. Acetaminophen can cause RBC – red blood cell – injury, difficulty breathing, lethargy, swelling and vomiting in cats and liver failure, dry eye and RBC injury in dogs.
Certain foods common for human consumption can be extremely dangerous to your pet. Chocolate, grapes/raisins, Xylitol (sweeteners), milk/dairy, nuts, avocados, citrus, raw meat and even salt can have severe consequences for pets that include liver damage, hyperthermia, seizures and central nervous system depression. Even if your animal is looking at you with his big, begging eyes, it's best to stick to approved pet foods only.

Around the house you may find items containing ethylene glycol, which is found in products such as antifreeze, motor oil, brake fluid, paint solvents, even cosmetics. Ethylene glycol is seriously toxic to pets!
Rodenticide is just as harmful to pets as it is to rats and mice. Even when using rodenticides in an area you believe pets can't access, rodents can still inadvertently transfer the toxic substances to other locations. Talk with a professional to discuss alternatives where possible in order to avoid using this product in your home altogether.

Be prepared. In case of a pet poisoning or other emergency, all family members should have the number of your primary veterinarian as well as contact information for an emergency animal hospital. Post emergency numbers in a visible spot for everyone to reference.
If you suspect a pet has ingested any of the aforementioned items, it's imperative you seek treatment immediately.
The compassionate team at Dove Valley Animal Hospital is here for you and your pets seven days a week. Located at 4815 E Carefree Hwy (in Fry's complex), phone (480) 595-5731 or visit www.dovevalleyah.com for appointments, hours and directions.