On Friday, February 23, 2018, CCUSD hosted the Region II Spelling Bee.  Participants included forty-four students who finished top in their district or charter/home school spelling bee.  CCUSD, Deer Valley, Fountain Hills, Paradise Valley, and Scottsdale Unified School District students, as well as charter/home school students in the area, took part in the competition.  Congratulations to the students who took first and second place after an intense four-hour competition.
Winner:          Zoe Feierabend, Feierabend Home School
                        8th Grade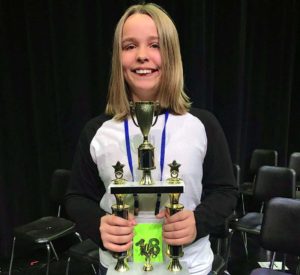 Runner Up:   Aiden Bowers, Deer Valley Unified School District, Highland Lakes School
                        8th Grade
These two students will go on to participate in the Arizona State Spelling Bee on Saturday, March 25, 2018 at Eight/AZ PBS.  The Arizona Educational Foundation hosts the State bee, with winners going on to participate in the national competition.