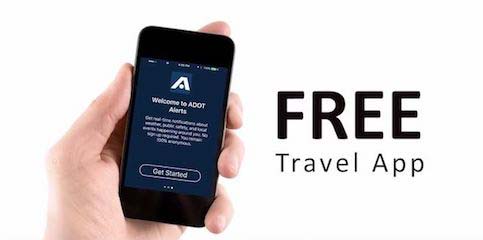 Avoiding lengthy delays and other highway hazards is important to Arizona motorists. ADOT has the answer to help prevent frustrated motorists. Motorists can now download a free app on a mobile device from the Arizona Department of Transportation that will help avoid lengthy travel delays and other highway hazards.
The app is called ADOT Alerts and it will help keep drivers moving on Arizona's highways by providing information to drivers before they are trapped on a closed highway or due severe weather. Using geofencing technology, ADOT will send alerts to mobile devices with the app in affected areas and in advance of roadway decision points. This technology allows the alerts to reach the motorists, allowing drivers to make a decision to re-route or delay their travel plans long before encountering a dreaded traffic backup.
"We're excited about ADOT Alerts because the app will help us quickly get critical information directly to motorists," ADOT Director John Halikowski said. "With that information, travelers can make a decision to take a different route or stop somewhere for a bite to eat or stay where they're at, and avoid sitting in a long backup because of an unplanned event, like a serious crash that closes a highway. We can also alert motorists to public safety issues, like wrong-way vehicles or severe weather affecting state highways."
To ensure alerts are accurate, critical in nature and appropriately targeted to a geographic area, all alerts will be sent by a public information officer at ADOT's Traffic Operations Center.
To receive the most accurate and up to date alerts, ADOT suggests that users enable the Location Services and Push Notifications. When enabled, ADOT will push out an alert to an area your mobile device is in. The notification will pop up on your device's screen with a distinctive alert chime.
The ADOT Alerts app can be downloaded free of charge in Apple's App Store and Google Play. Search for "ADOT Alerts" in the app store. Those who download the app are not required to sign up, register or create a log-in to use the app. Users remain 100 percent anonymous.
"The introduction of the ADOT Alerts app is one more way ADOT is working to promote highway safety and reduce frustrations for drivers," Halikowski said. "We want drivers to be informed about issues, knowledgeable about options, and up-to-date on hazards. We hope this app – along with AZ511 and our social media outreach – will prove to be a major advancement in our efforts to connect with drivers."
More information about the app can be found at ADOTAlerts.com.