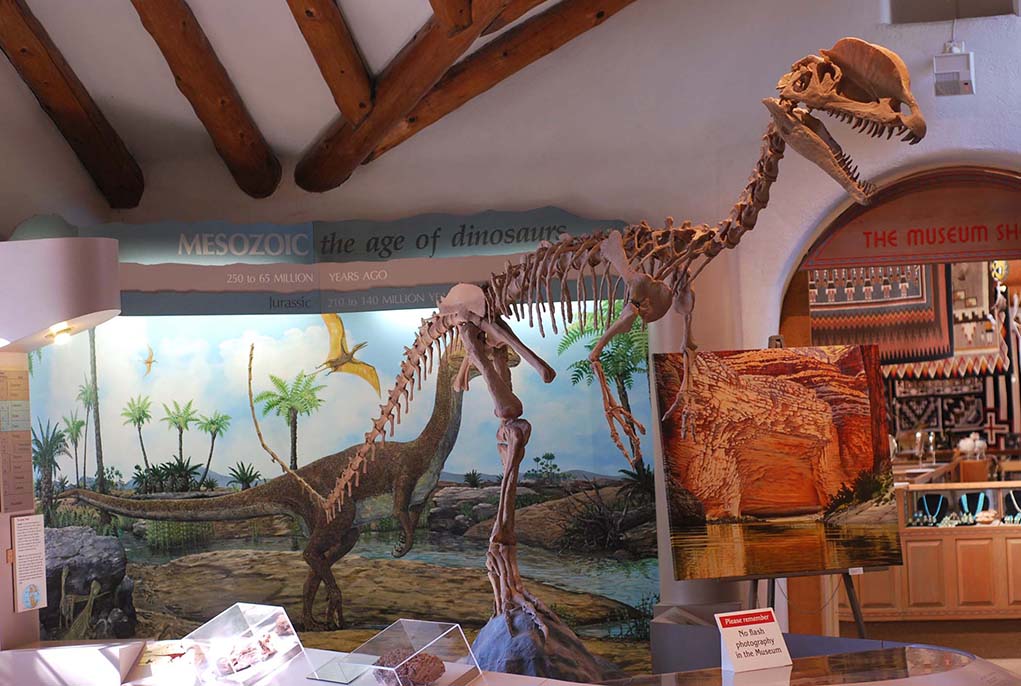 Tour the Museum of Northern Arizona in Flagstaff with Dr. Dave Gillette, an expert on dinosaurs and early (Pleistocene) megafauna of the Southwest, and get an authentic, first-hand experience with a southwestern paleontologist. On Thursday, August 31st, join the Highlands Center for Trips and Tours: Dinosaurs in Arizona Our first field trip focusing on Dinosaurs and other prehistoric animals of Arizona and New Mexico.
Participants will depart the Highlands Center at 8:00am and travel by bus to the Museum of Northern Arizona, in Flagstaff. There they will meet Curator of Vertebrate Paleontology, Dave Gillette, and tour the Dinosaur exhibit learning about the history of Dinosaurs in Arizona and other early vertebrates. The tour will last two hours and will be followed by a boxed lunch on the museum grounds provided by the Highlands Center. Participants will return to the Highlands Center after lunch.
Dinosaurs in Arizona, $65 Adults. Pre-registration required.
To register please call 776-9550 or go to www.highlandscenter.org
About the Highlands Center for Natural History:
Formed in 1996, the Highlands Center for Natural History is a non-profit organization developed to foster an appreciation for and knowledge of the natural wonders of the Central Highlands of Arizona. Operating on an 80-acre campus near Lynx Lake through a Special Use Permit with Prescott National Forest, the Highlands Center is a regional hub for lifelong learning, designed to invite discovery of the wonders of nature through on and offsite programs, supported by contributions from individuals, corporations, foundations and community partners.
Visit www.highlandscenter.org for more information. https://musnaz.org/