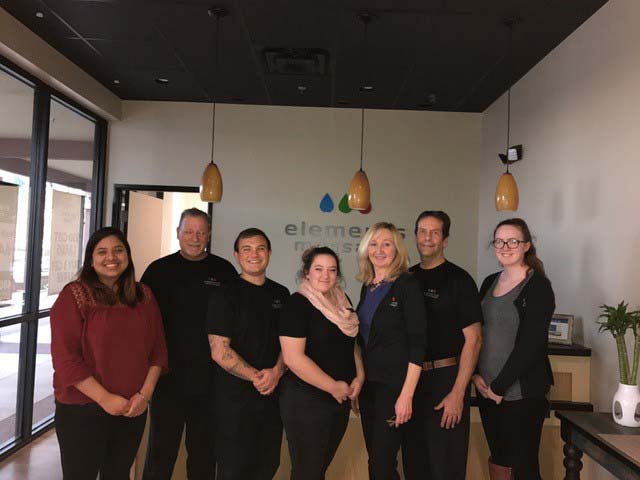 CAVE CREEK – The Elements Promise™, simply the best massage guaranteed. Find out why by visiting the newly-opened Elements Massage.
Owner Karla Rosser did her research once she decided to change careers to something more meaningful (she was at one time an advertising exec) where she could more closely benefit the lives of others. Elements Massage was her calling. "The people are amazing, pleasant, professional, understanding and helpful," she explained. "Plus, Elements has the highest rated massage in the industry."
Massage offers a drug-free, non-invasive and humanistic approach to wellness based on the body's natural ability to heal itself. "We see people with knots, pain, lower back issues," Rosser said. And clients need not fret if they hurt themselves over a weekend since Elements is open seven days a week, so choose between 60, 90 and 120 minute massages with add-ons of aromatherapy, hot stones and/or Himalayan salt stones and know walk-ins can often be accommodated.
Elements Massage strives to be different than its competitors. It doesn't have long-term contracts. "We offer complimentary hot/cold packs, as well as Biofreeze. We have robes in case clients need to run to the restroom. There's a couples room (for couples or parents with minor children) and even prenatal tables with cut-outs for pregnant women. Elements is the number one recommended massage studio by Valley OB-GYNs," Rosser offered.
At Elements Massage, they make it affordable. Ask about the one-hour intro offer at $69 for first-time clients. Once you've discovered massages aren't simply for a girls' (or guys') night out, get in on the Elements Wellness Program and save $30 on every massage session. (See more at www.elementsmassage.com/cave-creek) Treat a friend to a gift card (Elements has them!). Of course, mention this Sonoran News article and receive a free gift along with your best massage guaranteed.
Elements Massage is located in Fry's shopping center at 29455 N Cave Creek Rd. #114. Phone 480-588-7882 for appointments and hours.