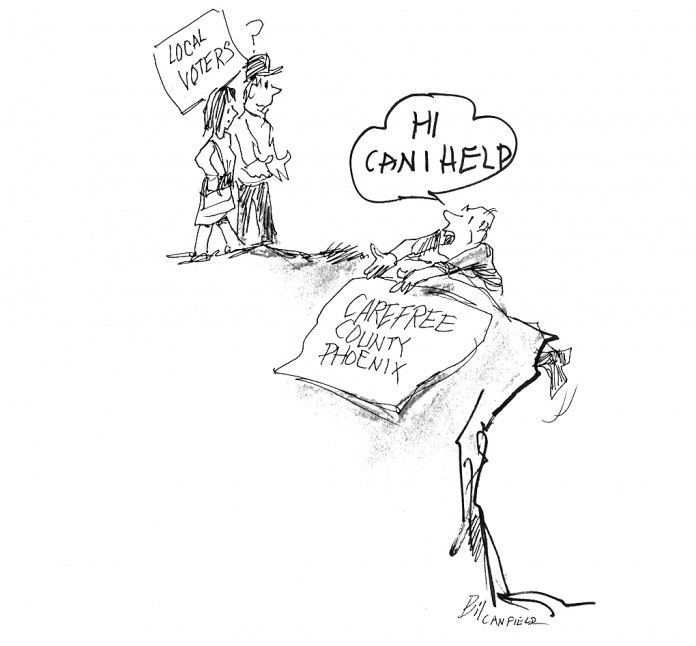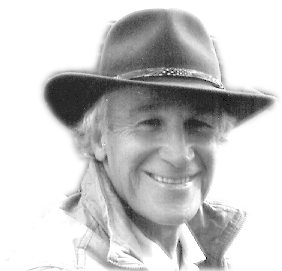 Who is the "Real Deal?"
Well it is a business owner who splashed that claim across his recent election sign. It is a guy who built a "patio" on the side of his business. That patio was illegal because it was not permitted by the town and it was on town property.
Fortunately, Vice Mayor Steve LaMar took umbrage and pushed the council to demand it be taken down or face criminal charges. The vote was 5-2 with departing Mayor Vincent Francia and Councilman Ernie Bunch voting to let them get away with it.
Too bad LaMar is not running for reelection; council needs that kind of honesty and character.
Not satisfied, the Real Deal hired an attorney who called the illegal construction a "trial' and said they wanted to build the patio again. This time the only yes vote was Bunch.
The Real Deal also somehow convinced Town Manager Peter Jankowski to sell the council on allowing a tank with their logo on it to sit 100 percent on town property. It is still there.
Yes, Crony Capitalism is alive and well in Cave Creek.
The Real Deal is Jim O'Toole. I reviewed his nomination petition and believe had it been challenged in court he wouldn't be on the ballot.
If you look at the back of petitions a signature is required that attests "… hereby verify that each of the names on the petition was signed in my presence on the date indicated; that in my belief each signer was a qualified elector who resides at the address given as their residence on the date indicated."
"Qualified elector" in the above paragraph means Cave Creek citizens within the boundaries of Cave Creek that are registered to vote. O'Toole's wife, Lisa, gathered signatures on three separate petition forms for him. Many signatures were from Phoenix, Scottsdale and Fountain Hills. Twelve or more illicit signatures were found out of a total of twenty six.
The nuisance of Cave Creek, Lester Rechlin, gathered seven signatures including his "spit in your face" wife Roberta. Not surprisingly he also collected signatures from Eileen Wright and George Ross, both real dark siders.
James 'The Real Deal" O'Toole gathered signatures on three forms.
On one form, seven out of ten were county and Phoenix.
On the next form five out of ten were Phoenix and county. On the third form two were from Phoenix and one was from the county. Then there were four different names at the Brad Elrod address. Let's ignore that we receive an explanation– the Real Deal has three more that don't count, with a total of 15 ineligible signatures.
Then there is Danniele Fine who signed the backs of two forms. On the first form, three of ten, Carefree, county and Phoenix are out. On the second form, five of ten, Carefree, Scottsdale, County and two Phoenix were ineligible. That makes a total of eight ineligible out of 20.
Last is petition signature gatherer John Jack Goodricit (best guess from the signature) with one form. One Phoenix, one county and one no such address for a total of three out of ten ineligible.
Real Deal has 90 spaces to fill and 38 are bogus, that is 52 possibly good signatures, while 56 are required.
Unfortunately, a lawsuit is required within ten days of the closing period, so he can run but who would vote for him?
Hopefully, the legislature will change the laws so signatures will receive significant scrutiny without legal intervention.
I don't know why but there is an upper limit of 113 for petition signatures. That means had there been an election level examination, Janelle Smith-Haff would be out. Haff has 22 pages, most of which have ten signatures. She has 22 empty spaces so she has 198 signatures if they are all good and she would be out.
In a similar situation Eileen Wright has 17 pages of 170 possible signatures with 31 empty spaces for a total of 139 signatures which are 26 too many if they are all good.
The law may allow people who have zero mathematical skills to run for office but you don't have to vote for them. How can they effectively handle budget issues for the town?
So O'Toole, Haff and Wright should be spanked by the voters with a No vote.
There is a philosophical issue inherent in signing petitions. Some believe all petition forms should be signed to be "fair" to all candidates. Some, including me, will only sign if we believe the candidate is worthy to be leading the town. Examination of the rest of the candidate petitions is ongoing to try to glean who and what the candidates really stand for.
There should be a price to pay for those who falsely claim Cave Creek voter status, including people who accurately state they are from Phoenix, Scottsdale and other places, but not Cave Creek.
As has often been stated, those who are Dark Side citizens are CAVE people, Citizens Against Virtually Everything!
Please don't vote for them.