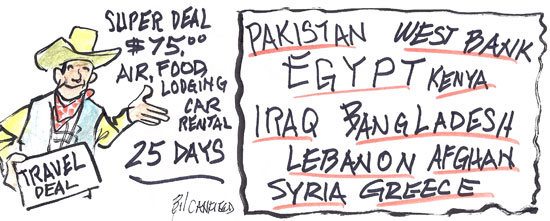 "Copper mine or paradise" vs Copper mine or poverty
A recent letter to the editor entitled "Copper mine or paradise" was critical of a proposed mine near the town of Superior. The writer suggested we examine the proposed copper mine site and "See the quiet campsites where people go to escape." The writer goes on to suggest we "Follow the ravines where water is carried to the town below. Then envision the nation's largest copper mine replacing it."

As a former board chair of the Arizona Department of Mines and director of a business association which depends on mining I would rather suggest readers examine the nearby town of Superior and the obvious poverty which exists today. This once attractive mining town has fallen into disrepair. Imagine the construction of a large and environmentally safe copper mine and the high paying jobs it would produce. This area could once again be a thriving community that produces valuable resources for the nation rather than requiring government subsidies for its citizens to stay alive.
Roy Miller
Phoenix
Government looting "fair"
One choice to make a living is to find a job, earn money and pay taxes and bills. Though old-fashioned, it has worked for many for a long time.

Another choice is to steal stuff and sell it for 10 cents on the dollar. When disaster strikes, one can smash store-fronts or break into unoccupied homes to haul off stuff. This disgusting form of human behavior is called "looting."

On a larger scale, looting requires team work and organization such as in drug commerce, home invasions, hijacking, kidnapping, contract killing, mob action, gun running, etc.

Now that looting seems acceptable and so profitable, our government knew it was time to get involved. However, even for the morally impaired, the idea had to sound legitimate. The public needed reeducation in Ethics. Thus we heard "Some folks have more stuff than they need so we can take it from them and give it to others."

The trick here was to make "folks" feel looting is fine if the government does it for them. What a concept; probably get us elected. Selling this idea was easy among the born looters and calling it "Fairness" made it hard for the victims (lootees) to object. But one might ask what can they call this new form of government? A new party? Nah …"progressive" will cover it.
Name withheld by request
No one has ever tried to storm a gun show
The recent slaughter at the grade school in Connecticut is an unimaginable tragedy that could never have been predicted. What can be predicted with pinpoint accuracy will be the national call to disarm honest, law-abiding citizens as a strategy to somehow prevent this from happening again. The hue and cry to collect and ban defensive weapons will propel politicians and those who worship the flawless power of government to trot out all the discounted myths of gun control that always miss the target.

What most opponents of the right to bear arms won't tell you is that the very likelihood of guns being present deters a vast majority of crimes; ne'er a shot has to be fired. That's because cowards who open fire on innocent six-year olds are encouraged by knowing there is nothing on campus to stop them. Signs posted on the perimeter announcing "No Firearms Zone" virtually guarantee an unrestricted free-for-all to anyone evil enough to engage. But denying all citizens the right to protect themselves will in no way hinder the criminal-minded from carrying out their nefarious designs.

The greatest testament to the safety of a heavily-armed environment is the fact that no one has ever tried to storm a gun show. If they did they know they would look like Swiss cheese in a nanosecond."
PJ O'Malley
Mesa
Support Cave Creek first
I was surprised that the "Cruise on in to Cave Creek" on Saturday, Dec. 15 was accompanied by a significant canned food drive for a church in Glendale when we have our own local Foothills Food Bank right here in Cave Creek and it always needs help. Why do we bring events into town that really don't do much for our local businesses and have as a major purpose the support of out-of-town interests? Maybe I am missing something, but it makes no sense to me.
Melanie Williams
Cave Creek
My constitutional freedom
Hypothetical situation: we are in a room together, sitting and talking. I pull out a fully automatic, loaded Draco AK-47 pistol and set it on my lap. What has just happened in the room? Has the risk factor gone up? Yes. There is now a powerful firearm present, so the amount of risk has increased. Are you in any more danger than before? No, because I am a sane, rational human being, not a sociopathic killer or anything similar.

The presence of the firearm does not put you in any greater danger than before. It is I, the wielder, who causes the amount of danger to go up, because it is I who will make the decision to point the gun at you, click off the safety and pull the trigger to end your life. And that decision has already been made in my mind. I have long-ago chosen to never, in any circumstance save the physical endangerment to the point of death of myself or my fellow mankind, to kill another human. You are just as safe in that room with me and my Draco pistol on my lap as if the gun had never been manufactured.

Power is only dangerous if the hands of the wielder are unfit to hold it. It is our duty, our obligation, when given the freedom and power of the constitutional right to bear arms, to make sure that our hands are fit to hold such a power, and to have the wisdom to recognize when that power has become either too great or the risk associated with it too high. Then we must have the great humility, foresight and fortitude to remove the power from ourselves. Our Government cannot make us do this. We, the people of this Union, in order to ensure domestic tranquility for ourselves and our posterity, must collectively and individually decide to support our common blessings of liberty through the exercising of our freedom of intelligent, rational, prudent self-action for the promotion of the general welfare.

Cain, with malice and envy, slew Able. Since then, mankind has devastated itself in an endless series of wars, genocides, massacres and murders. If indeed all men are created equal, as the wisdom of our Founding Fathers has been delivered to us, why then does one man have the power to take another man's life? The problem lies not in the power held – for Cain would say that his power over life was indeed small – but in the man himself*. Let all men have the wisdom to know their own limitation and safe extent of their own grasp on power. Let all men – with deep consideration – pass judgment on the risk of their power to the others around them when compared to the gains from that power. Let all men strive to form a More Perfect Union by promoting the general welfare for themselves and their posterity.

I would not own a fully automatic Draco pistol. Not because I would become more dangerous if I possessed that weapon but because the risks associated with owning that weapon are higher than I am willing to put myself and those close to me in. That is my constitutional freedom; to choose and act as I see fit – within the establishment of justice – in order to ensure domestic tranquility, promote the general welfare and secure my blessings of liberty in the best manner I can.

Love you Dad!
Josh DiPietro
Glendale
(Emailed to his dad)
Treason
Obama's Secretary of State-to-be, John Kerry, violated the Uniform Code of Military Justice, Article 104, "Aiding the Enemy" and 18 USC, Part 1, Chapter 45, Section 953 (aka "The Logan Act") by meeting the Viet Cong for "peace talks" in Paris in 1970 and 1971, while on active duty as a commissioned officer in the U.S. Navy/U.S. Naval Reserve.

There was a day when he would have been charged, arrested, thrown in the brig, tried, found guilty and imprisoned for life or executed for treason.

What will be the next appointment: Jane Fonda for Secretary of Defense?
J-P. A. Maldonado
Former LT, USNR (1960-1967)
Phoenix


Republicans are moving where?
Recently I, as I'm sure have many others, have heard the question asked; Can the United States of America survive another four years of Barack Obama's policies? Many Republicans are advocating moving farther to the left to gain more votes. However, is that really the answer?

Moving further to the left to gain more voters will not get more voters. Ninety-five million eligible voters did not vote in 2012. We have to ask ourselves why? Is it apathy? Probably not. It is very doubtful many voters don't care. Is it that they are all liberal progressive Democrats? Not possible. The United States of America is a right leaning (conservative) nation. So just exactly what is it? All of us know the (falsely) so called "old line republicans" are doing exactly that and are moving left for that very reason, to gain more votes, however, we must ask – is it working? No, emphatically no, absolutely not; if it were would so many have not bothered to vote? The two party system we used to be so proud of and worked so well is melting into a one party system, both progressive. If that is allowed to continue we as a nation will "melt" into a socialistic communistic nation or perhaps worse (if worse is possible). It now seems to be a race to see who can give away the most to buy the most votes. Since when have Americans become beggars? A nation of beggars cannot survive! The real old line republicans were proud moral men and women who stood firmly on their principles. Oh, there are still some of us left that vote, but the number to have stopped voting because of correctly seeing the two parties as the same is becoming extreme.

Anyone who desires proof of this need only realize the republicans in Congress who wish to move us back to the principled party of old are slapped down and removed from any area of influence they may have. David Schweikert here in Arizona is a recent excellent example of this. There are others.

The answer to the current problem is right in front of us if we would look for it. What was it about the 2010 election that pushed the conservatives to such a victory in that election? Figure that out and the problem may be solved. One thing for sure, it was not because those who won the election moved to the left!

If the Tea Party is successful in restoring pride to the once proud Republican Party which used to be known as the "Grand Ole Party" the principles, morals and values of old must be restored. It can happen no other way! It will happen because it must.

Donald H. Bitler
Scottsdale

The 5th Annual Carefree Christmas Festival
Our sincerest "THANKS" to the non-profits and local residents (far too many to name in this space, but the entire list is available HERE), who graciously donated funds, in-kind donations and/or time to the 5th Annual Carefree Christmas Festival. Their generosity meant we were able to continue to provide FREE entertainment throughout the festival weekend.
ABC Channel 15
Academy of Clinical Sleep Disorder Disciplines
Albertos Ristorante
Allstate/Jim Kehoe
American Federal
Anozira/Manny & Peggy Gonzales
APACC
APS
Area Disposal
Arizona Renaissance Festival
Arizona Republic
AZ Pavers
AZ Wine
Bags & Rags
Baroni Fashion, Tailoring & Tuxedo
Beauty & Bliss
Bertram Signs
Black Mountain Coffee Shop
BMO/Harris Bank
Bob Parks Gallery
Bonnie's Yarn Crafts
Bosco's Biscuits
Butte Properties Inc.
Buttercup Interiors
Carefree Aspirations
Café Bink
Carefree/Cave Creek Chamber of Commerce
Carefree Fire Dept.
Carefree Internal Medicine – Dr Seema Mohan
Carefree Kiwanis
Carefree Outdoor Living
Carefree Public Works Dept.
Carefree Resort & Conference Center
Carefree Shell Gas Station
Carefree Station
Carefree Town Staff
Carefree Town Council
Carefree Truth/Lyn & Herbert Hitchon
Cartwright's Sonoran Ranch House
Cave Creek Museum
Ceasor Insurance & Wealth Protection
Cellar 13
City Sun Times
Clark's Pharmacy
Coopers Nutrition
Custom Eyes
David Schwan, Mayor of Carefree
Dental Studio 101
Desert Foothills Key Club
Desert Foothills Landscape
Desert Foothills Library
Desert Foothills Sheriff's Posse
Easy Street Shoe Repair
Edward Jones/Noah Kendrick
English Rose Tea Room
Fenwick Investments
Foothills Animal Rescue
Foothills Caring Corps
Foothills Community Foundation
Foothills Foodbank
Foothills Focus
Fox News Channel 10
Giordanos' Trattoria Romana
Havana Cafe
Holmes Construction
Images AZ Magazine
It's A Nail Thing
Jakosky Properties
jo london
John Di Tommaso Galleries
Karsten's Ace Hardware
Native American Gallery
La Paris Skin Spa
Let There Be Light
Liberty Water
Lowes
Maduro Cigar & Emporium
Magic Bird Festivals
Melissa Price, Vice Mayor of Carefree
Montecino HOA
Morgan Property Management
Mumbo Jumbo Boutique
National Bank of Arizona
Network Wellness Center
New York Life/Bob Hartman
Palm Desert Realty
Ortega's Turquoise Trails
Pinnacle Horse and Pet Supply
Proven Media
Rural Metro
Saba's Mediterranean Cuisine
Sentinel Rock HOA
Sonoran News
Southwest Gas
State Farm Insurance – Bill Mulliniks
Storyteller Indian Store
Studio C, a beauty lounge
Sue Bickerdyke Interiors
Summit Wealth Management
Sundial Café
Sundial Courtyard Office & Retail
The Cactus Lady
The Carefree Traveler
The Carefree Market Place
The Peak Magazine
The UPS Store, Carefree
The UPS Store, Scottsdale
Thomas Custom Jewelers
Tobias' Automotive Specialists
Tonto Bar and Grill
T's Construction and Development
Venues Café
Wild Holly Gallery
Yahn's Jewelry
THANK YOU to all those who provided entertainment: Adaptive Force Performing Arts, Arizona Ice Man, Arizona Renaissance Festival, AZ Bounce House, Birkett Entertainment & DJ Sarah Birkett, Cactus Shadows High School Honors Choir, Cactus Kickers, Carefree Christmas Chorus, Desert Foothills Theater, Desert Hills Presbyterian Church, Emcee – Iris Hermosillo, Emcee – Rich Dahlquist, Foothills Animal Rescue, Foothills Foodbank, Footz the Clown, KC Classic Carriage Rides, Kiddie Caboose, Lynda St. John, Main Event Band, Mostly Madrigal Singers, Mrs. Claus & Desert Foothills Library, South West Fireworks
THANK YOU to all our parade entries, especially those who worked SO hard on such creative floats this year, the crowd of 20,000 loved you! THANK YOU to the adults, children and animals that participated in the parade, over a 1,000 of you!

THANK YOU to the Chamber of Commerce Marshals, their family and friends and to Jeff Penzone and Glenn Grossman for helping to Emcee.

Parade Float Winners:
Mayor's Award "Most Original Float" – Karsten's Ace Hardware
Directors' Award "Most Creative Float – Russ Lyon Realty
Ambassadors' Award "Best Use of Lights" – Phoenix Elks Lodge
President's Award "Best Overall Float" – Carefree Resort & Conference Center
THANK YOU to the Christmas Festival Committee, we couldn't have done it without you: Glenn Miller, Kim Prince, Manny Gonzales, Roberta Toombs Rechlin, Holly Bergman, Sherry Nelson, Rhonda Heinricher, Ron Welch, Commander Bennett, Patty Villeneuve, Lyn & Herbert Hitchon and Jo Gemmill.

THANK YOU to all of the event staff, including Jack Goodrich, William Ballesteros, Fred Gonzales, Jenalee Beazley and President of Desert Foothills Key Club, Kevin Calabrese.
THANK YOU to those businesses who worked with the Festival Committee including: On the Ball Publishing, The Document House, APS Printing, Betty Brown Web Design, USA Radio Rentals, M & M Portable Toilets, Sun State Equipment and Classic Party Rentals.

THANK YOU to all our volunteers and to YOU our wonderful community for, once again, supporting the Carefree Christmas Festival.

…And finally, a very special "THANK YOU" to Santa who sat for three days and listened to the Christmas wishes of over 1,000 children. He is asking for a new "lap" top for Christmas!
Please mark your calendars for next year's festival, December 13th thru 15th 2013.
Peace and Goodwill to All.
Jo Gemmill, Director
Carefree Christmas Festival 2012
Thank you, and farewell
For 26 years, it has been my privilege to represent the people of Arizona in the U.S. Congress. As many of you know, that service will come to an end when Senator-elect Jeff Flake takes my place in January. And as you might imagine, this is a bittersweet moment for me. But, in the end, public service is never really about the servant – it's about the public.

And that's why I want to simply say this: Thank you.

Thank you to this newspaper and its editor for printing this column.

Thank you to you for reading this column. And, to those who have read my columns over the years, thank you for your attention and your feedback.

Thank you for engaging with your government.

Thank you for sending those letters, e-mails, and postcards. Thank you for your phone calls and office visits when you're in Phoenix, Tucson, or Washington. Thank you for coming to coffees and town halls. Thank you for writing letters to the editor and organizing with your neighbors to make a change. When you've been upset about an issue, thank you for letting me know.

This is what our civic democracy is all about.

I was not born an Arizonan; like many in our state, I became one by choice more than 50 years ago. And it was one of the best decisions I have ever made. Arizona's beauty and natural splendor is unrivaled. Our history and unique culture are without parallel. Most Arizonans are kind, adventurous, gutsy, welcoming, and – as I have learned quite well over the years – engaged both civically and politically.

I know that I am leaving office at a time when many issues remain unresolved in our nation's capital. But, that will almost always be the case; for me, the time was right to step aside and allow another senator to hear and represent your concerns. I know Arizona will be in good hands with advocates like Jeff Flake and John McCain.

In the end, I am most grateful for the opportunity to have been able to represent you in Washington, D.C. It has been the privilege of my life to serve you, and I hope you will remain engaged citizens, ever mindful of the God-given freedoms so many have fought and died to preserve – and your responsibility to protect them.
Sen. Jon Kyl
Senate Republican Whip

The debate continues
Another senseless mass murder. When I heard the news of the Newtown massacre, my initial reaction was shock. As I listened to the account of the tragedy, the faces of my children when they were 6 and 7 flashed into my mind and I began to weep. How can this happen in our country? Who is to blame?

As the story unfolded, the blame was spread far and wide. Was it the school system, parents, neighbors, or the healthcare system? Was he bullied? Did he play violent video games or pull the wings off butterflies? The media pundits spoke of deep psychological scars that would be carried by survivors, their families and the families of the fallen. At the memorial service the President declared "this must stop!" "We must change," in a not so veiled reference to gun control. Again, a national tragedy has become a political platform for more regulations.

I own several guns. I don't shoot people with them and respect the power they represent. I don't remember the last time I pulled a trigger. However, I understand the mind set of people who want to have guns banned. After all, if there were no guns, these firearm massacres could not happen. They are correct. The problem remains that guns do exist, as they have for centuries. However, one act precedes the firearm going back to recorded time, murder. Killing our fellow man goes back to Cain and Able. No firearms were used but, in that instance, brother murdered brother, a truly despicable act. The problem we face with these tragedies centers on the human mind and psyche not guns, poison gas, dynamite, knives, or any other method of destruction. Problem is we as a society don't know how to stop this carnage. We look for comfort in a target. Right now the target is guns.

I have tried to put my arms around this gun control debate. I have listened to liberal friends who passionately believe the answer to the mayhem is banning guns, many believe all guns. Then I think about our drug laws with stiff penalties, fines, and jail time. My guess is drugs still kill more Americans than guns. Yet those that choose the path of drug use always seem to be able to secure their drug of choice. Now we are starting to legalize drugs. Go figure. Will banning guns keep them out of the hands of those that wish to do us harm? I think not.
I'm not a big gun guy, but if someone broke into my home and threatened my family I would shoot to kill. If I was in a situation where I witnessed a massacre and was armed, I would also shoot to kill. Who knows, my gun may save some lives.
Scott Haberman
Cave Creek