BY LINDA BENTLEY |JANUARY 5, 2011
Council to revisit 1/2 percent sales tax in 2012
Council signs Walmart groundbreaking shovel for museum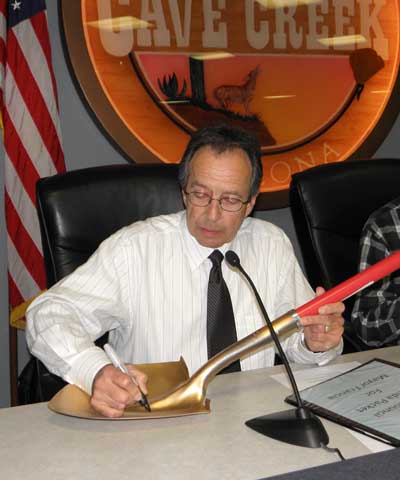 Mayor Vincent Francia is pictured signing a Walmart groundbreaking shovel, which will become part of a Cave Creek Museum exhibit. Photo by Linda Bentley

CAVE CREEK – Prior to calling Monday night's council meeting to order, Mayor Vincent Francia and council signed a Walmart groundbreaking shovel, which Francia said would become part of a Cave Creek Museum exhibit.

In January 2009, when council passed an ordinance increasing the town's sales tax from 2.5 percent to 3 percent, Francia asked that it include a provision to schedule the ordinance for council discussion, review and consideration at a regularly scheduled council meeting in January 2011.

Town Accountant Marian Groeneveld presented comparison figures and charts for general fund revenue from 2008 through 2010.

In 2008, prior to the increase, sales tax made up 27.3 percent of the town's total revenue of $9.1 million.

In 2009, when the 1/2 percent increase went into effect, sales tax climbed to 40.5 percent of the town's $6 million in revenue.

By 2010, building permit fees declined to $254,893 from $1.2 million in 2008, making up only 4.9 percent of the town's revenue, while development fees, which accounted for 25 percent of the town's revenue in 2008, declined from $2.3 million to $99,345, or 2 percent, in 2010.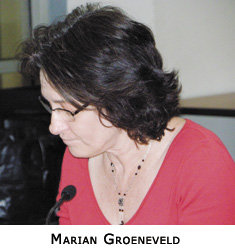 Groeneveld expressed how much more important sales tax revenue has become as part of the overall budget and said without the increase to 3 percent, the town would have experienced a decline of 7.31 percent in sales tax revenue for 2010, while the 1/2 percent increase produced an additional $448,581 in revenue for 2010, an 11.22 percent increase over 2009.

Vice Mayor Ernie Bunch said, typically, construction sales tax lags behind permits by 12 to 18 months and asked if the town should expect a significant drop in that category this year.

Groeneveld reminded council Walmart would help in that area this year but said construction sales taxes are one-time taxes that cannot be relied on for any sort of ongoing revenue stream.

Francia said he has been spending a lot of time down at the state legislature and there's been talk of closing the state's budget deficit by getting rid of all state shared revenue, which, at approximately $1.5 million, makes up 27 percent of the town's total revenue.

Groeneveld said if that were to occur, it would really hurt the town.

However, according to Town Manager Usama Abujbarah, eliminating state shared revenue has come up before but the Arizona Constitution protects state income tax. He said a lawsuit brought by the League of Cities and Towns prevailed against the legislature on that issue which would preclude the legislature from being able to completely eliminate all categories of state shared revenue.

Francia said the town is not in a situation right now to even think about bringing the ordinance back to council and stated the development underway at the corner of Cave Creek Road and Carefree Highway should help.

He said, "Everything we do should be directed toward attracting business."

Abujbarah told council the town's finances were tight but manageable and said, "We don't need to make any cuts."

With Councilman Ralph Mozilo absent, Bunch's motion to review the ordinance again in January 2012 passed unanimously.