BY LINDA BENTLEY | OCTOBER 27, 2010
Johnson Bank at Summit robbed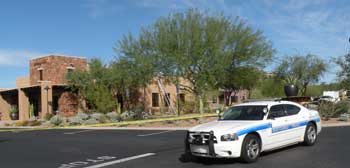 At 8:30 a.m. on Wednesday, Oct. 27, Scottsdale Police Department received a call from a bank employee at the Johnson Bank branch located at 32621 N. Scottsdale Rd in the Summit shopping center. The employee reported that a male suspect, armed with a handgun, was inside the bank when employees reported to work this morning. A total of five employees, four female and one male, were confronted by the suspect and tied up. The suspect sprayed the employees with an unknown substance, which was later determined to be not hazardous. Soon after the employees were restrained, the suspect fled the bank with an undisclosed amount of cash. The employees managed to free themselves and called 911.

No employees were injured during the incident. The case is under investigation by Scottsdale PD and the FBI. The suspect had not been located as of this writing.
BY LINDA BENTLEY | OCTOBER 27, 2010
CSHS students arrested in Circle K robbery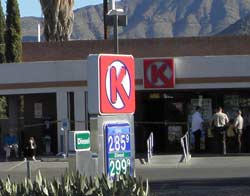 Acting on a tip, Maricopa County Sheriff's deputies arrested two Cactus Shadows High School students on Oct. 21, on what an MCSO spokesman said were charges of armed robbery of the Circle K store at 6802 E. Cave Creek Road on Oct. 10. Search warrants issued last week also led to the recovery of some of the stolen merchandise. According to MCSO, the suspects, aged 14 and 15, confessed to robbery, but due to their ages, MCSO could not release their identities.

BY LINDA BENTLEY | OCTOBER 27, 2010
Former Countrywide CEO Angelo Mozilo to pay record SEC settlement

WASHINGTON – On Oct. 15, the Securities and Exchange Commission (SEC) announced that former Countrywide Financial CEO Angelo Mozilo, 70, the brother of Cave Creek Councilman Ralph Mozilo, agreed to pay a record $22.5 million penalty to settle SEC charges that he and two other former Countrywide executives misled investors at the onset of the subprime mortgage crisis. Keep reading ...
BY LINDA BENTLEY | OCTOBER 27, 2010
Judge calls Fressadi's conduct 'abhorrent to the rule of law'
'Plaintiff has, essentially, granted himself judgment on the relief he seeks in this action'
CAVE CREEK – Arek Fressadi lives in Tucson and has publicly touted at public meetings that he's "living in exile from Cave Creek."

Soon, Fressadi should have no further ties to the community, as M&I Bank initiated judicial foreclosure proceedings against his School House Road property in April 2010, which is still pending in Maricopa County Superior Court. Keep reading ...
BY LINDA BENTLEY | OCTOBER 27, 2010
Citizens' initiatives headed for March ballot
Candidate packets available this week
CAREFREE – On Oct. 20, Jim Peirce turned in his petition signatures at town hall for citizen's initiatives IN2010-03 and IN2010-04, which, if passed by voters, will amend the Carefree Town Code by adding Chapter 15 "Town Property Tax." Keep Reading ...