BY LINDA BENTLEY | SEPTEMBER 15, 2010
Bill of Rights Institute's fifth annual 'Being an American Essay Contest'
'What civic value do you believe is most essential to being American?'

ARLINGTON, Va. – In conjunction with this Friday, Sept. 17 being Constitution Day, the Bill of Rights Institute has announced its fifth annual Being an American Essay Contest, inviting U.S. high school students and their teachers to compete for nearly $115,000 in prize money.
The Bill of Rights Institute is a nonprofit educational organization in the Washington D.C. area devoted to educating children about the Constitution and Founding principles.

Sponsors include the History Channel and the Stuart Family Foundation.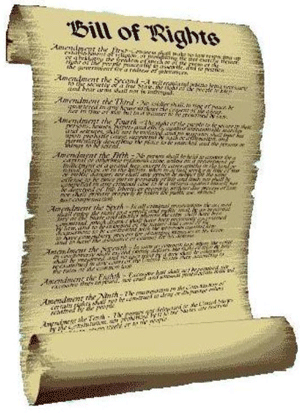 Being an American, the largest high school essay contest in the country, which attracted more than 50,000 entries last year, explores the rights and responsibilities of American citizenship.

The essay is based on answering the following question in no more than 750 words:
"What civic value do you believe is most essential to being an American? Trace the enduring importance of this value throughout the American story by discussing: a Founding document that reflects this value; a figure from American history who embodies this value; and examples of how you have and/or could put this value into practice."

Students in grades 9-12 who are U.S. citizens or legal residents and are either attending public, private, religious, or charter schools, being home schooled, or participating in a GED or correspondence school program but are no older than 19 years of age are invited to participate. Military bases and U.S. territories are also invited to participate.

Dr. Jason Ross, Bill of Rights Institute Vice President of Education Programs, stated, "This contest is unique in that it gives students the opportunity to think about the important civic values communicated in our founding documents, and embodied by American civic heroes. This context is vital to helping students see their own acts of good citizenship as a meaningful part of the American experiment of self-government."

Honored to be one of the contest's supporters, Stuart Family Foundation Executive Director Truman Anderson said, "The Being an American Essay Contest is a wonderful way to awaken students' interest in the ideas of the American Founding."

Contestants will compete for ten cash prizes per region, with Arizona competing in the Mountain region against students in Colorado, Idaho, Montana, Nevada, New Mexico, Utah and Wyoming.

First prize of $5,000 will be awarded to both the winning students and teachers in each of the nine regions, with $1,000 second place prizes, $500 third place prizes and seven $100 honorable mentions awarded to both winning students and teachers in each region.

The top three student winners, their teacher and a guardian from each of the nine geographical regions will also be awarded an all-expense paid trip to Washington D.C. in the spring of 2011, where they will be awarded their cash prizes and get to explore the nation's capitol, meet contemporary American heroes and national leaders, and visit national landmarks.

The deadline for submissions is Dec. 1, 2010.

Visit www.BeingAnAmerican.org for more information about the essay contest.