SEPTEMBER 1, 2010
Taste of Cave Creek musical highlights include live jazz on Wednesday, Sept. 29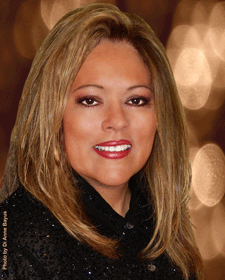 Delphine Cortez performs with the Joel Robin Band at the Taste of Cave Creek on Wednesday, Sept. 29, the first day of the expanded two day event. The culinary festival features live jazz by Arizona Musicfest on Wednesday and rock, country and blues on Thursday.
Courtesy Photo by Di Anne Bayus

CAVE CREEK – The Taste of Cave Creek music lineup is more exciting than ever this year with the addition of live jazz music presented by Arizona Musicfest on Wed., Sept. 29.

The two-day culinary and music festival takes place on Sept. 29 and 30 from 4-10 p.m. at Stagecoach Village, 7100 E. Cave Creek Road, in Cave Creek. Both evenings feature live musical entertainment along with delicious menu tastings from more than 25 area restaurants, live cooking demonstrations, fine art, wine tastings and much more.

The Arizona Musicfest jazz music lineup on Wednesday includes:
4-6 p.m. The Joel Robin Band with Delphine Cortez
6-7 p.m. Michael Kocour and the ASU Jazz Septet
7-8 p.m. Eric Rasmussen Jazz Band
8-9:15 p.m. Michael Kocour and the ASU Jazz Septet
9:15-10 p.m. The Eric Rasmussen Jazz Band

On Thursday, rock, country and blues will be performed by Rondavous, Double D, the Sydni Budelier Band and Chicks with Picks.

Tickets for the Taste of Cave Creek event are $10 per day and available at the gate or from participating restaurants. Food tastings will be available from $1 to $4. Information is available at www.TasteofCaveCreek.com.