BY LINDA BENTLEY | JULY 28, 2010
'Displaced foreign traveler' indicted for manufacture of marijuana
Officers found Almonte-Hernandez camping in a garden containing approximately 7,434 marijuana plants in Shasta-Trinity National Forest


REDDING, Calif. – On July 22 a federal grand jury indicted Gauldry Teccelin Almonte-Hernandez, 22, for knowingly and intentionally manufacturing at least 1,000 marijuana plants, a Schedule I controlled substance.

According to the affidavit filed by Stephen Frick, a special agent with the United States Department of Agriculture, Forest Service, during a marijuana eradication operation on July 9, Almonte-Hernandez was found by law enforcement officers camping in a garden containing approximately 7,434 marijuana plants in the Shasta-Trinity National Forest, the largest national forest in California.

The operation was conducted by a task force made up of law enforcement agents from the U.S. Forest Service, Trinity County Sheriff's Office Drug Task Force and the California Department of Justice Bureau of Narcotics Enforcement.

Frick performed an aerial reconnaissance on July 1 of the area near Ditch Gulch of the Shasta-Trinity National Forest and spotted a large marijuana garden at the end of Forest Service Road 30N07. He documented the location using a GPS (Global Positioning System).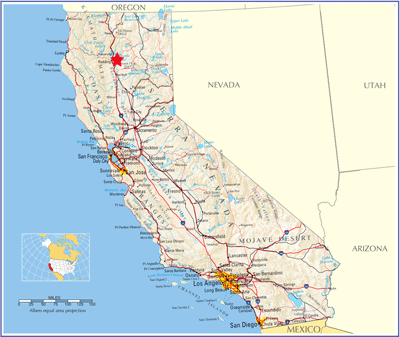 On July 9, Frick led an operation on the Ditch Gulch marijuana manufacturing site with the purpose of arresting suspects responsible for the manufacturing of marijuana.

Heading down a human trail, Frick spotted several thousand marijuana plants and informed the rest of the team. He also informed a second team, via radio, that they were entering the marijuana garden.

He heard Special Agent Nelson, who was identified by agency patches and "Police" markings on his uniform as being law enforcement, announce in a loud voice "Policia," and yelled at suspect(s) to show their hands. Seconds later he heard Nelson yelling at the suspect(s) to stop and identified himself as police. Immediately thereafter, the agent radioed that there were two suspects, one wearing a green shirt and one wearing a blue shirt fleeing the area to the southwest, up Ditch Gulch towards the creek.

Frick and Nelson looked for the suspects through the nearby vegetation and Nelson told Frick about a camp at the edge of the marijuana garden where he saw one of the men sitting on the bed in the camp.

Nelson said he got a good look at him and would have no trouble identifying him.

About a half hour later, Frick heard a K-9 barking with Forest Service Officer Cory McCarthy yelling at a suspect not to move and stay on the ground.

Nelson and Frick went to that location and observed a Hispanic male in a green shirt, black pants and black socks wearing no shoes, later identified as Almonte-Hernandez, handcuffed on the ground in a prone position. Nelson identified him as the man he saw sitting on the bed in the camp at the area of the marijuana garden.

Almonte-Hernandez was transported to the Trinity County Jail where he was booked on state charges relating to cultivation of marijuana.

According to Frick, a total of 7,434 marijuana plants were eradicated from the garden, the majority of which were found in one garden plot.

Frick said a small seed garden of approximately 200 plants was found about 30 feet from the main garden and stated, "A seed garden is often used by marijuana cultivators to isolate a small group of marijuana plants that they will let germinate to produce seeds used for a marijuana garden in the future."

Following a detention hearing on July 13, Almonte-Hernandez was ordered detained until trial.

The detention order form had both boxes checked under Section B. Statement of Reasons for the Detention, citing it was evident no condition or combination of conditions would reasonably assure the appearance of the defendant as required and that no condition or combination of conditions would reasonably assure the safety of any other person and the community.

Under the section titled "Other Factors," the box stating: "The defendant is an illegal alien and is subject to deportation." was also checked.

On July 20, Rita Vollmer, USDA Forest Service Public Information Officer for the Shasta-Trinity National Forest, issued a press release headlined, "Arrest made in U.S. Forest Service operation at illegal marijuana site."

Vollmer wrote, "During the raid, a U.S. Forest Service K-9 team located Gualdry Almonte-Hernandez, a displaced foreign traveler from Michoacán, Mexico, who had tried to flee the area and hide while officers were performing entry into the marijuana garden."

For those not familiar with where Shasta-Trinity National Forest is located, the closest city is Redding, Calif. which is approximately 765 miles north of Calexico, Calif., which shares the border with Mexico's northernmost city of Mexicali.

The driving distance between the Mexican cities of Mexicali, the capitol of Baja California, and Morelia, the capitol of Michoacán, is approximately 1,475 miles.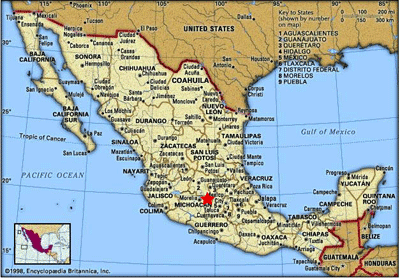 That would "displace" Almonte-Hernandez by some 2,240 miles away from his home in Mexico.

Had Vollmer read Frick's affidavit, she would have known Frick performed an aerial reconnaissance of the area on July 1 but his team simply entered the marijuana garden without a performance.