CSHS selects Mark Huston new athletic director
By Pete Mohr | January 13, 2010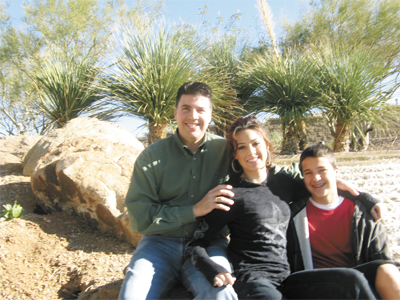 CSHS – At its Jan. 12 meeting, CCUSD Board confirmed CSHS Principal Steve Bebee's selection as new athletic director, effective immediately, of Mark A. Huston (pronounced "Houston"), 44, Anthem, an educator for the last six years in the Glendale Union School District.

Mark Huston to Sonoran News, "I'm excited to accept Steve's invitation – and honored by the Board's confirmation. I'll be working to continue the athletic traditions already in place at Cactus Shadows and, hopefully, to build new ones. I'm looking forward to getting to know the Cave Creek-Carefree community."

Principal Bebee: "I've admired Mark's organizational skills since 2003, when he first coached my son Trevor in Pop Warner football.

From his earlier corporate career as a 'new business' manager for Aetna health insurance, Mark has strong communications and marketing skills. It's time we begin marketing Cactus Shadows athletics." Steve Bebee is dead serious. Translate: halt the "defections" of DAMS and STMS graduating athletes to Pinnacle and Notre Dame.

Huston succeeds Leonard Suarez, who, with Principal Bebee's permission, sought and won the vacant athletic directorship at Tucson's Ironwood Ridge High School. Bebee praising Suarez: "Leonard did everything I asked of him; and he helped me to settle in as principal. Returning to Tucson obviously made good logistical sense for him. Cactus Shadows wishes Leonard the very best."

Mark Huston was born in Great Falls, Mont., lived for most of his first ten years in northeastern Ohio; then moved with his parents to The Valley in 1976. A four-sport athlete, Mark graduated from Shadow Mountain in 1984. From NAU, in 1990, he received his B.S. in Communications, with a minor in Athletic Coaching. Following Steve Bebee's encouragement to consider a career in education, he earned his degree in Secondary Education from Ottawa University, where he continues to pursue his M.Ed. in Educational Leadership.

Daughter Bridgette, 16, and son Isaiah, 14, are the "athletes-of-his-heart," whom he single parents. As a cheerleader member of Boulder Creek's "Stunt Team," Bridgette will compete later this month at the A.I.A. "Spirit Line Championships." Isaiah quarterbacked the Jaguar freshmen last season and is now a point guard for frosh hoops. When athletic eligibility approval is assured, it's likely both will transfer to CSHS, beginning school year 2010-2011.
For the last five summers, Mark Huston has been Camp Director, "Let It Fly Football Drills and Skills Camp" for boys, ages 8-13. Read closely his Camp's motto: "I will strive for perfection in everything I do, knowing it will never be attained; however, in the pursuit of perfection, I will grasp excellence in the process."

Mark Huston, welcome to Cactus Shadows!
Meet the Basketball Falcon seniors … Andrew Staut
By Pete Mohr | January 13, 2010
On Tuesday night, Dec. 1, 2009, the Falcons came home from favored Peoria with a big 53-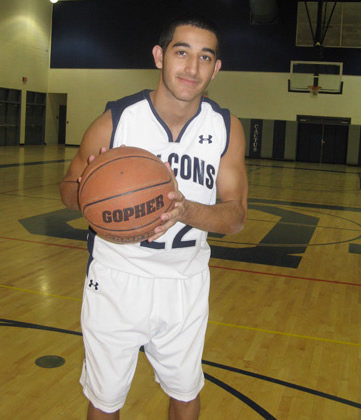 50 overtime victory. In their last nine games (including three "Great Desert Shootout" appearances), the 'Birds have fallen into a 1-8 funk. Sixteen teams will qualify for the State Playoffs. Latest A.I.A. Power Points rankings slot the 'Birds at #16. With 12 regular season games remaining (counting a possible make-up at Flagstaff), precarious might be the operative word for the Birds' Playoffs chances.
But don't try that negativity on Quad-Captain Andrew Stauth. To his January 10 interviewer: "I'm not giving up on this season. Neither are my teammates. No, we didn't beat McClintock (Jan. 5) or Bradshaw Mountain (Jan. 8); but we definitely got better. I see us as stepping forward from those two games and playing great the rest of the way." I, the doubting sportswriter, "How're you gonna do that, Andrew?" "Rededicate ourselves as a team – no more 'selfish' basketball; and concentrate on our shooting." Seeing is believing, hopefully starting at home, Jan. 12, against Saguaro.
Andrew Stauth has been playing competitive basketball since a DFAC 1st grader. An Oct. 31, 1991 Halloween baby, born in Long Beach, Calif., his aggressive, relentless play isn't about to let him settle for a "trick" season: he's going for the "treat" of the Playoffs, a goal in which he still believes. For Andrew, the son of north Scottsdalian Brent Stauth and Desert Hills resident Daljit (Mrs. John) Smalley, basketball is how he "releases" from whatever pressures or tensions he may be dealing with. Pastimes? Reading, participating in family activities and rooting hard for the Football Falcons last fall. "I wish I could've gone out for football, but I needed to keep my focus on basketball." Post-graduation, he looks to play JUCO ball, hopefully at Santa Monica College.
At 6'2", he identifies shooting guard as his "natural" position; but with the Falcons lacking frontline height, Andrew has been a starter at both small and power forward. For 2008-2009, Head Coach Dirk Walker named Andrew "Defensive Player of the Year," an honor he'd like to earn again – and to lead his team in assists.
On his quad-captaincy: "A tremendous honor, especially to be in the company of Kyle (Gunter), P.J. (Ubides) and Austin (Kelchner)."
Andrew, I'm confident they feel the same about you.