Holidays were not happy for Falcon Basketball
By Pete Mohr | January 6, 2010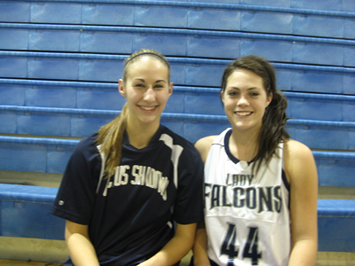 CSHS – Head Coach Dirk Walker's guys and Head Coach Ryan Pletnick's gals are glad the holiday season is behind them. Hosting the Great Desert Shootout, boys, after a 1st round bye, dug themselves into a 5-19 1st Quarter hole from which they never recovered and were bounced into the Consolation Bracket by the Dysart Demons, Monday evening, Dec. 28. Falcons held on for a 41-35 verdict over (Yuma) Cibola at noon on Dec. 29; but were semi-blown out, 65-51, later in the afternoon by the Williams Field Black Hawks. The 'Birds, 3-3 in regular season play, are ranked #10 in early A.I.A. Power Points; but Coach Walker is searching for the right floor combinations to restore his team's early-season winning intensity. Their "Shootout" performances were discouraging. After Sonoran News press deadline, Falcons welcomed Desert Sky foe McClintock, Tuesday, Jan. 5. Please see Front-Page Sidebar for results.

Meanwhile, in frigid northern Wyoming (Gillette), the only thing colder than the temps was the Lady Falcons' shooting! After defeating Casper's Kelly Walsh High School, 40-35, the Ladies ran into Oregon City, Ore., ranked #7 in the nation and winners (in Tempe) of Nike's pre-Christmas Tournament of Champions. The LadyBirds shot 8 of 51 from the field on their way to losing by a score that is charitably "withheld to protect the innocent." They didn't fare much better the next day against host Gillette, Wyoming State Champs in six of the last seven seasons, despite Kaila Peluso's 15 points. For the LadyBirds' honor, Peluso was named to the All-Tournament Team.

Coach Pletnick to Sonoran News: "We had an enjoyable trip to an interesting section of the Rocky Mountain West; and we definitely learned a lot from going up against national level competition. Still focused at 9-5 overall, and ranked an early #7 in Power Points, we'll travel to McClintock tomorrow evening (Jan. 5) for an important Region game, returning home Friday, Jan. 8, against Bradshaw Mountain." See Front-Page Sidebar for McClintock results.
Boys take 3rd, Girls 7th in Soccer Classic Tournament
By Pete Mohr | January 6, 2010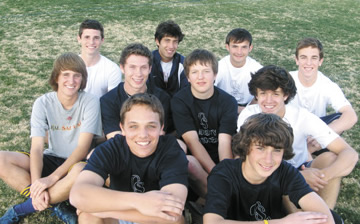 In N.D.'s "Soccer Classic," Coach Tony Vos's unbeaten Falcons bounced back from a 0-2 upset by Verrado (Jan. 1) to take 3rd place (Jan. 2) by shutting out Trevor Browne, 4-0.
(Foreground, l-r) goalkeepers Justin Folts, Casey DeBusk; (middle, l-r) goal scorers Craig Wadas, Donovan Rico, Alex Molchan, Tri-Capt. Jack Huettner; (back, l-r) standouts Ethan Pikoff, Tri-Capt. Jordan Hartman, Jordan Brock, Tri-Capt. Cody Kershner. Power Points: #4, tied with Bradshaw Mountain. Next home game: Tuesday, Jan. 12, vs. Saguaro, 6 p.m. start.
Coach Jeff Vittorio's Girls were blanked on New Year's Day by Horizon and Millennium, but scored a big 2-1 win over Desert Mountain (Jan. 2). Freshman Katelyn Mardeusz scored the game's first goal, banging home sophomore Saige Williams' rebound. Tied 1-1 with two minutes left to play senior Brittany Butcher kicked the game-winner, assisted by freshman Kelli Reid. Power Points: #21 (only two games counted). Next home game: Thursday, Jan. 7, vs. Apache Junction, 6 p.m. start.