Soccer Lady Falcons off to solid 5-1 start
By Pete Mohr | December 30, 2009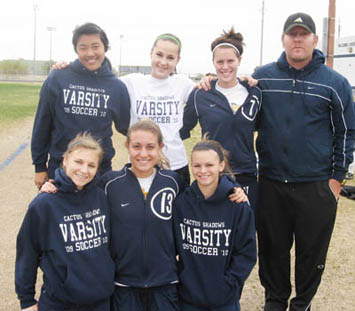 CSHS – For Head Coach Jeff Vittorio's Soccer LadyFalcons, this writer found their solid 5-1 record much hotter than Monday's practice weather in which I finally caught up with them. The Ladies' only loss, during Horizon's Dec. 7-11 "Tournament of Champions," came in a penalty kick shoot-out against Prescott.

Depending upon the results of 8 a.m. play on New Year's Day in Notre Dame's "Soccer Classic," at CAP Basin Complex, the LadyBirds could get the chance to avenge that defeat. "I love this team!" Coach Vittorio enthused to Sonoran News. "They've quickly meshed, and we've gotten a big lift from two talented freshmen, Katelyn Mardeusz and Kelli Reid." After the Lady Falcons ring in the New Year in the N.D. Classic, they'll play at Falcon Stadium, Tuesday, Jan. 5, 6 p.m. hosting the Thunderbird Lady Chiefs.
Hoops' tourneys, Dec. 28-30
By Pete Mohr | December 30, 2009
Guys, here; Gals in Wyoming

CSHS – The holiday break couldn't come soon enough for Head Coach Dirk Walker's Falcon Boys. Riding a four-game losing streak, Coach Walker hoped his squad could recover as hosts for the annual Great Desert Shootout, Monday – Wednesday, Dec. 28-30. However, "getting well" for the guys won't be easy: sharpshooting Quad-Captain P.J. Ubides went down in the third quarter of the Shadow Mountain game (Dec. 3) with a serious left ankle sprain. According to Coach Walker, his availability for the Falcons' Dec. 28 opener against the winner of Canyon del Oro vs. Dysart was a game-time decision. Also, Quad Captain Andrew Stauth's illness could make him a scratch.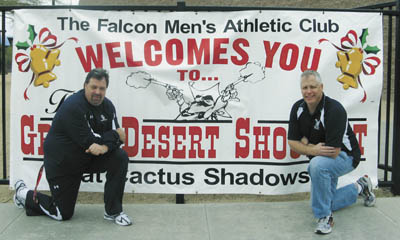 Championship game tips off in the Blue Gym, Wednesday, Dec. 30, at 6:30 p.m., preceded by the consolation at 5 p.m. On Sunday, Dec. 27, Head Coach Ryan Pletnick's Lady Falcons ("Jekyll, at home; Hyde, on the road"), coming off a decisive Dec. 14 home win against P.V. flew (privately funded) to Gillette, Wyo. to participate in the Energy Classic. Pictured below are Falcon Men's Club Assistant Basketball Coach Chris Frederiksen (l) and Secretary-Treasurer Kevin Holt obligingly posed for Sonoran News in front of signage welcoming the 15-team field: Arcadia, Boulder Creek, Buckeye, Cactus Shadows, Canyon del Oro, Cibola, Copper Canyon, Dysart, Mundelein (Ill.), Queen Creek, Sandra Day O'Connor, Sahauro, Tempe, Thunderbird, Williams Field.

Photo By Pete Mohr

Zack Sexton's return gives CSHS grapplers big boost
By Pete Mohr | December 30, 2009

CSHS – Head Wrestling Coach Merle Nelson got a welcome – but unexpected – Christmas present when senior letterman Zack Sexton decided to wrestle again. Sexton's 2009 "debut" was impressive, winning his 160 lb. class in the Dec. 18-19 CSHS Invitational. Coach Nelson stated, "Obviously, we're excited to have Zack wrestle for us in his senior season. I'd have a difficult time picking which means more to us: his athleticism or his leadership." After Sonoran News' early deadline, Falcons competed, Dec. 28-29, in the Ironwood Eagle Invitational. Unfortunately, Varsity has no more home meets this season.
"On the road again …" Thank you, Willie Nelson.
2009-2010 Varsity Wrestling Roster
(in alphabetical order)
Matt Abbate (FR) 112 lbs.
Nate Anderson (SO) 160 lbs.
Ben Barr (JR) 140 lbs.
Gunnar Collier (SO) 189 lbs.
Adam Dye (SO) 125 lbs.
Tyler Holm (SR) 285 lbs.
Dillon Flickinger (JR) 145 lbs.
Andrew Kassir (SO) 119 lbs.
Phil Morino (SO) 152 lbs.
Joey Michalski (SO) 145 lbs.
Tino Morales (SO) 135 lbs.
Alec Nichols (FR) 125 lbs.
Adam Sanchez (SO) 285 lbs.
Zack Sexton (SR) 160 lbs.
Steven Tibbits (SO) 171 lbs.