My View
By Don Sorchych | December 16, 2009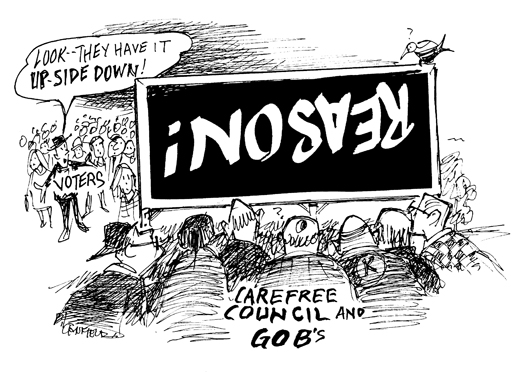 Traynor vs Schwan

It looks like candidate John Traynor has stepped up and will run against Mayor David Schwan on March 9, 2010. After Traynor's 11 vote loss as a write-in candidate he would be an able replacement for the ever defensive Schwan.

Traynor's press release is this week's guest editorial.
It will be hard for Schwan, or anyone else, to overcome the smell of his supporters. The garbage they speak is so disrespectful of the truth that credibility escapes them.

The last election made it clear voters were ready to get out of the swamp created by Good Old Boys (GOBs) and clear the air with new faces who are able at the dais and with citizens.
The majority of the Carefree council is so partisan they have lost all sense of reason. Just last week Councilman Bob Gimmell brought up the oldest pro Schwan myth about the reasons for recalling him. Schwan, Vice Mayor Glenn Miller, Councilwoman Susan Vanik and Kiwanian Ned Dobek all have, at one time or another, peddled the same tripe. And that is that Schwan didn't do anything to get recalled.

I have repeatedly said the only statutory requirement is that the recall reason(s) is spelled out in 200 words or less, and it was. The recall met all requirements and is scheduled to be voted on March 9, 2010.

Plurality in voting is an honored custom in this country. I think Carefree residents were embarrassed by the fact Schwan went from last place in the primary to mayor by a 4-3 vote, including his own.

But Schwan showed his inner child after he was anointed. Although he denies he had any part of prohibiting the signing of recall petitions outside town hall it was at least his toxic supporters, if not he. And if it wasn't him personally, why didn't he step in under constitutional principles and demand that the building owner leave the petition gatherers alone? And, what part of the recall cost the town $10,000 in legal fees to date?

He smugly smiled when GOBs sang his praises at council meetings during Call to the Public as if their words were from a song book. Those dopes wouldn't know a good mayor if one bit them, having not seen a good one of late. I think he really believed their praises.

Note his GOB supporters never mentioned his record, which is abysmal. I will mention again his use of his staff to harass the recall team. And yet he claims his opponents lie. Did he ever mention one?

The good news is John Traynor will campaign against Schwan. When Traynor wins, the council will have a 4-3 majority of good people and can choose a mayor. I hope it is someone with the cajones to clean up town hall and the planning commission. Also someone who will cease embarrassing Carefree as Schwan, Wayne Fulcher and Ed Morgan have.
During the 2011 election I would also assume good candidates will emerge to sack Vice Mayor Glenn Miller, Councilman Bob Gemmill and Kiwanis President and Councilwoman Susan Vanik. We know the town has dozens of people who are much more qualified than these GOBs.

To that end I know of two superbly qualified candidates who are waiting for the opportunity. I am sure there are many more.

I have researched my file of previous My Views and may run a series to bring new Carefree citizens up to date. Carefree has had successive feudal administrations. It is time to become trustworthy.

Cave Creek has a couple of organizations actively seeking business for the town. Cave Creek's Chamber is volunteer with a small membership base and no town financial support.
Carefree, on the other hand, gives its Chamber $25,000 each year and a cut of Thunderbird Artists' gate receipts. The Carefree/Cave Creek Chamber of Commerce has a large membership although probably not as large as the 300 they claim. Their fees to be a Chamber member are relatively large and may bring in low six figures.

But the Carefree Chamber is political and if you are watching the imbroglio between the city of Scottsdale and their Chamber you can see how bitter and divisive such relationships can get.

Recently deposed executive director of the Chamber, Ian Ellison, was a serious member of the GOBs and even offered a Cave Creek councilman Carefree financial support if he would run against Cave Creek Mayor Vincent Francia. Then, Ellison had the audacity to underline his GOB affiliation by telling the council the leader of the Schwan recall movement was more interested in removing Schwan than bringing in renters.

Isn't it time for Carefree to stop financially supporting the Chamber? The Chamber should be apolitical, independent and focused on improving conditions for local businesses. Having council allegiance for political support will eventually backfire as it finally has in Carefree.
I tend to believe that various branches of Carefree, like the Chamber, Kiwanis, HOAs, churches, the golf club and businesses, all have strong majorities that desire honest government. The GOBs are only a few and they are nasty, conspiritorial and confrontational enough to cause people to fear them.

After having been a member of Kiwanis for 15 or so years before I resigned, I know the majority are decent people, yet a small minority has grasped control of the large organization and polluted it with political mayhem. Maybe some of the CEO types need to wrest control from those that would be their minions in the real world.

The last council meeting in Carefree was different and for some reason there were more people from the recall crowd than GOBs and it made a huge difference in the proceedings.
Carefree is a rough unpolished gem that could be first rate with banishment of the GOBs.