My View
By Don Sorchych | December 2, 2009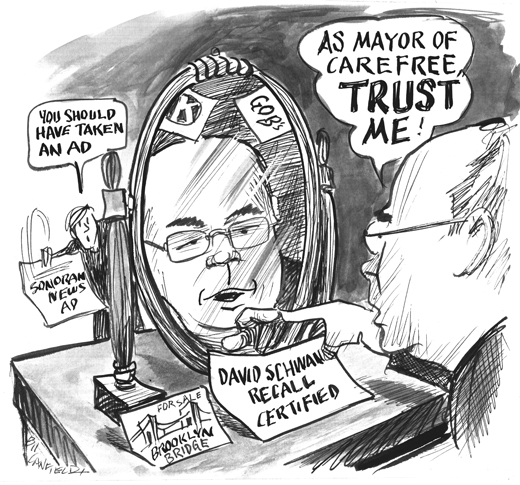 Recall of David Schwan is on

Now that the county has certified the recall election of David Schwan it is time for his challenger(s) to come out of hiding and begin to assemble a campaign strategy.

Schwan apparently was so anxious to get the word out that he won't resign, so he penned, or had GOBs pen, his mighty response which will appear in the ballot pamphlet stating why he shouldn't be recalled.

It was, no doubt intended to be a mighty response although it was a fizzle and should have been screened by a competent PR person.

Here it is, with comments:

"I was elected to town council in an honest election. Town Council appointed me to be mayor according to our current laws."

How "honest" Carefree elections are is questionable given the control the GOBs, including Kiwanis, have.

"This recall has no substance. The accusations are frivolous and untrue. I never advocated changing misdemeanors into felonies. I did not and could not have appointed myself mayor. I accept the voters' decisions regarding term of office and direct election of the mayor."

How deceitful can you be? He must think the voting population is stupid. The recall has significant substance even though his Kiwanis buddies like Ned Dobek claim otherwise.
County elections and even his own town clerk find the 380 valid signatures substantive with 177 in excess of the number required. His accusations are far from true. He did advocate changing civil infractions of the town code from civil to criminal and felonies weren't mentioned. He did advocate that simple matters like yard sales could result in six months in jail and a $2,500 fine rather than just a nominal fine. Would you call that law and order or citizen abuse?

Although he says "I couldn't have appointed myself mayor," without his vote he wouldn't be mayor.

He says he accepts the voters' decisions about term of office and direct election of mayor – what choice does he have? Both were voted in with large majorities and he has no choice but to accept their view. The point is he was and is against both.

"Deceptive comments and angry, divisive campaigning have harmed our town. We are distracted from working together on the real issues facing Carefree: a difficult economy, enforcement of zoning, and maintaining services to our citizens."

It is the GOBs who are guilty of angry and divisive campaigning so why doesn't Schwan tell them to knock it off? Because he takes orders from them, not the other way around. They have a Chicago style council majority. The only distraction is he doesn't have a clue about how to govern.

His predecessors created their financial problem with a $5 million town center, expensive fire house and engine, Rural Metro and MCSO contracts.

Zoning enforcement? Here is where his staff shined – for him. They had illegal signs all over town and winked at perpetrators. Town Manager Gary Neiss and Town Marshal Pat Farmer toiled to shut down recall Treasurer Ryan Ducharme while the town was full of illegal signs; they only enforced zoning when the Goldwater Institute threatened them.

Maintaining services? It would be nice if services were provided uniformly instead of giving top priority to Kiwanis and their GOBs.

"As mayor I am addressing those issues. I understand and practice restraint, respect and responsibility. I listen to you, the citizens of Carefree. Under my administration Carefree continues to move forward."

Barf yet? This guy may do the above things to the GOBs that attend council meetings. Non-GOBs have learned to stay away. So he is talking to himself. He has shown zero respect to anyone opposed to him or his administration and has no clue about what restraint means. So the lies continue.

Then his bullet points:

"For Carefree's current fiscal year expenses have been reduced to match estimated current income."

Hello? Estimated current income? How about actual income against expenses?

"We are meeting with our merchants to find ways to help them."

The most help he could give merchants is to ask them to advertise in Sonoran News. He needs to tell GOBs to quit threatening merchants about advertising here. We have plenty of testimonials from advertisers that attest to our ads bringing them business and causing their phones to ring.

"Carefree continues to explore ways to reduce expenses while preserving services."

Lots of luck on this one. It takes brains and savvy and this candidate has neither. I said years ago the infrastructure was deteriorating and it is. Carefree is lucky they haven't had rain storms. If they do, cost of services will sky rocket. Patch work lasts only short periods.
"I ask you to reject this recall. Honest elections should not be overturned because a few angry people do not like what the majority decided."

The recall can't be rejected. Carefree citizens will vote on March 9. Once again I cite the statute regarding recalls, which simply requires the reasons be explained in 200 words or less. And the majority that chose him to be mayor was four council member votes for and three against. Some majority.

Now is the time for candidate(s) to step forward. At this point most expected John Traynor to run against Schwan. After all, Traynor lost a council seat by only 11 votes as a write in candidate. He would have been a shoo-in if he had run as a candidate and why he didn't is clouded. Why he has not made a decision only he knows, but given the situation I doubt he will run. Perhaps he will be more effective as an analytical activist.

Carefree is full of qualified candidates but many tell me they don't want to fight town hall which means GOBs in Kiwanis and elsewhere. Currently, many hope Tom Rawles (who has a guest editorial in this issue) will run. Rawles would be an incredibly experienced councilman.

There is also a mystery candidate I will meet soon. This person is experienced in Carefree matters and is in no way connected to GOBs.