The forecast calls for snow at the Carefree Christmas Festival!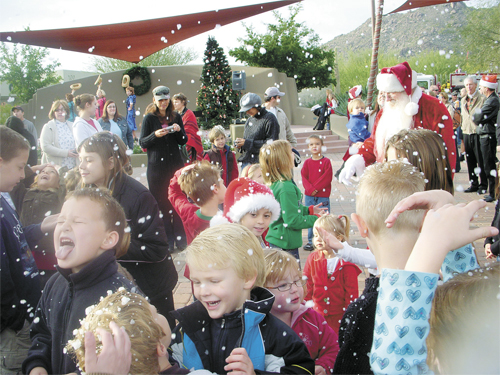 CAREFREE – The three-day Carefree Christmas Festival transforms downtown Carefree and the Sonoran Desert into a winter wonderland Dec. 11 – 13, with real snow, Santa and a weekend of seasonal events that are free for the entire family.

You won't want to miss the highlight, an electric light parade featuring more than 75 illuminated entries on Saturday, Dec. 12 at 6 p.m. along Easy Street. Be sure to invite the family, arrive early and bring your lawn chair and blanket.

Other festivities include the Main Event swing band performing holiday classics, a weekend-long holiday street fair with shopping and art, a live nativity scene, theater performances and music of the season. Children can enjoy pictures with Santa at Santa's Grotto, a real snow slide and more in the Kid's Zone.

All events are held in downtown Carefree.

Click here for a full schedule of events.

Phoenix-based Bloomfield Press weighs in on Chicago gun-ban case
By Linda Bentley | December 2, 2009
PHOENIX – As Otis McDonald v. City of Chicago is expected to be argued at the U.S. Supreme Court in February 2010, Phoenix-based Bloomfield Press, the largest producer and distributor of gun-law books in the country, has joined 34 California district attorneys, eight Nevada district attorneys, former Graham County, Ariz. Sheriff Richard Mack, Arizona Citizens Defense League, along with police organizations and other persons and groups concerned with protecting the public safety benefits of citizens possessing firearms for self-defense.

MORE ...


Obama legal cases continue
By Linda Bentley | December 2, 2009
Tennessee grand jury hears treason charges against Obama
Back in August, Sonoran News, in an article titled, "Happy Birthday Barry!" reported retired Navy Lt. Cmdr. Walter Fitzpatrick III filed a complaint with the U.S. Department of Justice on March 19, 2009, accusing Barry Soetoro, aka President Barack Hussein Obama, of fraud and treason.

MORE ...
Climategate – proof global warming is made-up
By Linda Bentley | December 2, 2009
Global warming used to sell global government?
Thousands of e-mails hacked from the Climate Research Unit (CRU) at the University of East Anglia (UEA), which have since been posted online at www.eastangliaemails.com/index.php, reveal scientists associated with the United Nations' Intergovernmental Panel on Climate Change (IPCC) have purposefully and fraudulently produced outcome based "science" to further their global agenda.

MORE ...

Obituary
December 2, 2009