In home debut, Falcons' balance is 64 - 47
too much for Greenway Demons
By Pete Mohr | December 2, 2009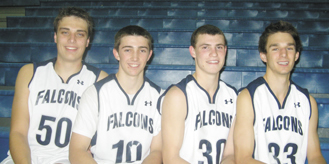 Shadow Mountain here for Dec. 3 big test

CAVE CREEK – Postgame, a knowledgable Falcon basketball fan opined to Sonoran News, "This team is going to be a lot like the football guys: there're gonna fool a lot of people and go a long way." Against longtime rival Greenway, the HoopBirds took a big home opener step in that direction, solidly downing the Demons, 64-47, before a pretty fair crowd for a Monday evening.
Austin Horton's two "threes" paced the Falcs to a 16-10 first quarter lead, which they built to a 29-20 halftime advantage. A 13-3 run to start the 2nd half had the HomeGuys comfortably up, 48-29, at the end of three. Cruise control in the 4th let the Demons back to 50-38 before the Falcons ran out to the 17-point final margin.

Horton (12) and Kyle Gunter (11) were the only double figures pointmakers among ten Falcon scorers. As he's needed to do, senior Kyle Gunter dominated both boards, with healthy assists from Ryan Robinson and Jack Bennett.

Casey Perrin and Ryan Toomey showed floor game quickness, with reserve Ben Leech taking two charges in his solid defensive minutes. Sharpshooter P.J. Ubides notched six points, including "trey" that jump-started the 2nd half breakout.

Falcons were at Peoria, Dec. 1, before returning to host Shadow Mountain in an important test, Dec. 3, 7 p.m. tip.

"The Birdcage" wants you!
Logan Davis signs with Hofstra
December 2, 2009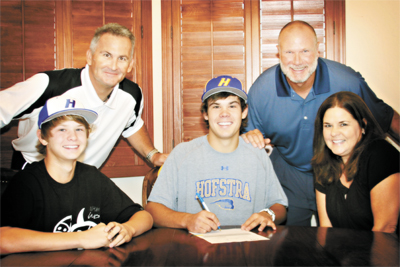 Senior Logan Davis, who'll play shortstop and pitch for the 2010 Falcons, signed his letter of intent with Division I Hofstra University, Hempstead (Long Island), NY. "I'm honored – and excited – to sign with the 'Pride.' Hofstra baseball is competitive; and I'm looking forward to experiencing a different section of the country," Logan volunteered to Sonoran News.
Celebrating his signing were (seated, l and r) younger brother, "C.J.", who's playing Freshman Basketball for the Falcons, and Mom, Candy. (Standing, l and r) Coach Baker and Dad, Mark, head coach for the Kansas City Royals rookie pitchers at the Surprise Baseball Campus. Congratulations, Logan!
Courtesy Photo/Jerri Parness