The Upscale Singers announce their Scholarship Winners
November 25, 2009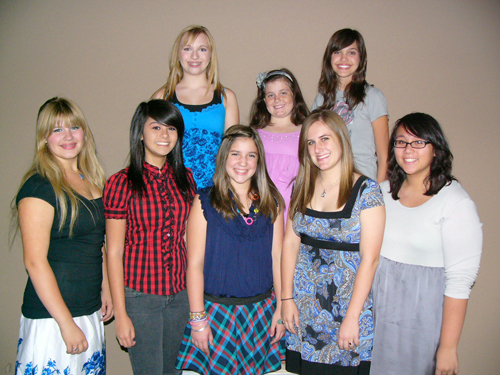 Pictured here, from left to right, first row:
Cassie Poincelot, Honorable Mention, sophomore at Cactus Shadows HS
Rhiannon Malkow, 3rd place, junior at Boulder Creek HS
Maddie Lopez, Honorable Mention, 7th grade, Anthem Elementary
Kristina Thomas, 1st place tie, Senior High Division, senior at Notre Dame Prep
Daphne Seitz, 1st place, Junior High Division, 8th grade at Gavilan Peak Elem

Second row:
Joanna Richardson, Honorable Mention, 8th grade at Desert Arroyo Middle School
Allison Flayton, 3rd place, 7th grade at Sonoran Trails Middle School
Keri Orcutt, 2nd place, 7th grade at Desert Arroyo Middle School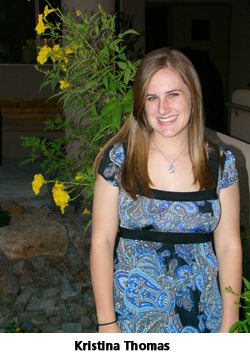 For the third year in a row, the Upscale Singers sponsored a vocal scholarship competition. But this year they extended their territory from students living in the Cave Creek Unified School District to include students from Anthem/New River area. The expansion was successful as more than 40 students prepared for their auditions and sang in the private competition.

Because the quality of the participants was remarkable, the Upscale Singers added four Honorable Mention awards, giving away a total of ten vocal music scholarships. All awards are paid directly to the vocal teacher of the winner's choice.

In the senior high division, there was a tie for first place, with both Kristina Thomas and Rebecca Zaner receiving scholarships of $600.

Kristina, a senior at Notre Dame Preparatory, is active in her school drama program and show choir. She has volunteered the last three summers at the Arizona Magic of Music and Dance Camp, the program for physically-challenged youth where the Upscale Singers sponsored four campers. But this summer Kristina will travel to China with the All-USA Women's Chorus to perform at the World Expo.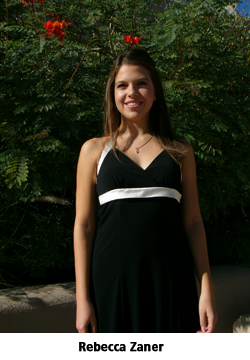 Rebecca Zaner is a junior graduate from Horizon High School studying to become an opera singer. Rebecca credits her voice teacher Mary Sue Hyatt, a professor-emerita from Kent State University, for introducing her to the world of opera. Rebecca has already sung in Chicago, Ill., Pittsburgh, Penn. and in Lucca, Italy. This young lyric soprano even has her own web site: www.rebeccazaner.com.

Third place winner Rhiannon Malkow, a junior at Boulder Creek High School, receives $300, and Honorable Mention awards of $100 went to Melissa Nelson, a freshman, and Cassie Poincelot, a sophomore. Both Melissa and Cassie attend Cactus Shadows High School.

In the junior high division, Daphne Sietz, an eighth grader at Gavilan Elementary, won first place with $500. Kerri Orcutt, a seventh grader at Desert Arroyo Middle School, took second place ($300), and Allison Flayton, a 7th grader at Sonoran Trails Middle School, took third place ($200). Maddie Lopez, a seventh grader at Anthem Elementary, and Joanna Richardson, an eighth grader at Desert Arroyo Middle School, won $100 awards as Honorable Mention recipients.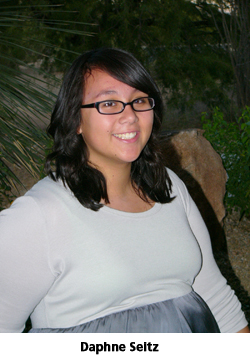 `The group of ten winners share many traits. They've all been singing since a very young age. In fact, Rhiannon Malkow says "I could pick up a tune before I could talk!"

They've performed solos in their school talent shows, and played roles in community theater productions. In the group there are two Mollies from the musical Annie, one Gretl from The Sound of Music, and more roles than we can mention from school and special theatrical programs.

Many come by singing naturally, a love that they share with their families. As Allison Flayton says, "My family has raised me on Broadway show tunes."

They all are passionate about singing, and they all perform with their school choirs. Their dreams range from singing as professionals on stage to being music teachers. And one winner would like to be a music therapist.

The Upscale Singers will feature the three first place winners, Kristina Thomas and Rebecca Zaner from the senior high and Daphne Sietz from the junior high division, singing solos at their Christmas concert on Dec. 13th at the Desert Hills Presbyterian Church.

And Peter Yanovitch, a three-year recipient of a scholarship to the Arizona Magic Music and Dance Camp, will also sing at the concert. Peter will represent the four youths who were sponsored by the Upscale Singers at last summer's program.

The Upscale Singers, under the direction of Margaret Watson, are proud of their commitment to the youth of the community. Besides their annual scholarships to young singers and to physically-challenged youth, every concert they present includes the Upscale Kids who learn so much from performing and singing with adults.

Tickets for "The Joy of Music" on Sunday, Dec. 13th, are $15 for adults, $10 for students, and $7 for children 12 and under. For more information on the scholarship winners and the concert, call 480-575-0188, or go to www.upscalesingers.com.