A dose of Dos Diablos
By Sara Fassil | November 25, 2009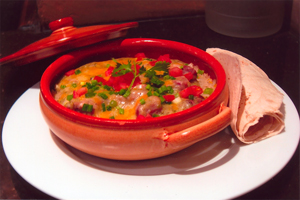 SCOTTSDALE – It has been about three months since Dos Diablos Fine Mexican Restaurant opened and business is going strong.

Owners David Stone, Patrick Melson and Carl Cull came together to create a Mexican restaurant unlike any other. Dos Diablos serves Mexican infusion food and provides locals with a lively hangout spot.

Executive Chef for Dos Diablos, Jean Louis Cowan, has been cooking for 33 years. He uses all fresh ingredients and grade A meat for the dishes prepared at the restaurant. More...


Inaugural 'Small Works' Holiday Fine Art Show opens at new Sonoran Arts League Office on Friday, Dec. 4
November 25, 2009

Show features 'Perfectly Petite Gifts of Art'


CAVE CREEK – The non-profit Sonoran Arts League is hosting its inaugural "Small Works" holiday fine art show at the League's new office located at 6051 E. Hidden Valley Drive, Ste. 3, in Cave Creek. The juried fine art show opens Friday, Dec. 4 with a free artist reception from 1 – 5 p.m. and runs through Thursday, Dec. 24. Sonoran Arts League artists will exhibit and sell more than 65 small paintings, sculpture, jewelry, pottery, glass, and other mixed media works. A portion of proceeds will benefit Sonoran Arts League educational programs and events.

Linda Budge, "Small Works" chair, said Sonoran Arts League artists are excited about the new show, particularly since it provides an opportunity to showcase and sell their work during the holidays.

"We encourage everyone to visit the new Sonoran Arts League office, which includes a rotating display of members' work year-round. The "Small Works" December show features wonderful collectibles, unique gifts, and last-minute stocking stuffers," Budge explained.

"You'll find small exquisite paintings, sculpture, glass, metal, pottery, and gourds as well as small surprises for sale on our Christmas tree. This is a juried show, showcasing a diverse selection of fine art, each no larger than 5" x 7." Come view the high caliber of talent in this show and shop for perfectly petite gifts of art!"

Sonoran Arts League will expand its office hours during the "Small Works" show to be open seven days a week from noon – 5 p.m. For more information, call the Sonoran Arts League at 480-575-6624 or visit www.SonoranArtsLeague.org.

Based in Cave Creek, Arizona, the Sonoran Arts League is celebrating its 15th year of promoting art, artists and art education. The non-profit organization's 400 plus members actively participate in community outreach programs, including mentoring programs, workshops, fundraisers, and other activities, such as the Empty Bowls Project, the Hidden in the Hills Artist Studio Tour, Out West Art Fest and the Sonoran Festival of Fine Art.