Falcs declaw Cougars, 63-16; Classen, Murphy lead to QTRS
By Pete Mohr | November 18, 2009
Holm's INT: a senior's forever moment!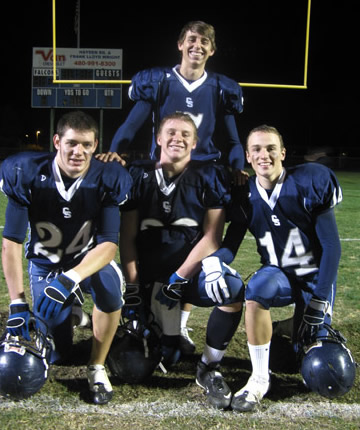 FALCON STADIUM – Were you superstitious about the Falcons hosting #15 (Tucson) Sahuaro on Friday the 13th? It took the HomeBirds only 2:04 to dispel that foolishness: Dillon Classen and Tommy Murphy combining on a 60-yard highlight film strike, after a Parker LaRue fumble recovery had put the Falcs in business at their own 27. Joree Schneider got 14 on a flanker counter, then followed the scoring bomb. Bryce Redmond did his Carefree Highway number on the P.A.T., his first of nine-for-nine, two shy of the CSHS record 11 (kicker unidentified) in 3A days, against Fountain Hills in 1999.

Schneider (twice) and Murphy (three more TD tosses from Classen) had the Falcs breezin' at the break, 42-10. In the 2nd half, Classen's 16-yard screen to Zack Sexton (his 13th TD) and two nifty dashes by Austin Stephens had the 'Birds up, 63-10, before an 89-yard "for pride" heave made the final, 63-16.

The blowout advances the Falcons to this Friday's quarterfinals, at home, against #7 (Tucson) Sabino, 49-7 winners over #10 Raymond Kellis. The victor will move on to the Nov. 27 neutral site semifinals against the winner of #3 Saguaro vs. #11 Independence.

The game-cinching defensive play? Second quarter, Falcons leading, 21-10; Cougars gamble for the 1st down on 4th-and-three from their own 42: Alex Yazdi and Cody Wendel sack quarterback Kevin Ackerly back to the 33! Falcons convert the short field into their fourth touchdown, 28-10, out-of-reach.

For the night, Classen was 13 of 15, 282 yards, six TDs. Murphy snared eight balls for 174 yards and notched his tenth INT that set up the last of his four scoring receptions with only 41 seconds left in the 1st half.

The game's unforgettable moment occurred at 2:14 of the final period. Six years ago, I photographed Tyler Holm and his mother, Judi, at CCCYF registration. Last Friday night, his one-handed stab for an INT won Head Coach Chad DeGrenier's award of the "D" game ball – and Sonoran News' invitation to appear in the front-page sidebar photo with teammates Classen and Murphy. "I wanted to take it to the house!" he lamented, "but my knee wouldn't let me get going." His gem set in motion the final Falcon TD. Congratulations, #75!

Sabino? The #7 Sabercats are not to be taken lightly; but the Falcs are rollin' – and not to be stopped come Friday night. "Crow" likes the 'Birds, 31-21, probably moving on to a semis rematch with those other Sabercats, who haven't forgotten that blocked extra point, 20-21 loss on Oct. 16. Careful, Falcons! Don't even think about lookin' ahead!
'Slope too slippery to climb!
By Pete Mohr | November 18, 2009


Too much front line "killing" power. Too much experience (all starters returned from 2008 State Champions). Too much poise (undefeated in regular season play since their 2007 State Finals loss to Chaparral).
At Brophy, Monday evening, Nov. 16, Sunnyslope defeated the Lady Falcons in straight games (25-23, 25-17, 25-22) to win their second consecutive 4A-I State Championship. Congratulations to Head Coach Amber LeTarte and her Lady Vikings.
"Close!" was Head Coach Tom Gardner's chin-up summation to Sonoran News. "Close counts in …" but hats off to Coach Gardner on his LadyBirds' second Finals appearance in the three seasons he's been at the helm of Falcon volleyball. In their final game together, highest marks to senior and Co-Captain Kelsey Janke and junior libero Jordan Smith, who dove, tumbled and "dug" their best in the losing effort.
And to all Lady Falcons, congratulations on your more-than-successful 32-12 season!