Falcons chain up Bulldogs, 46-21; Undefeated 10-0
after 'Senior Night'?
By Pete Mohr | November 4, 2009
Fourteen seniors vowing not to let perfect season slip away!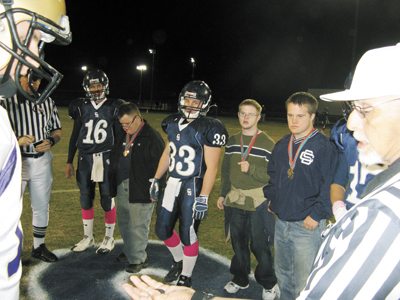 FALCON STADIUM – After 48 minutes of football, the Van Chevrolet-sponsored scoreboard in the south end zone read HOME 46 - VISITORS 21, the refurbished (and readable!) lights confirming the undefeated Falcons' ninth victory – not without some anxious moments early in the 4th quarter, but heralding that the 'Birds were now only one win away from a 10-0 perfect regular season.

Congratulations to Head Coach Chad DeGrenier, his dedicated Staff and to every Football Falcon – especially the 14 seniors who, to a man, pledged last Summer the "Senior Leadership" that became the inspiring foundation for this already-beyond-their-dreams season! Only the visiting McClintock Chargers (4-5, #13 in A.I.A. Power Points) stand in the Falcons' way.

"Coach D., how do you feel going into Senior Night, 9-0?" "I'm happy for the kids; but I'll be happier when we're 10-0 and ranked 1st heading to the Playoffs. Our offense has gotten stronger every week, but we need to tighten up a little defensively. We get 14 points ahead and then seem to relax. Coach Bradshaw's gonna take care of that!"

Against Queen Creek, the Falcons struck for five 1st half touchdowns: Brady Dombrowski's leaping catch at 1:47 of the 1st quarter; John Leonard's first two (of three) sixes at 5:48 of the 1st and 1:21 of the 2nd; QB Dillon Classen's quick sneak over left guard (7:14 of the 2nd), then, at 8:22, his 35-yard beauty to Quad-Captain Tommy Murphy, set up by Alex Yazdi's fumble recovery. At the half: Falcons, 34 - Bulldogs, 14.

The Falcs took an all-too-familiar - looking nap in the 3rd. The 'Dogs closed to a 34-21 two-score game; and early in the 4th, were fourth-and-seven at the CSHS 43. Cody Wendel and Quad-Captain Zack Sexton then combined on the "Defensive Play of the Game," sacking QC quarterback Adam Brzeczek all the way back to the 'Dog 40!

Leonard (8:22) and Sexton (10:18) put the game in Al McCoy's "icebox" with short-field touchdowns, the latter off just called-up freshman Matt Hartlen's fumble recovery at the Creek 20. Murphy's Ninth INT of the season preceded Classen's two game-ending knees.
Way too many reasons why the Falcs should beat McClintock: sealing an undefeated regular season, winning Desert Sky Region title, Playoffs seeding, "Senior Night" – and "righting" that Zebra's 2008 "wrong." "Crow" sez, "Give me the HomeBirds, like, 38-24."
CSHS VolleyBall hosts 1st Round in State
By Pete Mohr | November 4, 2009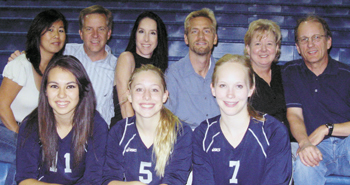 The week of Oct. 19 was a big one for Volleyball Head Coach Tom Gardner and his Lady Falcons. First, on Tuesday, Oct. 20, the Ladies made the long haul to Queen Creek, where they clinched the Desert Sky Region title by defeating the Lady Bulldogs in four tough games. They were home the next evening, celebrating "Senior Night" by sweeping McClintock in straight games, completing a perfect 8-0 record in D-Sky play.

Honored were seniors (l-r, with parents in parentheses) Michaela Shuler (Oy and Steve Shuler), Co-Captain Kelsey Janke (Kelly Janke and Dean Janke) and Sarah Grothe (Trisha and Steve Grothe).

Not only have these three seniors had great volleyball careers, but they also excel scholastically and/or extra-curricularly. Pregame, Michaela, who may be headed to M.I.T., impressively sang our National Anthem. At present date, Kelsey ranks first in the Class of 2010, and is being recruited by Princeton, Haverford and Bowdoin. Sarah, an outstanding student, skillfully plays xylophone in the "Fighting Falcons Marching Band." Wow, you three!
Coach Gardner faces the challenge of keeping his currently #2-ranked team (behind Sunnyslope, who else?) sharp until they host their State 1st Round game (opponent to be determined), Tuesday, Nov. 10, at Barrett Gym, 7 p.m. first serve. If the Lady Falcons win, they'll stay home for their Quarterfinals match on Thursday, Nov. 12, also a 7 p.m. start.
Congratulations to JV Coach Jerry Lucia and Freshman Coach Ali Adams (CSHS '09) on their respective 16-1 and 12-5 seasons. Good luck at State, VolleyGals!

All-Region quintet leads to State!
By Pete Mohr | November 4, 2009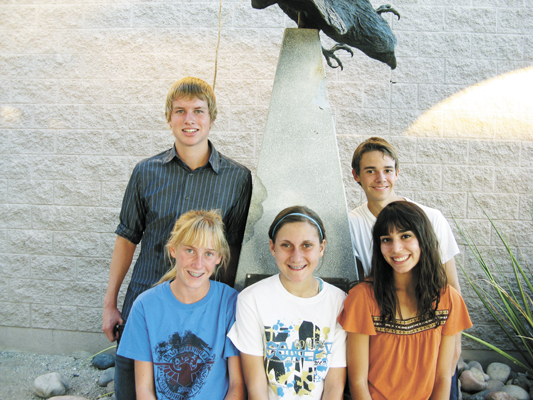 Losing a tie-breaker (determined by comparing the finishes of the sixth runners) to Saguaro was a big time disappointment/frustration for Cross Country's Girls; and Boys Captain Austin Miles used his subpar performance to sum up the Guys' Oct. 30 Regionals: "I ran a bad race. It's out of my head now. State's coming up this Saturday. We're going to do better!"
Photographed by Sonoran News were Cross Country's All-Region medalists: (front, l-r) freshmen Terri Baker (2nd), Dani Zalewski (3rd), senior Jesse Hass (4th); (standing, l-r) seniors Ryan Storck (5th), Miles (9th).
Rostered for Saturday's State Championships at Cave Creek Golf Course (Greenway Road and 19th Avenue), Boys (starting at 9 a.m.): Austin, Storck, Alex Kaufman, Keith Omundson, Daniel Pages, Alex Lazo, David Tze, Dylan Lenzen (alternate); Girls (starting at 10:20 a.m.): Baker, Zalewski, Hass, Melissa Nelson, Mackenzie Brown, Savannah Alexander, Kelsey Nigbur, Jenny Gormley (alternate). Go Harriers!
May ye be long of wind and fleet of foot!