Morgan James Pierre Boisson
By Pete Mohr | October 28, 2009
November 23, 1988 – October 20, 2009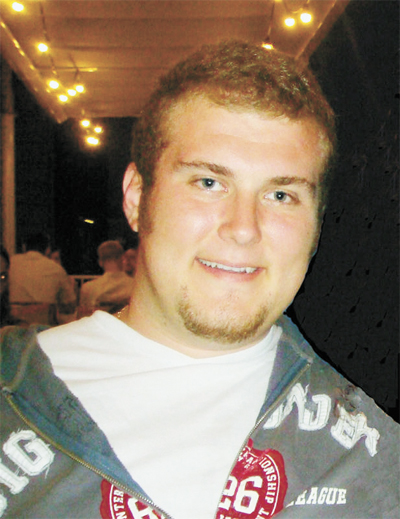 I am humbled to the sad task of writing this tribute to the vitality of Morgan Boisson's life, which energized and delighted all who knew and loved him. He lived – and touched others – with irrepressible joy!

On Tuesday, Oct. 20, 2009, while on an excursion in Tibet with friends from the University of Arizona's Yangtze Studies Abroad Program to the base camp for Mt. Everest, Morgan, at an elevation of approximately 18,000 feet, was stricken with severe altitude sickness.
With no medical assistance available, and a rapid descent impossible, he died – despite his companions' efforts to save him. Morgan would have celebrated his 21st birthday on Nov. 23.
Morgan was born in Montpellier, France. At age seven, he moved with his parents and two younger sisters to the United States. The Boissons eventually relocated from Ahwatukee to Cave Creek in May 2005. At Desert Vista High, Morgan had acquired, inevitably, the nickname of "Frenchy," which followed him to Cactus Shadows.

In August's triple digits, Morgan's big – and persevering – heart saw him through the agony of "gassers"(endurance drills) at the end of pre-season football practices. "C'mon, Morgan," his teammates would encourage. "You can do it!" And he did – never quitting. Morgan, proudly wearing No. 66, played at both offensive and defensive tackle for the 2005 Falcons, comeback forerunners to the 2006 State Champions. He loved his coaches and teammates, especially Trace Stephens and Kyle Watkins; and they, him.

Nearing his 2006 graduation, Morgan was honored as one of two recipients of the United States Marine Corps "Distinguished Scholar Athlete" award at Cactus Shadows.

Morgan Boisson had a keen – and seeking – intellect. Following his graduation, he entered the U of A, pursuing an East Asian Studies/China major, with a minor in French. Morgan was an Honor Roll and Dean's List student. He was planning to attend Thunderbird School of International Management, aspiring to become a global businessman.

At the U of A, Morgan became a varsity cheerleader, his large frame a sturdy foundation for the squad's in-the-air "stunts." They affectionately called him "Captain" and "Big Bear." On Friday, Nov. 6, 8:30 pm, on the north side of McKale Memorial Center, the Wildcat cheerleaders will hold a candlelight vigil to honor the memory of their friend and comrade.
Morgan Boisson was boundless in spirit! Tragically, it would be his adventure-loving nature that would place him – so very characteristically with friends – on his fatal climb.

Morgan is survived by his father and mother, Cyril and Elizabeth Boisson; his sisters, Alix and Christine, a senior and a freshman at Cactus Shadows; his grandparents, Jim and Judy Veney of Prescott, Ariz. and Nicole and Pierre Boisson of La Grande Motte, France; and many extended family members who loved him dearly.

A memorial service celebrating Morgan's life will be held at Carefree Church, 5025 E. Carefree Highway, Cave Creek, Sunday, Nov. 8, 3 p.m. In lieu of flowers, the Boisson family will gratefully accept contributions to the Morgan Boisson Scholarship Fund (Chase Bank account #000000752438754).

"C'mon, Morgan! You can do it!" His indomitable spirit will live – forever – in the treasured memories he created … and in the glory of God's heaven!

No "slippery" 'Slope for Falcs: 45-18!
By Pete Mohr | October 28, 2009
Concussion likely ends Larson's season
A fearful 'copter AirEvac, then ...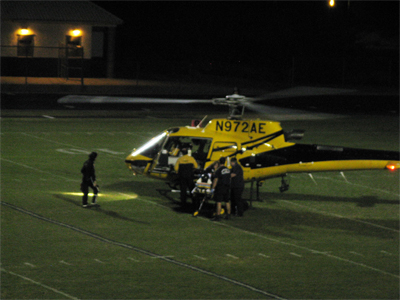 FALCON STADIUM – This sportswriter doesn't believe in "jinxes"… but … until Sonoran News issue of Nov. 11-12, all readers need to know are the facts: (1) the Falcons used a first half offensive blitz (two touchdowns by John Leonard and three by Joree Schneider, including a 97-yard kickoff return) to run away from the numbers-thin Sunnyslope Vikings; (2) the win kept the Falcs unbeaten at 8-0 (2-0 in Region), with two regular season games remaining, both at home: #10 Queen Creek (5-3), Halloween Eve, Oct. 30, and #16 McClintock (3-5), "Senior Night," Nov. 6; and (3) on Monday, Oct. 26, the 'Birds are ranked #2 in A.I.A. Power Points behind #1 (Tucson) Canyon del Oro, with (Vail) Cienega #3, Apache Junction #4 and Saguaro #5.

Go ahead, fans, make your own projections. There's a lot of football still to be played over these next two weeks. Head Coach Chad DeGrenier ain't sayin' nothin', except, "We've got to keep playin' 'em one at a time. Last Friday night, we won; and our prayers were with Cam (awarded both game balls) and the Boissons. This Friday, it's Queen Creek, who'll be out to recover from their 14-52 embarrassment to Apace Junction. We're catching a good team at a dangerous time."

They played two halves last Friday night; but with Cam Larson knocked out (literally) at 6:21 of the 3rd period from a legal hit, who-the-heck was focused on the game?! "It was, the film shows, their outside linebacker's helmet, unintentionally, to my left temple. I was unconscious before I even hit the ground," Larson described to Sonoran News at his home Monday evening.

For what seemed like an interminable 45 minutes (both teams having retired to their respective locker rooms), Larson lay motionless at the 'Slope 30. Finally, like some science fiction giant dragonfly, a MedEvac helicopter swooped in to fly Larson, then fully conscious, to the ER at John C. Lincoln Hospital (ironically, at Sunnyslope). Thankfully, Larson sufficiently recovered to be discharged by mid-afternoon Saturday. Scary business! The Falcons will definitely miss Larson's relentless play on both sides of the ball. Junior Austin Stephens can be counted on to step in – and up – for Larson.

"Crow" is on an 8-0 predictions roll. Queen Creek smells like a "trap" game; but I like the 'Birds to keep their cool, rolling on by 18, say, 38-20. I'll be right there Friday evening. Will you?

... a thankful, "Welcome home!"