PAC turns in 406 signatures to recall Carefree mayor
By Linda Bentley | October 14, 2009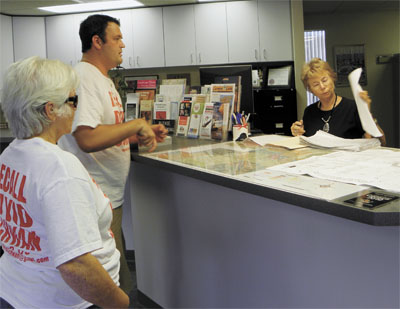 Carefree Town Clerk Betsy Wise is pictured counting the petition signatures turned in by Recall David Schwan Political Action Committee Treasurer Ryan Ducharme and volunteer Roberta O'Dwyer Tuesday afternoon. Ducharme turned in 406 signatures to recall Schwan, double the number (203) required and 74 percent of the total number of votes (552) Schwan received in the May election.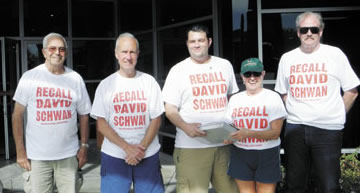 PAC volunteers, from left, Ray Paul, Henk Tinkelenberg, Treasurer Ryan Ducharme, Sue Coady, and Chairman Rod de Szendeffy met at the Carefree Post Office for a photo op before turning in the recall petitions at town hall. The recall election will be held in March 2010.
Photos by Linda Bentley

Carefree convenes with emperor's new flag and calls for civility
By Linda Bentley | October 14, 2009
'Leave your tempers and egos at home'
CAREFREE – The Carefree Town Council meeting began by rote with a call to order, roll call and then the Pledge of Allegiance. Although Mayor David Schwan noted with surprise the flag was missing, that didn't stop council from standing and facing the absent flag and reciting the Pledge.
MORE ...

Vandals channeling Charles Manson?
By Linda Bentley | October 14, 2009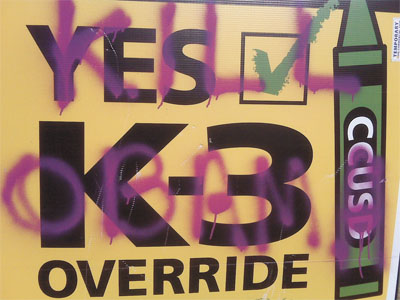 Manson believed the Beatles' song 'Helter Skelter' was about an apocalyptic race war between blacks and whites

CAVE CREEK – Maricopa County Sheriff Joe Arpaio called the defacing of two campaign signs in Cave Creek "a complete disgrace and gross act towards our president."
Deputies responded to a call last Thursday morning about two campaign signs, one advocating passage of two local ballot propositions, 400 and 401, the other Cave Creek Unified School District's K-3 override, defaced with "Kill Obama" spray-painted in purple.
MORE ...

Federal judge slaps Obama eligibility attorney with $20K sanctions
By Linda Bentley | October 14, 2009

'A mere seven days after losing in Texas, Ms. Taitz filed the same action in this court'
COLUMBUS, Ga. – On Tuesday, U.S. District Court Judge Clay D. Land issued an order fining Attorney Orly Taitz, well-known for filing lawsuits across the country challenging President Barack Obama's constitutional eligibility, $20,000 in sanctions and directed the clerk of the court to forward a copy of his 43-page ruling to the State Bar of California.
MORE ...

Cactus Shadows Boosters get "boost!"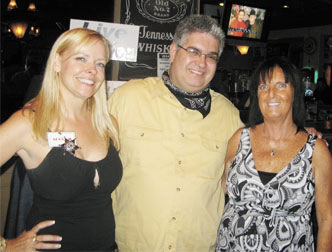 CCUSD Board President Mark Warren (c.), flanked by Co-Chairwomen Susan Howell (l.) and Boosters President Ruth Varner (r.), drew the winning 50/50 raffle ticket worth $1,300 at last Sunday evening's "Denim 'n Diamonds" fundraiser held at Harold's. Varner was the winner and immediately donated her good fortune to Boosters. Thanks to all the corporate sponsors whose generous support help make the event's success possible.
Photo by Pete Mohr