Family History: Getting started on the right foot
October 14, 2009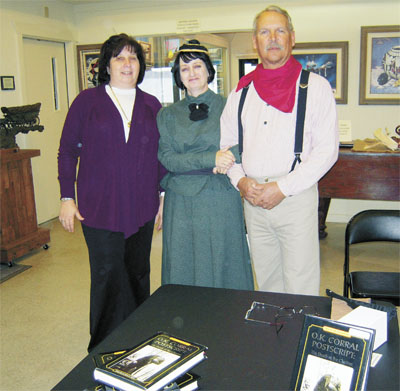 (l-r) Barbara Chatzkel, Cave Creek Museum board president, with Rita and Doug Ackerman during a book signing at Cave Creek Museum. A professional genealogist and author, Rita Ackerman returns to the Museum on Sat., Oct. 17 to present "Family History: Getting Started on the Right Foot."


Photo by Stephanie Bradley


Set for Sat., Oct. 17 at Cave Creek Museum
CAVE CREEK – If you're like most people, you've heard stories from your relatives regarding your family tree. Most likely the stories are sketchy, and relatives have different recollections about how your family arrived here.

As part of its 40th Anniversary celebration, Cave Creek Museum is hosting a special genealogy presentation, "Family History: Getting Started on the Right Foot," from 2 – 3:30 p.m. on Saturday, Oct. 17 in the Museum's historic church. Professional genealogist and researcher, Rita Ackerman, of Phoenix, will discuss facilities for doing research in the Valley and the pros and cons of Internet research. She will also provide guests with tips for getting organized in order to begin their genealogical research.

Admission is free.

"I began my own genealogy research in 1976 in order to learn more about my father and his family," Ackerman, a Kansas native, said. "I became enthralled with the process, and by 1985 I was teaching classes and giving talks."

Ackerman has been a professional genealogist and researcher since 1990. She specializes in Arizona history and has taught classes throughout the Valley and through the Family History Society of Arizona. A published writer, she is author of O.K. Corral Postscript: The Death of Ike Clanton and Tombstone: Who, What, When, Where. She is also published in various magazines including a feature article in the current Wild West Magazine on Arizona's own poet bandit.

She offers these tips for getting started with your genealogy research:
Talk to your family and gather copies or photographs of information and heirlooms. These things disappear along with the older members of your family. Do it NOW.
Start getting organized right from the start. Use either a genealogy computer program or tabbed notebooks and folders. Whatever works for you. Be consistent.
Take good notes and make sure and write complete references. You won't remember where you heard that great story about Great Grandpa Jonas if you don't write it down.

Located at 6140 Skyline Dr., Cave Creek Museum features an extensive collection of prehistoric and historic artifacts that describe the lives of Native Americans, miners, ranchers and pioneers. The museum hours are Wed., Thurs., Sat. and Sun. from 1 p.m. to 4:30 p.m., and Fri. from 10 a.m. to 4:30 p.m. Entrance fees are $3 for adults, and $2 for seniors and students over age 12. Group tours: $2 per person. For information about Cave Creek Museum and its programs, call 480-488-2764, or visit www.cavecreekmuseum.org.