My View
By Don Sorchych | September 30, 2009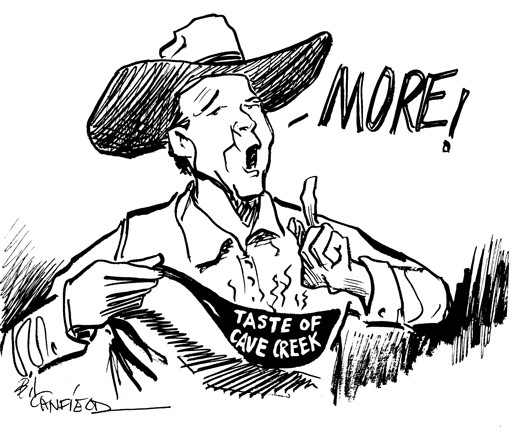 The Taste of Cave Creek • Jesus is Lord


The Taste of Cave Creek
Last Thursday the second Taste of Cave Creek co-sponsored by the town and Cave Creek Merchants Chamber of Commerce was held for four splendid (mostly) hours. I couldn't help but compare the event to the every day occurrence at San Antonio's River Walk. A crowd of happy people, samples of food from our local chefs and small, if any, lines in spite of the huge turnout.

It was great to see our loyal advertising friends and try their food, while often meeting the restaurant owners. Enumerating them from east to west, there was Harold's Cave Creek Corral, Buffalo Chip Saloon and Steakhouse, Indian Village, The Horny Toad Restaurant, Silver Spur Saloon and Restaurant, El Encanto Restaurant, Bryan's Barbeque and last but not least, Cave Creek Coffee Company and Wine Bar. They all served the best of what is on their menu.

There was even talk of two and three day events in future years.

For years the Taste of Cave Creek event was held in what is now the Silver Spur Saloon and Restaurant and this year's event was planned to be there again as it was every year except last year.

Discussions between the town and the Cave Creek Merchant's Chamber of Commerce resulted in a more expansive venue and Stage Coach Village was the only place that could house the many restaurants.

Allowing more bars broke last year's huge bottleneck for a glass of wine or a cocktail. There was a free flow of people throughout the spread out event. Garbage accumulated quickly and Town Clerk Carrie Dyrek, assisted by John Ford, were seen helping the small town crew by bagging and hauling refuse away. Eagle Scouts, under the direction of Rod and Carol de Szendeffy, also bagged trash.

I don't know how it was accomplished, but MCSO deputies were seen at every turn in the controlled space and along the thoroughfare leading to the event.

People parked everywhere and Bob Kite's property behind the post office was a welcome relief valve as were the available CCUSD buses used to transport attendees to the event.
It was amazing to drive by the mentioned businesses and see full parking lots. I guess regular customers ignore special events like the Taste of Cave Creek, but the restaurant owners had no complaint.

With one exception the Taste of Cave Creek was a home run!

The exception is CCUSD. Override "volunteer" Greg Smith had a booth at the south entrance to the event, with a dedicated table next to food purchase tables and contaminated the grounds with advertisements that some correctly called "litter."

Let us not forget that a Greg Smith propaganda piece about the CCUSD override was peddled to Cave Creek Mayor Vincent Francia and Smith's fabrications were written as Francia's own.

And how did Francia get the article? From Town Manager Usama Abujbarah, of course, to pimp for the override. Abujbarah did it again by allowing Smith the privilege of setting up at a Taste event with propaganda in tow.

Although Abujbarah denies he let Smith in, history says otherwise. And where was the opposition to the override? No one was invited.

Although we can give Abujbarah an A for his leadership in the excellent results of the Taste of Cave Creek, he gets an F for overstepping his authority and mixing school politics with an otherwise excellent event.

If this event continues on course, I hope business leaders will take over the event and keep the town out of it.

Jesus is Lord
Sonoran News broke three stories regarding the Tumbleweed Hotel or the adjoining Spur Cross Gallery and the owners of both.

The first involved the sign on the gallery, which reads, "Jesus is Lord."

The owners of theses properties are Gary and Jeri Rust. Gary chased a man that he believed has egged the sign, but no one was prosecuted for the damage to private property.
Signs, as you will see, seem to be karma to this couple.

About a year ago, County resident Anna Marsolo turned in the couple for what she perceived to be a non-conforming sign, which read, "For sale by owner, Corner Building. 4000 sq. ft. 602-359-7820."

Complaints, according to town ordinances, must be in writing, and signed.

That notwithstanding, Deputy Town Marshal Bobby Hernandez called the Rusts to register Marsolo's complaint although her verbal complaint was as non-conforming as the sign and he was supposed to document any complaint, not call on the phone.

After discussion, Hernandez appeared and began to take the sign down. There were heated words and the Rusts returned to the hotel, only to be handcuffed and taken to a downtown lockup after Hernandez called MCSO.

This was a major misfire by combined law enforcement of epic proportions. Eventually, careful work by Tom Rawles, Rust's attorney, settled the case with no town prosecution and an apology from the town.

But imagine the taste in their mouth with that kind of treatment.

As that episode died down, some criminal decided to mount a ladder and steal their "Jesus is Lord" sign.

Having read a couple of hundred comments from readers, I generally disagree.

My View is the Rusts not only have property rights but first amendment rights as well. We all do.

People who suggest the Rust's turn the other cheek may have forgotten what Christ said. It was something like render unto Caesar that which is Caesar's and render unto God that which is God's.

Just because the Rusts want to propagate and see His word doesn't mean they have to be doormats and stand idly by while they are victimized. Whoever stole the sign committed a crime and should be brought to justice. I hope it happens.

But among the many opinions, those of atheists stand out. Most are angry and complain about the sign celebrating an entity they say didn't exist. A few supported the first amendment irrespective of language on the sign.

After all, the first amendment was written to protect communication which may be distasteful to some.

The Rusts once told me they were bestowed a great gift and they felt Jesus was the source of the miracle. So they decided to thank Him with the sign, "Jesus is Lord."

It is their faith. It is their legal right.

Let them alone.