SN publisher awarded $39K in fees, costs and damages
By Linda Bentley | September 30, 2009
It is just this sort of harassing, frivolous litigation that statute is intended to repress

PHOENIX – On Monday, Maricopa County Superior Judge Bethany Hicks awarded Sonoran News Publisher/Editor Donald Sorchych $33,732, in attorneys' fees, costs and expenses along with an award of $5,000, the maximum permitted by law, in statutory damages against plaintiffs The Desert Advocate, Thomas and Karen Seemeyer and their attorney James M. Laganke, while dismissing all claims, in their entirety, with prejudice.
MORE ...

CCUSD K-3 override 'Fact Sheet' remains bone of contention
By Linda Bentley | September 30, 2009
'The election laws and statutes prohibiting the use of school property are not about word manipulation and gamesmanship'

CCUSD – On behalf of the Cave Creek Unified School District (CCUSD), Attorney Christopher Schmaltz of Gust Rosenfeld responded last Friday to Attorney Carol Lynn de Szendeffy's Sept. 18 letter, sent on behalf of a group of CCUSD taxpayers, requesting the district remove its noncompliant "Fact Sheet" about the K-3 override from the district's website.
MORE ...


A Taste of Cave Creek and a BBQ to go
By Linda Bentley | September 30, 2009

The participating restaurants and between 3,700 – 3,800 attendees enjoyed last Thursday's Taste of Cave Creek at Stagecoach Village, which lured in an additional 500 people over last year's event.
MORE ...

Carefree prevails in third Peloquin lawsuit over SUP
By Linda Bentley | September 30, 2009
CAREFREE – On Sept. 23, U.S. District Court Judge Earl H. Carroll, ruled in favor of the town of Carefree, members of council seated in 2005, and their wives, defendants in the third lawsuit filed by Michael Peloquin's GP Properties LLC.
MORE ...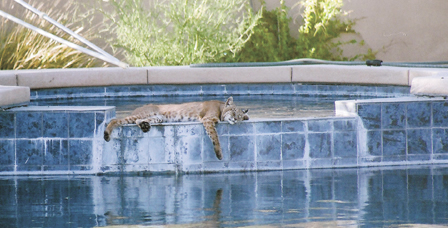 Tough life
September 30, 2009
Bobcats love pools. This one napped on the wall for about 2 hours. It did a greatjob of scaring off the birds
from drinking at the hot tub. Courtesy Photo/Julie Becwar

On Monday morning Sept. 28, this young Harris Hawk was on its own. Not very happy with the photographer taking its picture, the hawk chewed him out and flew off. Courtesy Photo/Richard Johnson

Click here for a slideshow of more great local animal and desert photos.

Proud Grandparents proclaim, 'Way to go, Moe!"
September 30, 2009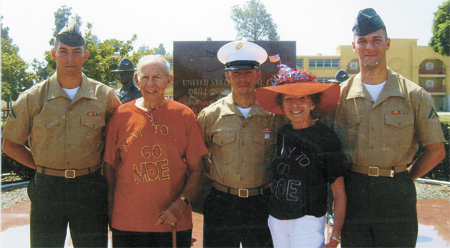 Martin and Joy Carol Schenk of Terravita recently traveled to the Marine Corps Recruit Depot in San Diego to attend the graduation of the grandson, Pvt. Mosha (Moe) Kurtzman (center). He joins his two older brothers, Lance Corporal David Kurtzman (far left) and Lance Corporal Jake Kurtzman (far right) who are also serving in the U.S. Marines. Semper Fi and God Bless America!
Courtesy Photo