Carefree Mayor Schwan bucks council over possible court consolidation
By Linda Bentley | September 16, 2009
'It's virtually impossible to drive through town without speeding'
CAREFREE – Mayor David Schwan reported back to council on the town's options for saving money on its municipal court operations during the Sept. 9 council meeting.

MORE ...


Sonoran Arts League office burglarized
By Linda Bentley | September 16, 2009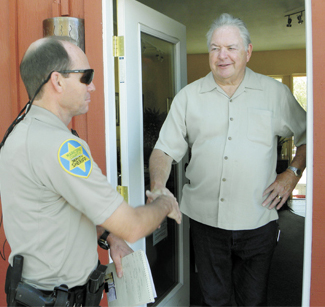 CAVE CREEK – Maricopa County Sheriff's Deputy E. Philpott was greeted by Sonoran Arts League (SAL) President John Budge as he responded to a call reporting a burglary at the League's Hidden Valley Drive office Friday morning. Budge said he was alerted to the break-in by the person delivering the League's "Hidden in the Hills" brochures early Friday morning, when she noticed the back door was open with a broken glass pane, apparently to gain access, and glass on the floor.

According to Budge, only a notebook computer appears to have been stolen, which he said was heavily password protected and did not contain any personal or proprietary information.

SAL only moved into its office in April and is now mulling over the extent to which it needs to ramp up its security.

Mood of Tea Party crowds tense
By Steele Coddington | September 16, 2009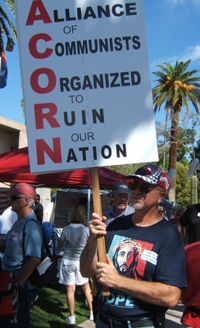 Obama agenda under fire
PHOENIX – The "We the People Tea Party" at the state capitol last Saturday, largely unreported by local media, was a party of discontent. Security estimated the crowd at 3,000, peacefully but loudly displaying their grievances via responses to speakers and visibly with a colorful display of signs. The crowds sent the government in Washington a series of concise and specific messages reflecting a deep malaise with the agenda they are forcing down the country's throat. Both Congressional majorities and President Obama were repeatedly described in angry terms that unmistakably opposed "Obama and his radical programs."

MORE ...

Keith Perry, a Phoenix voter whose sign says it all.
Photo by Steele Coddington

Danny Wise turns down plea deal, heads to trial
By Linda Bentley | September 16, 2009
PHOENIX – Danny Wise recently celebrated his 53rd birthday behind bars at the Lower Buckeye Jail, which is where he's been since his arrest in May after being indicted on eight counts of theft and seven counts of fraudulent schemes and artifices.

MORE ...

Danny Wise, who has been incarcerated at the Lower Buckeye Jail in lieu of $500,000 bond since his arrest in May, is pictured wearing jail stripes at a bond reduction hearing in July, which was denied.