Danny Wise turns down plea deal, heads to trial
By Linda Bentley | September 16, 2009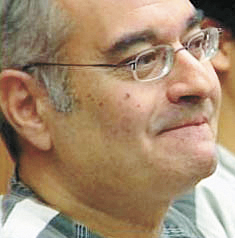 Danny Wise, who has been incarcerated at the Lower Buckeye Jail in lieu of $500,000 bond since his arrest in May, is pictured wearing jail stripes at a bond reduction hearing in July, which was denied.


PHOENIX – Danny Wise recently celebrated his 53rd birthday behind bars at the Lower Buckeye Jail, which is where he's been since his arrest in May after being indicted on eight counts of theft and seven counts of fraudulent schemes and artifices.

Wise, a former Scottsdale CPA, allegedly appropriated clients' money intended for payment of taxes to the IRS and state, for his own personal use.

Wise is also under investigation by the SEC, FBI and other federal and state agencies for allegedly operating somewhere close to an $80 million Ponzi scheme, leaving a trail of more than 125 victims in at least 13 states.

Although criminal charges have yet to be filed, Wise has been ordered by the Arizona Corporation Commission Securities Division to pay $67 million in restitution to his victims.
Almost a year ago, a group of victims, upon realizing their investments were not investments at all but part of an elaborate Ponzi scheme, filed an involuntary bankruptcy against Wise and his various LLCs in order to freeze his assets. The SEC followed with civil charges against Wise.

On Aug. 21, a comprehensive pretrial conference was held before Maricopa County Superior Court Commissioner Barbara Spencer on Wise's theft and fraudulent schemes charges.
State Attorney Maryann McKessy informed the court a plea offer was made, which she stated would expire 30 days prior to trial. Wise was offered a plea deal with reduced charges along with 12 to 15 years in prison.

However, Wise has apparently decided to decline the plea offer, as it is now less than 30 days before trial and no change of plea hearing has been held.

A final trial management conference is set for Sept. 22, with trial affirmed to begin at 8 a.m. on Sept. 29.

Trial is expected to take seven days and is expected to include the testimony of seven witnesses, two of which are from out of state.

The court is requiring 12 jurors with two alternates for trial.

McKessy also said the state is requesting an aggravating factors trial to the jury, which sounds like the state plans to introduce the $67 million in restitution Wise was ordered to pay the victims of his apparent Ponzi scheme, even though he has not yet been charged criminally.