Walsh-to-Classen-to-Schneider rallies Falcs to late deadlock
By Pete Mohr | September 9, 2009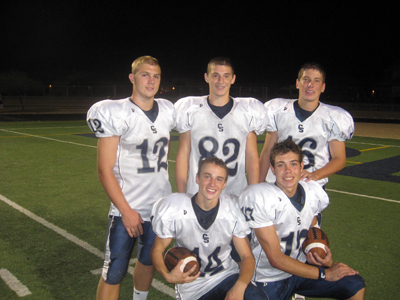 GETTIN' THE JOB DONE at Cienega were [kneeling, l.] Joree Schneider (three TD catches for Offense game ball) and Quad-Captain Tommy Murphy (three INTs for Defense game ball); [standing, l-r] QB Dillon Classen (four TD passes, his last to tie the game with 1:35 left), John Leonard (2nd quarter six and a key catch-and-run in winning drive), Quad-Captain Paul Walsh whose perfect spiral to flanker Classen triggered the game-knotting 32-yard strike. Photo by Pete Mohr

Redmond's P.A.T. makes the 33-32 winner!

VAIL, Ariz. – Sept. 4, late in the 4th quarter after a disastrous Falcon turnover at their own 30, junior Willie Willis, Cienega's 5'7" 180 lb. bowling ball, races 30 yards on the first snap for his fourth TD. Cienega, 32 - CSHS, 26; but the Bobcats' point-after attempt is botched by a bad snap! 'Birds, down by six, and their fans, e-x-h-a-l-e.

Joree Schneider returns the ensuing kickoff to the Falcon 17, getting whacked – cleanly – halfway to Benson for his effort; yet a warrior all night, he stays in the game. There's 2:54 left, with 83 yards to go for the tie – and possibly, the win? Successful teams win on the road.

Schneider gets 26 yards on a deep slant from Dillon Classen to the CSHS 43. John Leonard's determined catch-and-run down the home sideline puts the Falcs 1st-and-10 at the 'Cat 32. A low throw; a through-the-hands muff; then a post pattern to Leonard gone awry on an inadvertent trip (no call) with the defender: suddenly, it's 4th-and-10 … time out, Falcons.

In, for his first snap at QB, comes Quad-Captain Paul Walsh. Classen flanks out, right flat. He's a threat to pass or run. Walsh spirals perfectly to Classen; then Dillon finds Schneider, in the clear but stumbling backwards, in the right end zone. Joree wraps the throw to his chest before falling on his back! Un-bee-leev-able! Now it's 32-32 all!

Walsh stays on the field to take the P.A.T. snap from Quad-Captain Tyler Souva. Kicker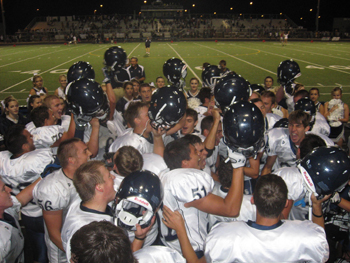 Bryce Redmond trots on. A perfect 20-for-20 last season, the Souva-Walsh-Redmond trio is an uncharacteristic 2-out-of-4 this night. Cooly, "The Cuke," out of Walsh's hold, nails it right down Broadway! Falcs, 33 - 'Cats, 32!

Two first downs move #3-ranked Cienega to their own 42. DB Nic Erickson makes a big play. A hold of DT Tyler Holm sets the 'Cats back ten. Falcons blow a sure INT; but with only 0:48 on the clock, Quad-Captain Tommy Murphy seals the deal with his third pick of the night! Classen takes two kneel-downs. Time for the 'Birds to chorus "Mighty Falcons!" in front of their celebrating fans.

Postgame, Head Coach Chad DeGrenier praises his jubilant squad, "You guys were relentless!" That, the Falcs most certainly were, led by Quad-Captain Zack Sexton (a 40-yard burst in the opening quarter for the first Falcon TD), who would be singled out by the stadium P.A. announcer as "a workhorse on both sides of the ball." A final game note: "Warrior" Schneider wears jersey #14. Danny "Who?"

Falcons have the "mo" as they prepare for their Sept. 11 date at Greenway. In their opener the Demons hammered Sunnyslope 56-22. "Crow" likes the 'Birds, say, 31-21. Be there!
CCCYF's watery 'Slam Dunk'!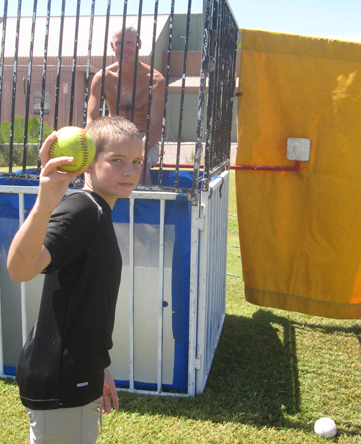 Youth footballer Brock Jensen, an 11-year old 6th grader at DAMS, prepares to let fly with his toss intended to dunk "Pee Wee" Coach Tony Miller into the tank! CCCYF's 3rd Annual Kickoff Celebration, Saturday, Aug. 29, at Black Mountain playing fields, was rated by President Craig Eckhardt and Special Events Coordinator Lori Kirby as "our most successful ever. Special thanks to our sponsors and all volunteers." Youth Football kicked off its eighth season, Saturday, Sept. 5. "Hut-Hut-Hut!"

~ Pete Mohr